We woke up in Grenoble and once looked out to see the weather we started planning for an alternative route. Originally we had planned to see the Alps one more time, go via La Bonette towards Spain, but we decided to take a shortcut and drive directly to Spain.
So, using AutoRoute we calculated that we can make it to the city of Perpignan, which was ~500 kilometers from Grenoble. After some searching for hotels from that area we found an nice hotel a bit ahead on our route in Spain side city called Figueres with a wireless LAN and all.
Day 5 included driving 535 kilometers according to TomTom and we headed to the road at 09:00 and arrived to the hotel a bit after 19:00. Again, we did not take any toll roads, but drove through villages and smaller roads.
Here's the route we took for Day 5: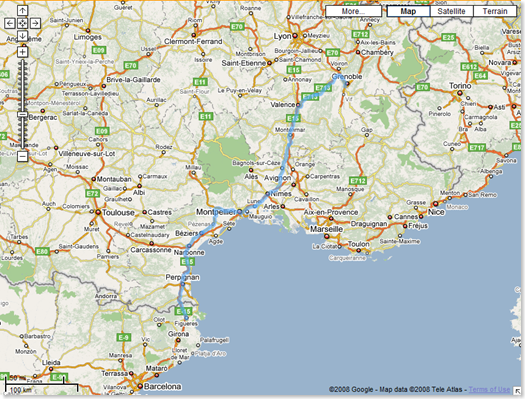 No we just have to plan for the rest of the trip, we have ~1300 kilometers still before we get to our destination.