From Amsterdam we set our goal to drive to Hamburg, not very long trip, just a short 500 kilometer drive.
We stopped few times and once we got to Germany side I started asking after BMW Motorrad services.
Got one address for a local dealer in Oldenburg where we headed to show my BMW K1200LT's issue with hydraulic center stand, it was not working after driving if temperature was over 27 Celsius. On this shop they had not came across this kind of issue and due to our schedules they guided us directly to BMW Bremen.
In here they had seen this kind of issues couple of times and message was that the whole center stand hydraulic system needs a change. It's build is such that it cannot be repaired. I thanked very helpful stuff (we got even cold drinks while waiting) in there and we got back to road and to Hamburg, where I called BMW dealer in Finland to order the given part. Not just have wait for them to come back when the part has been delivered to Finland.
Whole day was really hot, in Hamburg it was 33 degrees and we arrived to the hotel in all our Gore-Text outfit…
Here's a route we drove: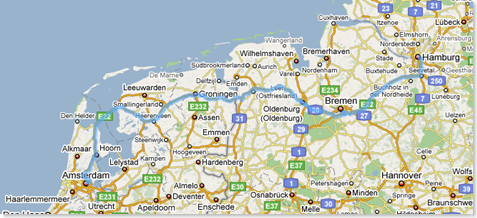 Next stop will be in Copenhagen, in a known hotel where I have been staying during my business trips.