Woke up early on the morning, had an service served for my bike at 8:30am. Some 60km drive there and same back in the hot weather…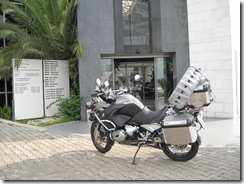 Agreed service was to change motor oil, oil filter, valve clearance check and general inspection for the bike.
After few hours waiting got bike back washed and serviced, not I'm ready for the next part of the trip.
According to the report, everything is ok, even break pads were still good. Those I have now spare ones with me anyhow so can switch them in case needed.
So back to the hotel and pool to enjoy rest of the day!