Hamburg morning was pretty hot already when we started packing our stuff in the morning and while driving through the city we got really swetty in all our gears.
Our next stop was Copenhagen, Denmark and a hotel which was already familiar to me as I had been many times in there during my business trips to Copenhagen.
Only incident during the trip was a talk with a Danish police which stopped us because passing a car from the right. In Denmark – the police said – from this they normally tear driving license, but in our case this motorbike police did not do that and left us go just after talking to us! What a nice guy…
Also my rear wheel drive started keeping the same noise again as when arriving to Rota and I looked up an local BMW dealer in Copenhagen and drove my bike in there. After taking the rear wheel of and checking it, they did not really find any issue with it, which was pretty strange since it was keeping this same scratching noise… anyway, a bit safer to drive home.
For the evening we set our goal to have a dinner in the Mongolian Barbeque restaurant near the Town Hall Square. Excellent place.
Here's a route we took to Copenhagen: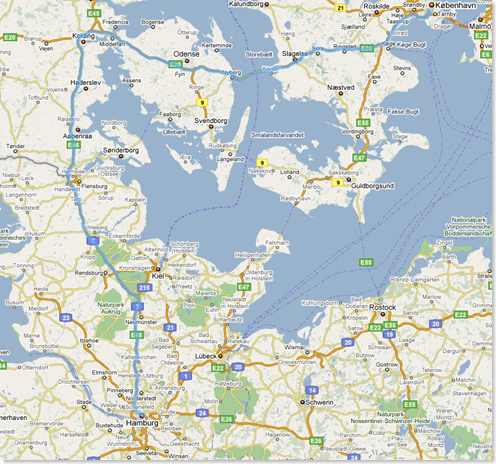 Driving for this day was really short, only 400 kilometers.