This coming summer the adventure will be one of a kind. Nothing like the journeys before to Spain and Creek.
This journey is called 'Around Black and Caspian Sea 2010'.
Plan is to drive from Finland through Sweden, Denmark, Germany, Austria, Slovenia, Croatia, Serbia, Bulgaria to Turkey where there will be a stop for two weeks when my family is flying in there.
From Turkey journey continues through Iran, Turkmenistan, Uzbekistan, Kazakhstan and Russia back to Finland.
Here is a rough map of the journey: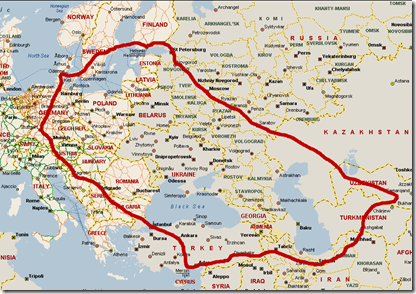 My original plan was to drive only around Black Sea, but as Georgia and Russia have not opened the border for foreigners, I had to include Caspian Sea to the trip as well!
Trip planning is fully on its way and if timetables just allow I will meet some Finnish motorcycle drivers in Uzbekistan and drive back home with them.
My motorcycle is under preparations for the trip and almost ready for it. Some additional gears still on its way. Biggest challenges on it have been getting enough shields and also some extra fuel for it. Right now I have capacity to carry ~45 litres with me so that should get me anyhow over 800 km before I ran out of it!
I will be updating status regularly on this blog and also on created Facebook group.