Day 1
Our first driving day started with SS1000 ride which we started from Tallinn at 00:36. Then just heading down Via Baltica to Riga, Kaunas, Bialystok, Lublin, Svidnik, Debrecen and Oradea.
Did not have much surprises on the way except the fact that driving through eastern Europe is a pain. Way too little roads and too many turns.
This lead us into timing issue on our SS1000 ride and we needed to take the plan B instead of original plan.
I had already checked an earliest possible ending spot which we gained easily and filled our tanks, but decided to continue to the next one just in case. Next gas station we found some 30 kilometers further towards Oradea/Romania where we made then our final ending for our SS1000 Iron Butt ride. This was just few minutes before the time ended.
After this we continued to our hotel which was Hotel Maxim in Oradea. Had some issues on finding the hotel as TomTom did not have any clue on Romanian streets… Arto fell with his bike while it was on very slow motion, but eventually we did find the hotel, managed to get our bikes parked and got some sleep.
First day driving was ~1700 kilometers.
Day 2
Second driving day started ~10:00 as we let us some extra sleep. Packed our bikes and started heading our next stop which was going to be Pitest / Romania.
On our way to Pitest we hit few minutes of thunderstorm and we got our bikes cleaned… water was really pouring down! But eventually it stopped and sun was shining again.
This day driving was only 460 kilometers, but we took it quite easy and stopped often for a while and we were on our Hotel Victoria. Hotel was very nice, again had some trouble on finding it but some local biker was kind enough to guide us there.
Finally got some real food inside as well.
Day 3
Third driving day was from Pitesti to Sofia / Bulgaria.
This day was now the first time TomTom did not find the correct way. On the border of Romania and Bulgaria there was a passing of river in Vidin / Romania and TomTom did not find the way to border and to the ferry from Romania to Bulgaria.
We had to do a bit of detour and start following the signs to the ferry and finally made it to there as well. Had to wait some 1½ hours before the next ferry came and took us to the other side.
We got our bikes really on the front of the ferry where the cars drive out from it, that was a kind of interesting place for us…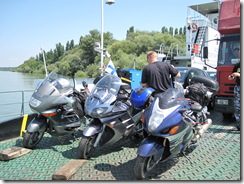 But eventually we got to the other side.
In Bulgaria we needed to pay some road taxes at the border which was from all of us three 9 EUR all. Not too bad.
We had some company from some Italian bikers, one driving with scooter and other with motorbikes. They were driving really fast and passed us quickly. Then on some cases they made a wrong turn and we passed them again, but on the ferry they catched us again and they were so much faster on paying the road tax so we never saw them again.
When arriving to Sofia TomTom guided us directly to our hotel and there we got some interesting requests: Our bikes were to be parked in the hotels restaurant!
Just drove them in from the main entrance! Nice one from our Hotel Maxim.
This days driving was little over 450 kilometers.
Day 4
Fourth day started with the morning exercise of getting the bikes out from the Hotel Maxim's restaurant:
Up until this day we had followed pretty closely the planned route, but now came the first change for it. City that we had planned for next evening was all full, no cheap hotels on our price range was found so we took the next best option on our route and started driving to city called Nea Achialos in Greece and Hotel Protessilaos.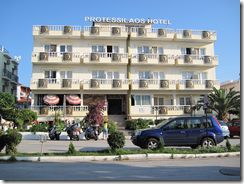 Here we actually got our first swim as the hotel was just in the beach! On the evening there was terrible thunderstorm again and the hotel manager was telling us that it had been like that for the last two weeks that in the evening it just rains and thunders and everything is gone by the morning. And it did.
This day was ~500 kilometers driving.
Day 5
This was the day that we would be arriving to Zakynthos, our final destination. We had only 370 kilometers driving which took 5 hours from us until we were at the Kyllini harbor waiting for our ferry to take us to Zakynthos island.
In Zakynthos we did not get into final hotel yet, so we needed to book another one for this evening, Best Western Zante Park Hotel.
Day 6
Sixth day was just to drive to the airport, wait for my family to arrive and get to our final destination hotel, Arkadia Luxury Hotel.
Our hotel manager was waiting for us at the airport and we just drove behind him into the hotel.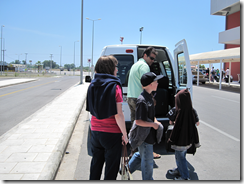 And once we got there
After this it was just time to enjoy two weeks in Zakynthos Island!
Here is our full route we took with all the stops along, click map to get bigger one: