We are planning attend Jänkhällä Jytisee 2007 and on the way have one more SS1000 Iron Butt ride.
Planned route is this: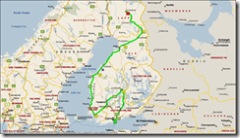 Start from Espoo 16th of August 10:00, then to Jyväskylä, Turku, Vaasa, Oulu, Kuusamo and end in Sodankylä where we meet some local bikers and continue to Saariselkä. In Sodankylä we should be sometime between 06:00 and 08:00, latest.
Microsoft AutoRoute 2007 is giving 1696.8 kilometers and driving time 20 hours 26 minutes including 5 breaks, so there is going to be plenty of kilometers and time to ride this.