As planned, we started our latest 16th of August 2007 from Espoo with our minds filled that we will be driving Iron Butt SS2000K (2000 kilometers in 24 hours) on the way to Jänkhällä Jytisee 2007.
Start of the journey was 9:21 from Mikkelä Esso, Espoo where we filled all the forms.
First stop was at 12:06 in ABC Vaajakoski. From there we continued to Tampere, where we took short stop at ABC Lahdesjärvi to change the batteries to our PMR radiophones and continued to Raisio where it started raining.
In Raisio Kari switched on rain equipment as his motorcycle outfit was no longer waterproof and it started raining.
From Raisio we continued to Vaasa, short stop at ABC Vaasa, then to Revonlahti, Kuusamo, Pello, Enontekiö, Muonio and Sirkka where we ended our SS2000K.
We drove ~1200 kilometers (from Raisio 15:55 to Pello 05:01) mostly while it was raining which made driving really hard. But it might be because of the exercise we did during our trip to Spain this summer this was not bothering us that much.
We came across few reindeers, three of them were really close before I got my bike stopped. I must say that because of the ABS brakes I probably survived from this one since it was all wet road and almost dark, sun was still not totally up when we were approaching Pello.
We were originally planning to stop our SS2000K in Sodankylä, but after looking at kilometers on our bikes, we thought it was safer to do an extra round into Enontekiö, just to be on the safe side!
Here's a map of our SS2000K route: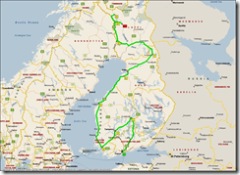 Here is our stops, stop times and distance from the start:
| | | |
| --- | --- | --- |
| Location | Time | Distance |
| Espoo | 9:21 | 0 |
| Vaajakoski | 12:06 | 277 |
| Tampere | 14:04 | 426 |
| Raisio | 15:55 | 584 |
| Vaasa | 19:27 | 909 |
| Revonlahti | 22:49 | 1175 |
| Kuusamo | 02:05 | 1440 |
| Pello | 05:01 | 1765 |
| Enontekiö | 07:51 | 1983 |
| Muonio | 08:35 | 2058 |
| Sirkka | 09:11 | 2119 |
Papers are now sent to IBA Finland and now we need to wait for few weeks to hear if we got our ride accepted or not!
This was now my second Iron Butt for this year. Previously accepted was BB1500 and if this goes well, it will bring me to total of 5 rides!
From Sirkka we still continued towards to Jänkhällä Jytisee event and on the way to meet our friends at Sodankylä. We went to Sodankylä and then to Saariselkä: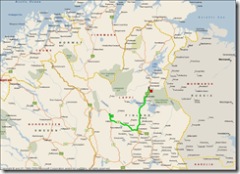 This was basically just a cooling off drive, only 236 kilometers. Our total kilometers from Espoo to Saariselkä was then 2355 kilometers in ~28 hours!
We stayed at Saariselkä for two nights and started driving back to Espoo on Sunday at 08:00 following almost direct route. Our full route looks like this: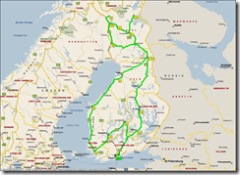 3559 kilometers all together in 4 days!