Morning start took a bit longer as my route planning was in troubles. I was trying to find a place from Rome, but failed to find any proper one so needed to expand the zone. And after driving in Naples, I thought that it might not be that nice to drive in the traffic there when temperature was still a lot over 30 degrees.
Italy is a tough place to find decent hotel with good (secure) parking for motorbike, but finally I managed to find a place from Spoleto which is a bit further from Rome but still along the route towards Finland.
After this woke up Max and headed to breakfast.
Breakfast was a bit disappointing at hotel Orchidea,  mainly sweet stuff, coffee and juice were really bad and they did managed to fix these after complaining for it. And top of that, hotel allowed guests to smoke in the breakfast room! Man taking care of the breakfast room gave us a really bad eye once we moved to another table away from all the smoke… Have not had this experience in years, usually smoking is not allowed anymore in breakfast rooms at all.
But, eventually we got out from the hotel and started driving.
Most of the route was a bit bigger roads, had one stop for fuel on the way.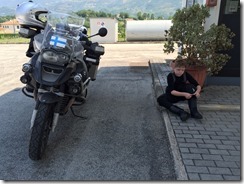 Some 30 km was just excellent part, really small and curvy road going along Lago del Salto.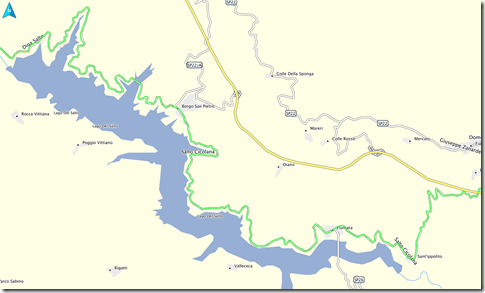 Eventually we found our way to the Albornoz Palace Hotel in Spoleto. A bit old fashioned hotel from the 80's, but still modern place with all kind of art stuff everywhere.
Not really into my taste, but nice big room and it had a pool in the garden as well.
Motorbike parked in the garage securely.
Once we got rid of our riding gears, it was a pool time again.
During the swimming, we heard some thunder storm approaching, but it did not come into this area although it was quite windy and sun was behind dark clouds.
After pool it was time for a walk around the city and food.
Italian food is too complicated to order and there were no ready menu's anywhere so we headed to more easier place and grabbed Kebab Menu and pizza.
After this headed back to the hotel to plan next day which appeared to be a lot easier task than this day.
As a last task for this day, we went to garage to check the bike tires and oil level. Oil was ok, but tires needed some more air so took my small air compressor out and filled those again to normal pressures.
My rear tire seems to be still in quite good shape after 13000 km, there is a chance that it will last all the way back to Finland. At least I hope it will so I don't have to find a replacement tire on the way.
Today's driving was 308 km in 5 hours.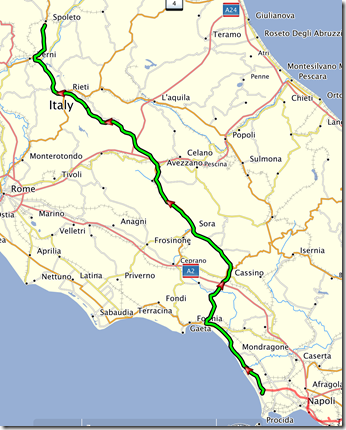 Total for the trip is now 6361 km.