I'm attending for the second time for Gold Rush 2010 (Kultaryntäys) event which is organized by IBA Finland ry.
Gold Rush is all about driving long days and kilometres with the motorbike. This year there will be 16 participants who will be driving either 1500 miles/2414km in 24h or 3000 miles/4827 km in 48h.
These are known as BB1500 Gold / Bun Burner 1500 Gold and BB3000 Gold / Bun Burner 3000 Gold. BB3000 Gold is considered to be an extreme drive.
If you calculate plain average speed it gives you little over 100km/h without any breaks! So driving 24h this speed. In real life we will be driving faster than that and fewer hours. Average planned speed is going to be 116km/h and on the BB3000 Gold which I will be taking we are planning to sleep some 4 hours between the days.
We start driving on 1st of May from Stockholm / Sweden where we will also end this after 48 hours later.
This time I will be driving with my BMW R1200GSA to get used to the bike for coming summers adventures.
Our planned route looks like this: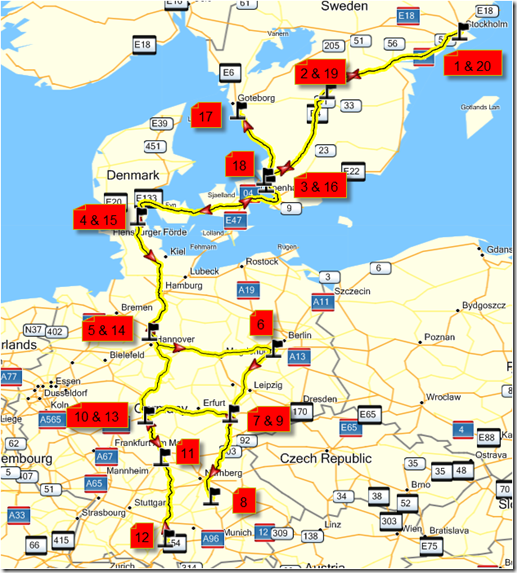 Red squares are numbered along the route and represent our places for refuelling.