Day started at 6:00 – or actually a bit earlier as could not sleep that well… still yesterdays driving was still a bit too high in my mind… Quick breakfast, getting bikes out from garage to the front of the hotel, packing and everything was ready again.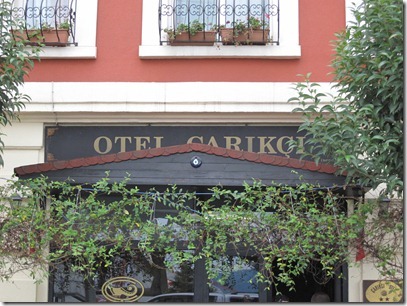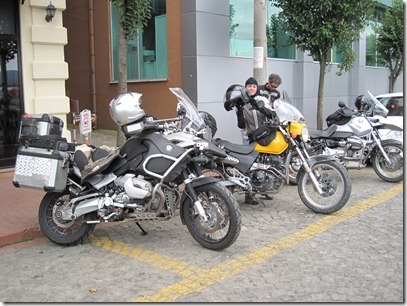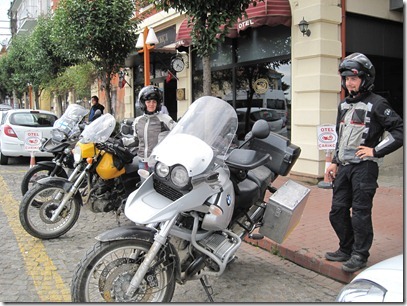 Italians left just few minutes earlier, but I could not catch them anymore… guess they are riding much faster than I…
First leg was to get to the border, some 322 km riding. Did not really stop on the way, I almost did to refuel before the border, but no gas station suitable by the road. All gas stations were in the village next the main road and entrance to that was on the road going to the side. So, thumbs up that I either get money on the border or credit card works…
At the border I spent only some 20 minutes, some queuing but everything went very smoothly. Just normal border stuff, no filling up papers, just checking passport and bike papers.
So then I was on Georgian side.
First thing was to find place to get more fuel and after looking some stations, here at Batumi all major credit cards worked at the station, so no issues on that.
Quick refuel and continue towards Akhalkalaki. Found road pretty easily, Zumo had basic bigger roads at some level so reading road signs and following that brought me to the correct place at Batumi.
At first road was really excellent. First 50 km or so was newly done nice road going by the river banks, everything looked too nice.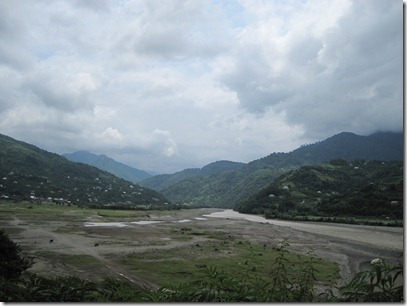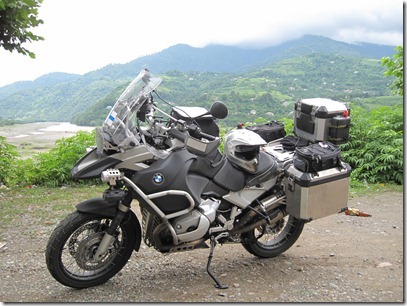 I did have the helmet camera on, but videos follow as soon as I get home to faster computer and network connection.
Edit 8.8.2011: Video found in here: http://www.youtube.com/watch?v=LRJ6evwix5Q
During this first part all issues I had was animals on the road. Lots of cows and dogs that were just walking or standing on the road.
And then it all begun. Road turned into something that was not actually road for the next 100 km, but muddy, full of big rocks, holes and water crossings (reminds me Tajikistan last year… but this was even worse). So this turned into sports exercise for me… but then again, this was all expected and was what I was hoping to get.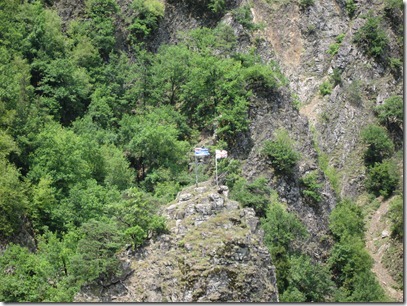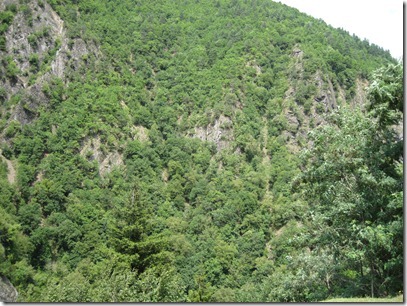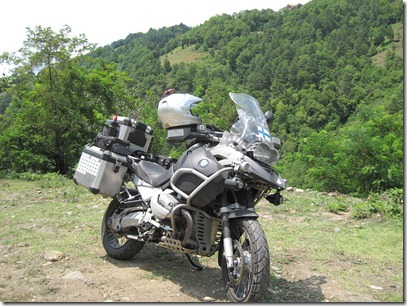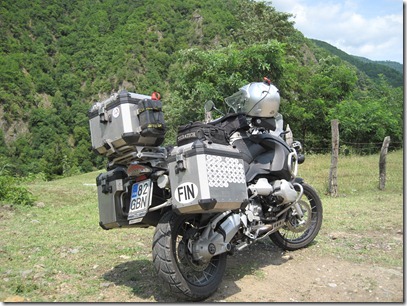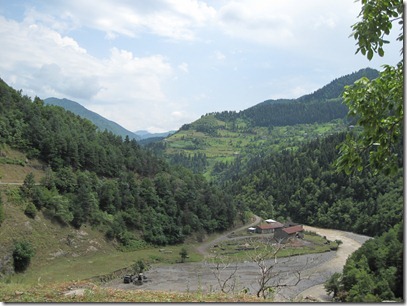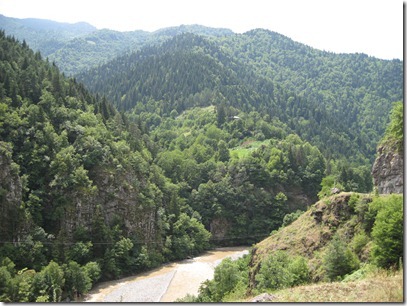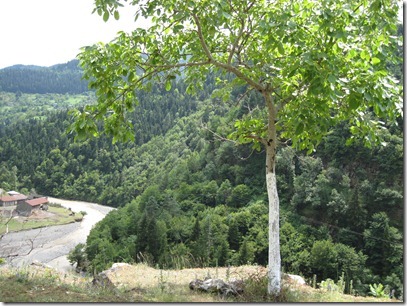 This stop was on the highest point at some 2000 meters. After this it started going down to one kilometer.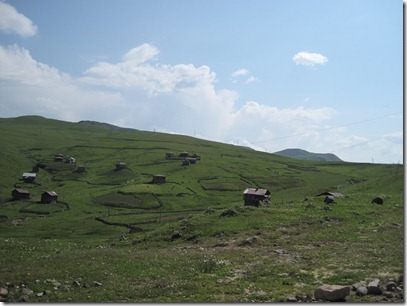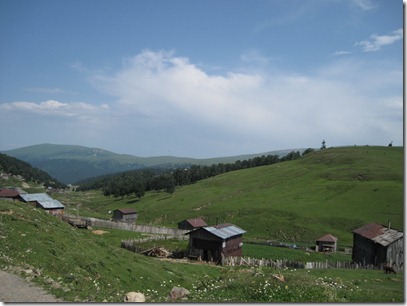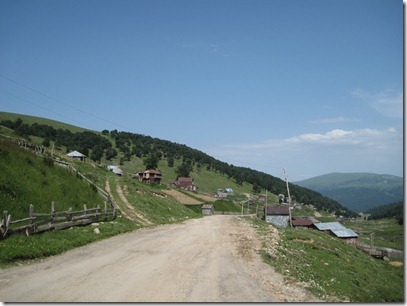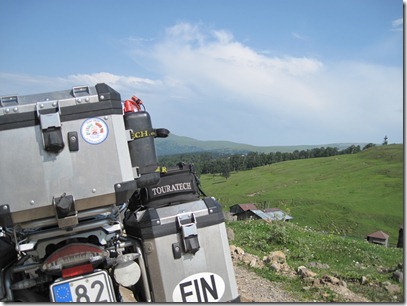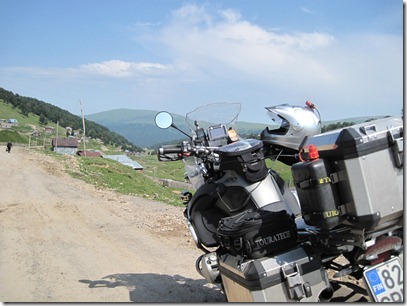 Stop in Akhaltsikhe to get some local currency, ice cream, more water (had consumed some of that during the last 100 km) and confirm that I was going into right direction as Zumo had lost the track again.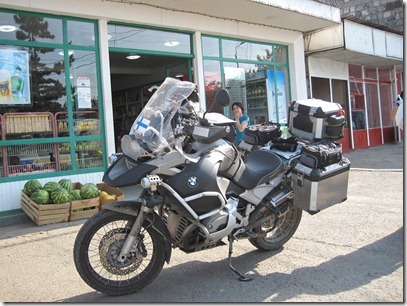 On this ATM it was possible to withdraw in dollars as well! I chose Lari's.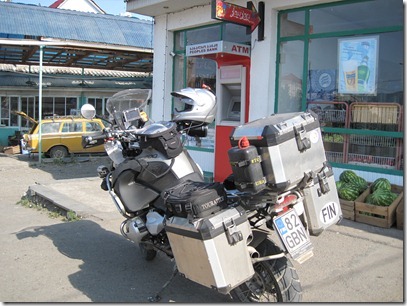 Last 50 km was again best road ever, newly done and I got the speed up again before arriving in Akhalkalaki which was ~220 km from Batumi.
When driving into Akhalkalaki I saw road signs to Turkey, did not even check in advance but it looks like there is a border crossing nearby as well.
After driving around couple of times, I found probably the only hotel in town and it had also parking behind the hotel in locked place.
Hotel was quite recently done (or redone), but all in so Russian style…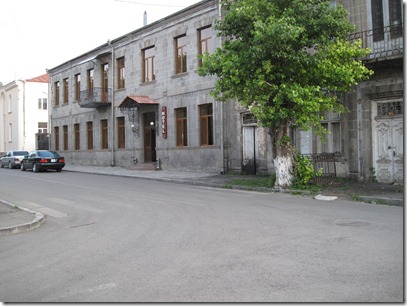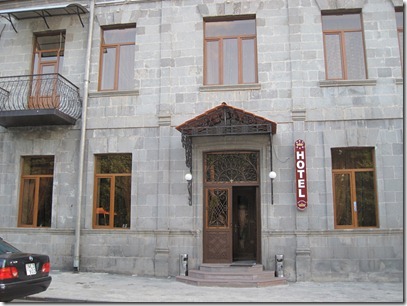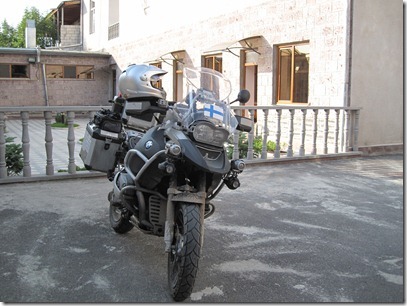 City itself is pretty dread, hard to imagine how people get by in here.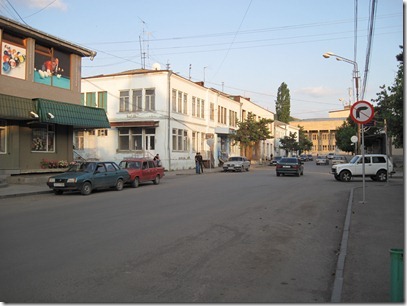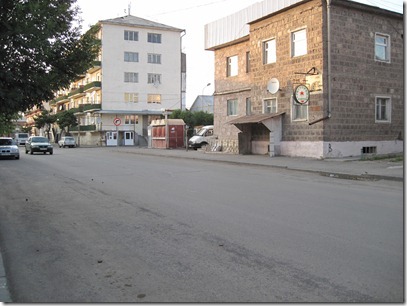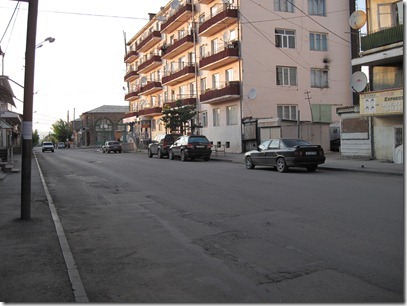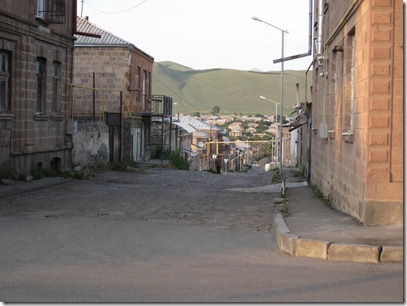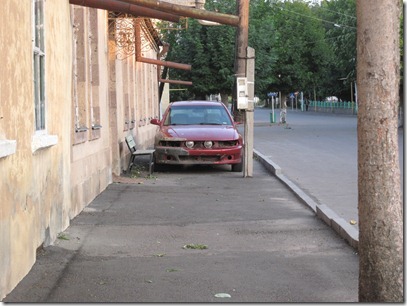 After walking around sometime went back to hotel, quick dinner in there as there was not other decent place open at the city and I was ready for a sleep.
Note for the future: Don't put sweaty shoes inside plastic bag for a day or two, smell is starting to be irritating!
Todays driving was 567 km in 10 hours. From Batumi to Akhalkalaki it took 6 hours almost constant driving.

Total mileage now 6052 km for this trip.