Night was quite restless on this B&B in Dilizhan, there were lots of people still up until 1 am and noise was accordingly… Could not sleep and next driving day was already running through my head. It seems to be an issue now to get into sleeping mode from driving mode, no way to get speed stopped on me!
At 6:30 alarm went off and I started packing and carrying stuff to the bike. I also noticed that it was raining quite heavily and thought I take rain gears and put them on when leaving.
Breakfast was all ok, some sausage, fried egg, bread & usual stuff.
During breakfast it looked like rain had stopped, I decided to put rain gears still on, just in case.
Well, did not take long after I left when sun was shining again from blue sky, so first stop was just after few kilometers.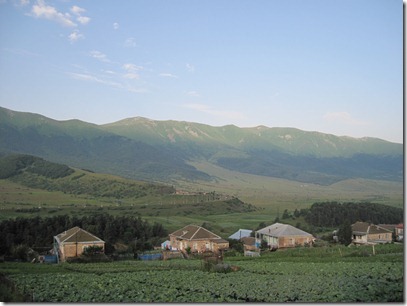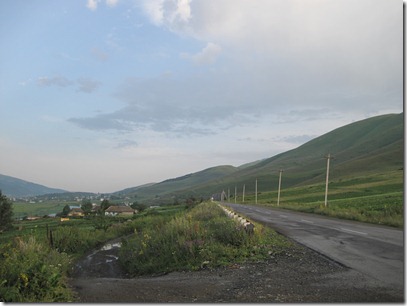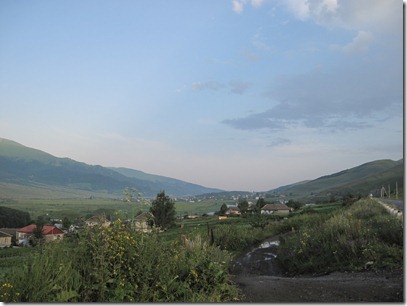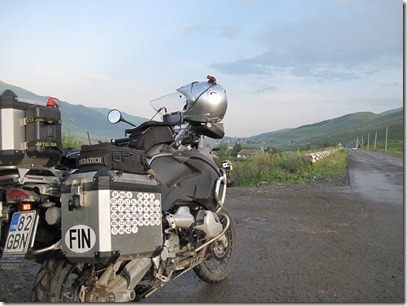 Driving through Armenia was really an amazing experience. Views were just breathtaking, I really enjoyed full 130 km to the Georgian border!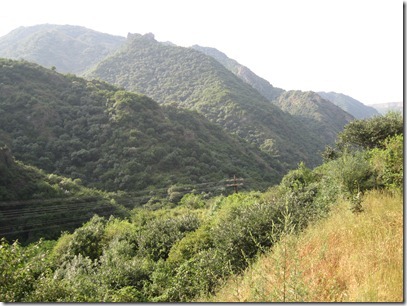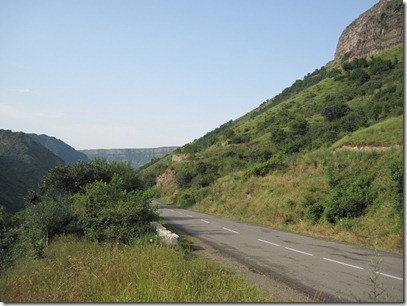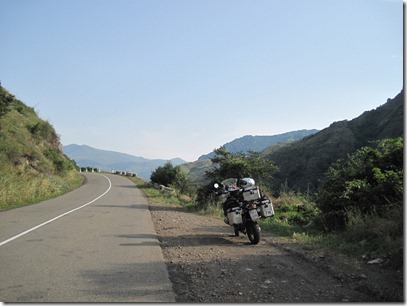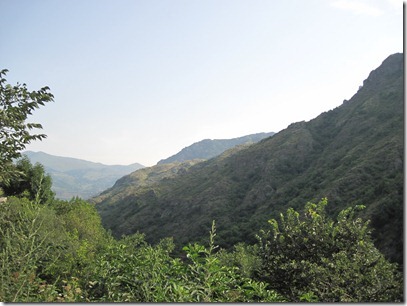 Made a stop just before the border to spend last Armenian money on fuel, but could not spend all of it…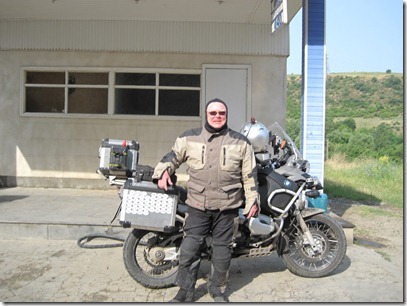 Once on the border, everything went smoothly, did not really spend any time on it. On Georgian side they decided to ask my drivers license, EU version did just fine, no need to show my international ones which I still had from last year with me.
Drove some 40 km on Georgian side, as I had planned the route on my memory, tried to take a shortcut, but first one ended up on the river bank and I had to turn back. On next crossing I asked from local man advice and it seemed that I was on the right track on that one.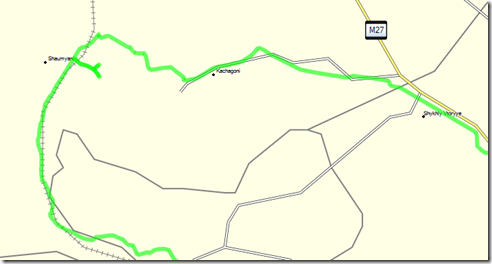 In the correct crossing there was actually quite new gas station and police station, if I remember correctly.
This shortcut was partly in terrible condition, and the road that is visible in above was under construction with almost done, so that part was really fast to drive!
Georgian border was again no brainer, I ended up in front of everybody and went through in 10 minutes.
Azerbaijan side was another story. Unbelievable hassle all around, no queue and they had this amazing 2-3 booth system: You handle passport on one man, he asks some questions like how old bike was, then he handed over the passport to other man inside same booth, but on separate window. This man does again something and once done, he again asks to sign very familiar looking Russian custom document with all same stuff. Only difference really is that I needed only to sign this one, they did all the other stuff.
Once this was done, I needed to pay some 30 USD for something, if I understood correctly it was for some sort of transit permit for motorcycle or insurance. God knows.
After paying this 30 USD, I was handed out passport and the documents with stamps and all and I thought ok, now I'm ready and started walking towards the bike. At this point the border police (he called him self 'Meine neu bäste freundin' – hopefully not…) and took the passport and other papers and handed over them into the 3rd booth.
Again this man was doing something, took ages and then he shouted me and gave the papers back. No idea what that was.
Border too still only 1 hour, which I think
Anyhow, now I had cleared me into Azerbaijan and started driving towards Yevlakh, which was going to be my next stop.
Started slowly, road was in excellent shape and once I got a bit further there was lots of road works, they were building new two lane highway, probably all the way to Baku.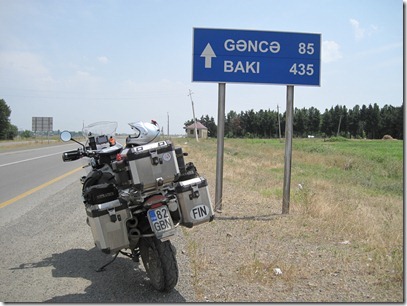 During one of these I happened to bypass a car in round about from wrong side and of course at this point there was a police patrol in watch. So they waved me to stop and asked for my drivers license. There was also another man with them and they had really heated conversations with him, so at one point this policeman just gave my drivers license back and waved me to continue! Go figure, they still continued this debate over whatever, could not care less!
Somehow when I stopped, there was also some other people stopping as well, so sometimes I just used them to take a picture over me…
This was the above picture takers car, some restaurant owner at Ganca, he invited me to eat n there, but it was a bit too early for me. Should have stayed in Ganca as originally planned for this to work better.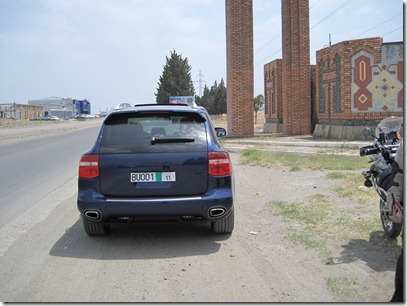 In Ganca I had some detours, some once I had set my mind that hey, Azerbaijan has done a very good job with road signs so clearly marked, road somehow vanished.
But quite soon I found the road again and rest was easy riding. 225 km from border to Yevlakh.
At Yevlakh I started chasing hotel, but found none by driving so next stop was to ask locals. First stop brought results, one guy with Lada started driving me towards a hotel. Once we got there, it was closed… so to the next one which was fine, got bike inside the hotel, price was reasonable 25 USD (yes, no need to change money) and dinner 10 USD. Room had also air-conditioning which was pure plus. Hotel is at GPS location N40 37.095 E47 08.023.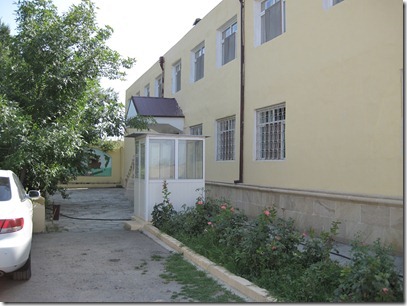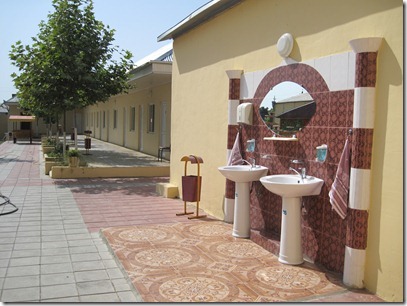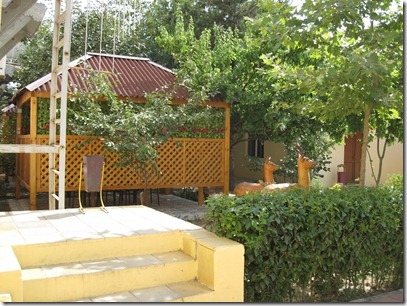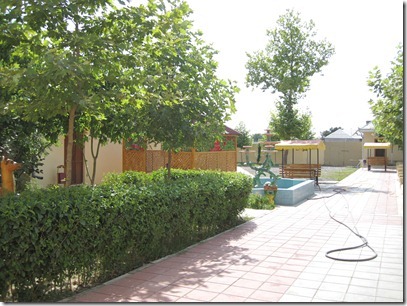 I got to the internet first time on the managers room, second time from two locals who were working for one Finnish company and had an office there as well so they let me use that as well.
Good service!
Todays driving was total of 401 km in 9 hours, including two border crossings.

This brings to total of 6985 km for this trip.
Tomorrow is wake-up at 6:30 am, breakfast at 07:00 am and then starts driving again!