Finally got to sleep, no noise coming from neighbors and air-conditioning was making sure that temperature was ok whole night.
Yesterday I was a bit wondering about this Yevlakh or Azerbaijan way of drinking beer: together with beer they took cheese, some sort of smoked cheese, quite salty but good. Had a hard time to keep beer level to two only…
So, wakeup again 6:30 local time, breakfast at 07:00 and then starts packing again and bike started ~7:40.
Note where the bike was parked for the night! Those were the ones they were using last evening…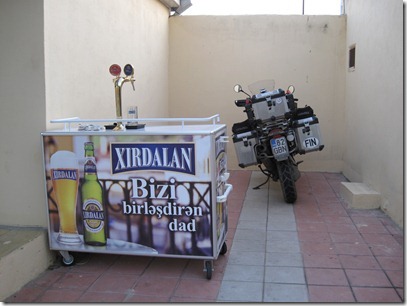 During the night I had made decision not to go to Baku, although these two guys were really pointing the way to me.
BTW in Baku you don't have to go to school to get drivers license, you can just buy one!
I had set my target to drive through northern border crossing, Postbina (Balakan-Lagodekhi) and started driving towards that.
Last night I had discussions around this with two locals and their thought was that this route is very bad, jumpy etc. etc. So I thought that yes, this route is exactly for me, no more that boring straight line driving with good paved road.
It turned out to be just perfect for my GSA, I could easily keep 100-110 km/h and nobody was passing me, except when going through towns. There I slowed to normal speeds again.
On the way I made only one real stop to buy some water and as before USD has good power in this country. After asking twice, I could by water with USD, so managed to get by Azerbaijan without exchanging any money!
Water stop and my new best friend who insisted on coming to the picture as well!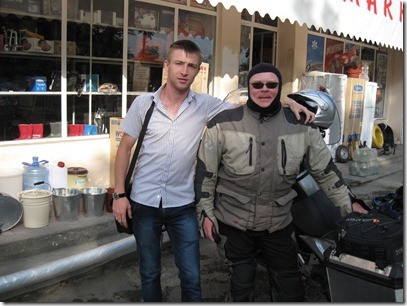 And once my GPS did not have very accurate, just in case when I was not sure of the direction, just stopped and asked where to go. I had notes again from the route, so easy to point out where do I want to go.
Yevlakh to Postbina border crossing was 180 km driving which I managed to get by in less than three hours, including stops and once waiting two trains to pass some 15 minutes.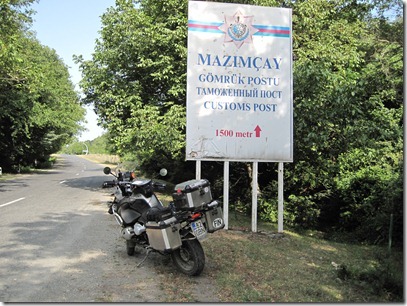 Border crossing was to best this far, there was no queue – or there was, but I just happened to get to the front of the queue. Border crossing was under reconstruction, new one was not yet finished and old had some road work. Both border crossing were really easy. On Georgian side they were a bit wondering why I'm coming in for the third time in three days…
After entering Georgia I started looking at possibility to either get some local currency or buy gas with credit card. Turned out that after driving some 50 km there was one station that accepted card, so full tank and on the way again.
Note to me: They did have some issue with the credit card reader, so I need to check that they did not double charge me on this time!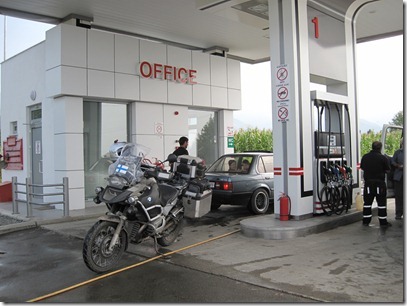 Road was in perfect condition until Akhmeta, this is when normal people would have selected the easy route towards Tbilisi, but I was determined not to go to Tbilisi and instead just go over the mountains again!
And yes, this was fun move. Again unpaved roads tens of kilometers, full of rocks, sand and cars. Really enjoyed again! Almost dropped bike once, but managed to get hold of it just on time so no damages this time…
Short stop to drink and take pictures after I came down from the mountains. And to fix bike again, right side plex holder had gotten loose and I needed to tighten it. Second fix for the bike on this trip!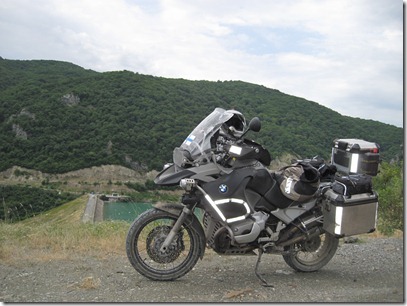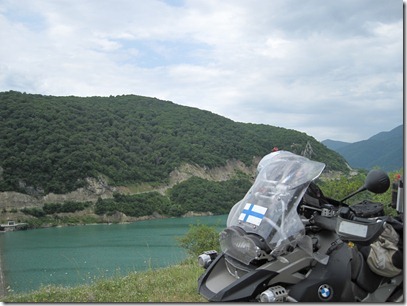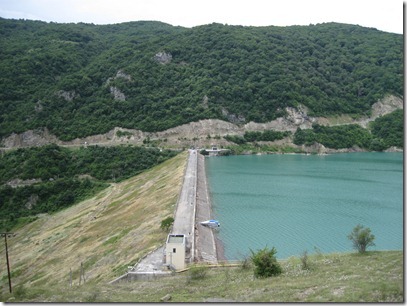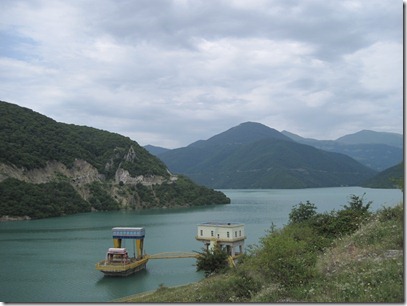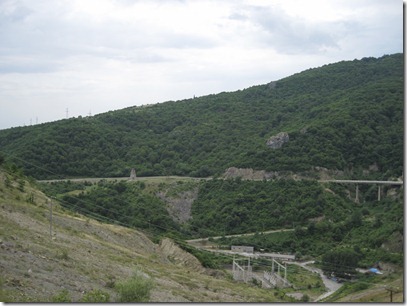 But once I got down from the mountains, highway opened again. From Tbilisi there is two lane almost like a motorway, half done but in good condition so speed was there again. Towards Kutaisi there was mountains again and road was full of turns, ups and downs and that slowed me down again.
When approaching Kutaisi I started calculating again, clock was not that much so why not to drive directly to Sukhumi? According to Lonely Planet book there was no really good hotels in Kutaisi and I hate nowadays these B&B places, no quiet moment to sleep on them! Hotel is usually much better option when you want really to sleep.
So, towards Sukhumi I go after refueling in Kutaisi. Now I would have enough fuel.
Last 200 km it had tried to start raining all the time, few drops every now and then but still, no real rain. Road was sometimes wet so it had rained earlier, but lucky for me, not when I was there!
At Georgian/Abkhazian border, Georgian side was plain simple police taking a note on who I was and how long I was planning to be at Sukhumi. And forward.
When going towards Abkhazian side, road was in really bad condition and there were also soldiers watching who was passing there. And when I got there, mess was waiting.
Nobody was talking a bit English and I have still not learned any Russian! No idea what was the reason, but they denied me from entering Abkhazia and as it was quite late already, decided that I will surrender and go back to Zugdidi and find a hotel for a night.
So now I have thought it over and tomorrow is a new day and I will retry to enter Abkhazia very early with hopefully better luck! If still no luck, I start just driving via Turkey back to Finland!
So, todays journey was quite full and long, 725 km in 13 hours.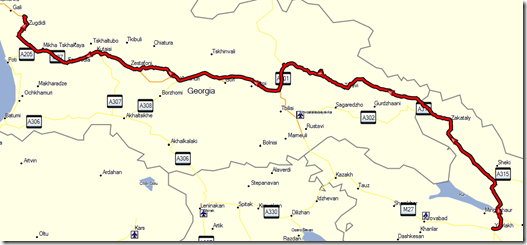 After today, total is now 7710 km.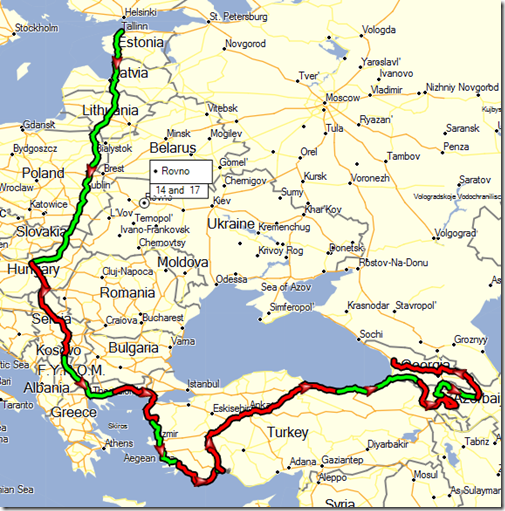 Now some sleep and tomorrow new try with Abkhazia!