Had a very small sweet breakfast in the café, could have been better.
But then again, this is Italy… At least I got two cups of this so called coffee, hopefully it had some real coffee to get me through the day.
After breakfast started packing again and by 09:00 we were read again and started driving towards our next destination – Malta.
Had few breaks on the way, especially during the boring first 200 km.
Weather was already a bit better, 30…33 degrees and getting colder as we approached Austria.
Last 200 km was then totally different story. Alps were closer and roads turned into really nice alp roads.
Some mountain passes on the way, like Sella Ciampigotto and Plöcken Pass.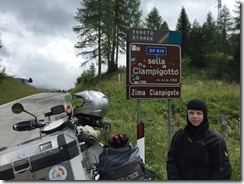 Weather up in the mountains was very pleasant 22..25 degrees, after spending almost four weeks on temperatures over 30 degrees this was really a relief.
Once we got down from the mountains, took one more stop for ice cream in Oberdrauburg.
Before getting into Gasthof Hochalmspitze in Malta we also made some extra round as my navigator was trying to route through autobahn where I did not want to go due to the fact that I have no sticker for Austria. Better stay on smaller roads.
Once we got into Gasthof Hochalmspitze John was already outside and we got very warm welcome. This is my second visit in here, last was year ago on the way to Morocco.
And once we got bike parked in the front, it started raining. Could not have been a better timing.
Some dinner, this time a bit earlier than before, trying to get into Finnish eating times again.
Just as we had eaten dinner, rain stopped so made a little walk around the village.
This day was 418 km in 7,5 hours.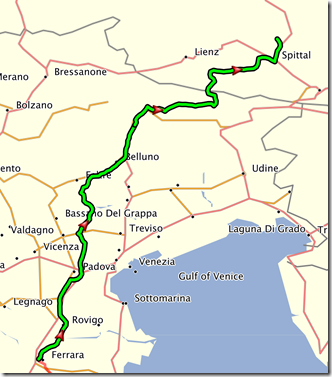 Total for the trip is 7115 km.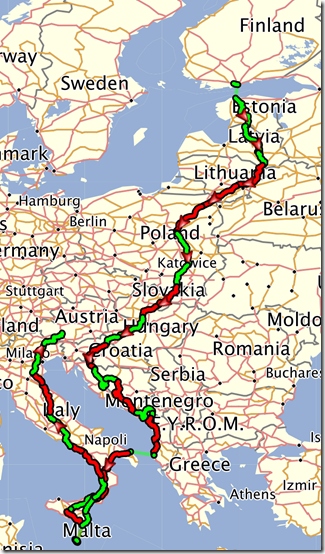 From Malta we now decided to start a bit faster transit towards Finland, so only few more days and a bit over 2000 km left on this journey.