Started day with a proper (!) breakfast, finally some real coffee as well. I have so much missed coffee during the Italy the days, there they just don't know how to make coffee. And got some real bread and not some sweet cakes for breakfast. What a relief.
I had stopped raining during the night but was still freezing cold in the morning.
Quick packing and we were on our way again. John was taking his *mandatory leaving* photos as well, but have not received those so here's mine.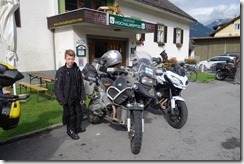 Had some really nice mountain roads to start with, then bigger curvy roads as we had quite many kilometers to cover on this day and lastly some more boring really big road on Czech side.
Some stops on the way to drink although not so much need for that as temperature was almost whole day below 20 degrees and all mountain area was 12…14 degrees. After driving 4 weeks in temperatures above 30 degrees this was really a good and wanted change!
As we were approaching Czech, my GSA started showing signs that fuel level was getting low. All those roads that we were driving were going along country side with just small villages without any fuel stations so I was a bit getting worried.
But eventually there was a bigger village with small fuel station from where I got fuel, only issue there was that Visa Credit was not accepted. Lucky for me the Visa Debit went through.
And of course mandatory ice cream was needed as well.
After this we got pretty soon to Czech side, right on the border crossing there was a huge amount of shops and restaurants, price level on Czech side must be much lower than on Austria. Fuel was a bit cheaper as well (some 5 cents or so).
Hotel Omega in Brno had also an garage available, so got bike parked into safe place for the night.
Did few hours of walk around the city for sightseeing and to find food.
Dinner was just excellent, some Devil's Fork for me and local Duck for Max.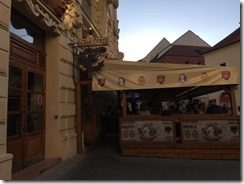 Price for all of this was only 500 CZK with tip which is around 18,50 EUR so basically nothing!
On the way back to the hotel took still some chocolate for Max and day was done. Temperature was still really nice for us, room was a bit hot as in our room there was no air conditioning, but we kept window open so it was ok.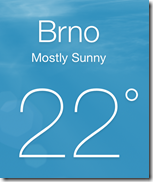 This day's driving was 475 km in 7,5 hours.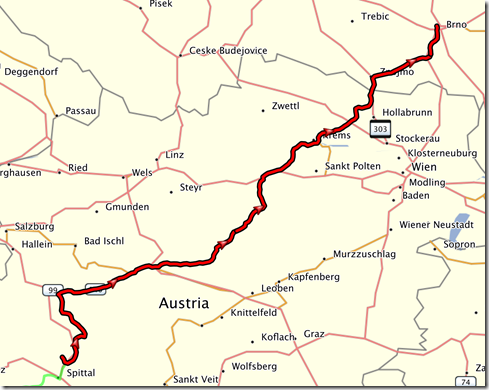 Total for the trip is now 7590 km.