Got Max up a bit earlier since we needed to be on the road right after 08:00 so that we get into ferry from Tallinn to Helsinki.
Breakfast was normal bread, coffee and yoghurt – lots of coffee to get day started.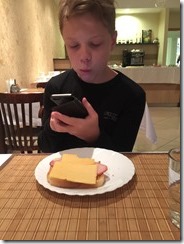 It was still raining so I decided to put the rain suite on.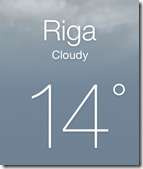 By 08:20 we were on the road again driving towards Tallinn.
And it was indeed raining, not much all the time but enough to keep us wet.
Lots of road works, but these did not slow us down much. I just drove in front of the queue and continued from there empty road ahead.
Did not stop on the way at all. In Tallinn made one stop before the ferry to get more fuel and that was that.
Took us four hours to drive from Riga to Tallinn and we were just on time at ferry terminal.
Got something to eat and drink while waiting.
Then Max decided to take it easy and slept for an hour or so. Fastest way to travel.
Last leg of this trip was to drive from Helsinki to Espoo to our home – 23 km.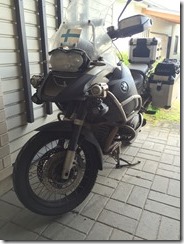 During the coming days need to wash the bike and also do full service for it (second time this year…).
This day was 327 km driving in 4,5 hours.

Total for this trip is 9174 km.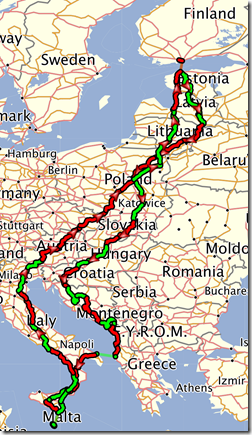 My bike consumed 448L of fuel so average consumption on this trip was 4,88L/100km. A bit lower than before, probably due to the fact that I removed Power Command V just before the trip.
Average costs per day was 101 EUR which included fuel, ferries, hotel and food while on the road. A bit higher than usually, but then again on the way back there were two of us and ferry to and from Malta was quite expensive (329 EUR for two persons and motorbike).
Costs were divided like this:
Ferry: 463 EUR
Food: 335 EUR
Fuel: 621 EUR
Hotels: 878 EUR
Total 2298 EUR for 23 days on the road (not counting the days at Malta when Anne was there as well).