I have come to a point where I have decided to get rid of my BMW K1200LT. It has served me well for the past 86tkm/9 years but I really have had too little driving with in the last 4 years – only 5tkm – so moving forward. Somebody will get a good bike out from this.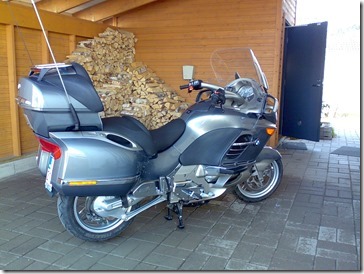 And of course, this time I want something totally different.
First I put my eyes on BMW F800R. Nice bike, a bit heavy (202kg) but main issue I had with this one was the fact that it's suspension did not feel right. Seemed like the front and rear were from two different bikes.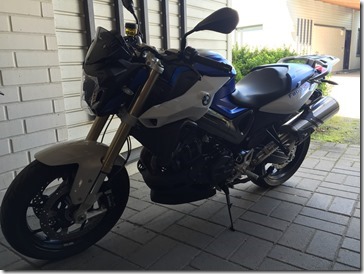 Next was the KTM. I went into dealer in Vantaa, but as they were not really in a mode of selling any bikes but more concentrated on discussing with each other so I decided to go to Tampere and Motokeidas.
In here a totally different attitude towards potential customer and soon I had keys to KTM 690 Duke, KTM 690 Enduro R and KTM 690 SMC R. Took all of these to test drive and what a difference between the bikes.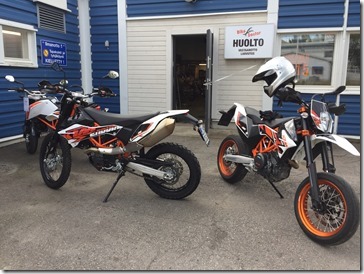 Duke felt like so easy to drive, Enduro R was a bit harder, but then again it was not for paved use where I was not just trying these out. Also, as I have KTM 500EXC as well, this one was dropping too much into that category.
But this 690 SMC R was the one that felt more like my next bike so decision was quite easy between these three.
After some negotiations, BMW K1200LT got a price tag for which I was happy and some more gadgets found their way into SMC R.
Going to get bike on this Wednesday (there was one new waiting just for me!), now time to find all LT stuff hiding in my closets and to get personal stuff out from it.
Can't wait to get my hands on this bike!