We started right after 09:00 from Angouleme after having breakfast at the hotel. Hotel stuff really excellent, guided us to good food places in the evening without even asking for it!
We drove a bit less than 600 kilometers on this third day, we should have been driving a bit more to drive through Normandy a bit more, but it started raining so we decided to skip two places and just drive to the hotel and see in the evening if we would do some sightseeing.
Rain was not that hard after all, we arrived at the hotel already before 17:00.
Here's a route we drove: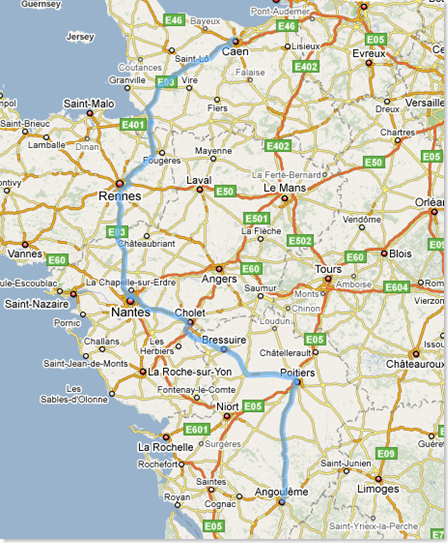 Roads were excellent on the way, few villages where speed was lower. When we started getting closer to Nantes, there were lot of people with their families, bikes and other holiday stuff on their cars and roads were really crowded. This did not really stop until just before Caen. Also between Nantes and Caen there were really few stop places where you could get gas as well, and on those that there were, they were really full of people.
Once we got to the hotel we found out that the advertised Internet connection was not really working and the hotel stuff was not really helpful on getting the connection working. This was really bad since we could not book the hotel in advance and have to just drive blindly to the next stop.
Our next stop will be Amsterdam, Holland, driving kilometers will be ~700.