This would be the day that I would enter Abkhazia!
Could not sleep well, room was all too hot and no cooling on it. It had a fan, but did not really work and yes, I did try that.
07:00 I had bike packed again and started driving towards Ingus River Abkhazian border crossing.
On the way stopped on one mini market to buy more water as I still had some Georgian money and continued.
Georgian side of the border, no issues either. They did a bit wonder what am I again doing in there, but no real issues with it.
Abkhazian side, language border was there again. Same man that yesterday denied access looked at me and the papers and pointed at me and Sukhumi direction and then he pointed the bike and crossed his hands. Couple of these made it quite clear that I could enter, but bike not!
Very interesting.
As it was very early, I just gave up and decided to go back to wait for 1½ so that Abkhazian Foreign Ministry opens so that I can give them a call and ask what this now is.
Waited, waited and I was the amusement of locals on the Georgian side of the border, everybody was coming and talking something, asking how much is the bike etc. etc. so time went fast.
At 9:30 started calling the ministry, but all I got back was some Abkhazian language which I did not understand at all. After couple of retries I handed over the phone to one of these locals and asked what this is and he answered something that I meant that number is not accessible.
Hmm – decided to give Sakke a call and ask if he could try as well, but he just got 'Network Error'. So looked like no calls were getting through to Sukhumi!
Some ½ hour later I decided just to quit and started Plan B. Drive around Black Sea via Istanbul.
Was really disappointed.
Driving was not good, could not really concentrate. First 200 km to Turkey border was really a pain.
Border crossing was simple, 5 minutes operation. Just went to the front of the queue again and straight through.
After driving some 50 km on Turkish side, made a stop for drink and to think. After that things got a bit better, 100 km later made another stop to refuel, drink some Ice Tea and was my head and hands.
That was the final trick. After that everything was good again and I got to the mood that yes, I will do this and just drive around. First stop for a night in Istanbul which was some 1500 km away from Abkhazia border crossing.
Driving, driving, not much else. Stopped second time to refuel and once more to drink. It was hot, over 30 degrees, even when the night came.
After driving hour or so in the dark I was ready to find a hotel. Driving in dark is not that much of a joy, roadwork's were still all over the place which made it even more interesting…
Mostly road was in excellent condition, some police radars on the way, but I used locals to drive in front of of me again and as they seemed to know these places no issues with police today.
9.30 pm I finally managed to find a decent hotel in a city called Tosya, a bit pricey but ok.
Quick shower and food. It turned out that in the hotel there was a wedding, so they brought the food into my room. Not bad.
Driving for this day was 937 km in 15 hours, which included 3 hours that I was standing and waiting at the Abkhazian border.

Total driving after this day is now 8646 km.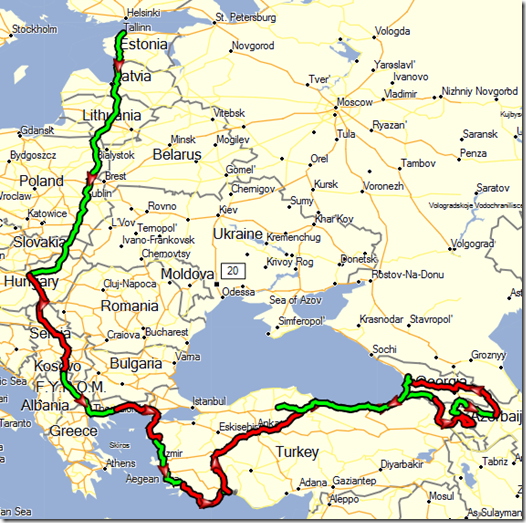 Sorry, no pictures from today.