As before, we will escape from cold and rainy Finnish summer and head for the southern Europe.
We have reserved ferry tickets from Helsinki to Tallinn on the evening 2nd of July and start driving as soon the ferry is in Tallinn.
This time our trip will take us to Zakynthos, Greece.
We start driving from Tallinn, Estonia and our first night will be in Oradea, Romania. Target is to drive one Iron Butt SS1000 (=1000 miles, 1609 km) on the way in less than 24 hours.
From Oradea we continue to Pitesti, Romania for our next night, then to Sofia, Bulgaria and Larissa, Greece. From there we should then head to our Kyllini, Greece where we take a ferry to our final destiny, Zakynthos, Greece.
At Zakynthos we stay for two weeks and then start heading back to Finland. Return route is pretty much unclear yet, some plans to ride Iron Butt BB2500K Gold (2500 km in less than 24 hours) on the way back, but this is to be seen. Anyway our route back will take longer than getting in there as we take the route through Albania, Montenegro, Croatia etc.
This is the route we are going to take on the way there (click for full map):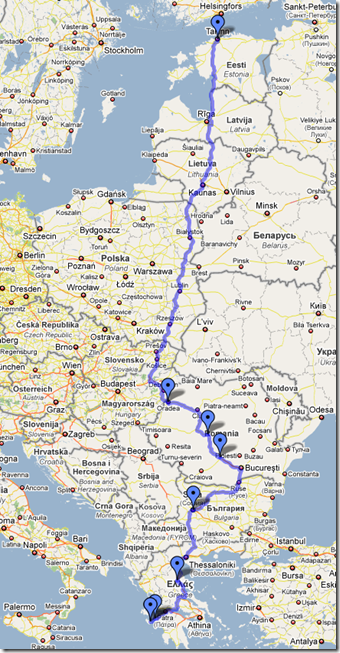 We have ~3600 kilometers driving in 5 days and after the first day we have left ~2000 kilometers so ~500 kilometers per day driving. Not too bad.