On the morning I just relaxed at the hotel and read e-mails, I had a scheduled meeting at 11:30 with a customer so this was not a fully vacation day anymore…
At 11:00 I checked out from the Hotel Mennicken in Würselen near Aachen, which was a very nice small hotel. Had some issues on getting the wireless network connection working, which turned out not to be there, but instead I had to buy some 2 euro wired network connection which worked just nicely after I got it.
Had a ½ day meeting and then I headed for the next destination, Sindelfingen near Stuttgart.
Had only 415 km drive according to TomTom.
During the drive I stopped once to put Gore-Tex driving clothes on, then another stop to eat quickly at local Burger King and final stop was to get more gas. Driving on German autobahns is consuming lot more gas as the speed gets higher than usually.
After driving some 4 hours I arrived in Sindelfingen and balladins SUPERIOR Hotel Residence. Hotel was at excellent location for me as I had two working days in here at the client just 5 minutes walk from it. Hotel had also garage where I could park my bike.
Shortest and fastest was the route I took: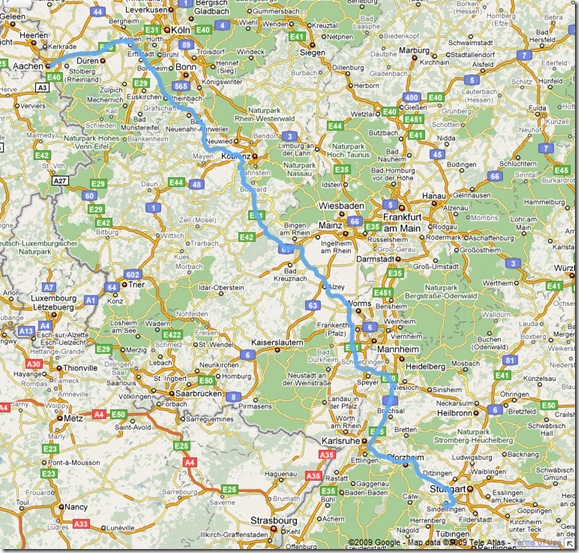 For the next day had not much else but trying to set mind to work, full days meeting, some dinner in the evening and preparing for the last day in Sindelfingen.
One thing i was thinking on the last evening at Sindelfingen was how to get back home and the plan that I started implementing was SS2000 ride from Sindelfingen through Stockholm to Espoo. So not taking the ferry from Stockholm to Finland. I planned to end first 20h drive at Stockholm so anyway I had the ferry option if driving was not at its best.
This was the route that I had in mind: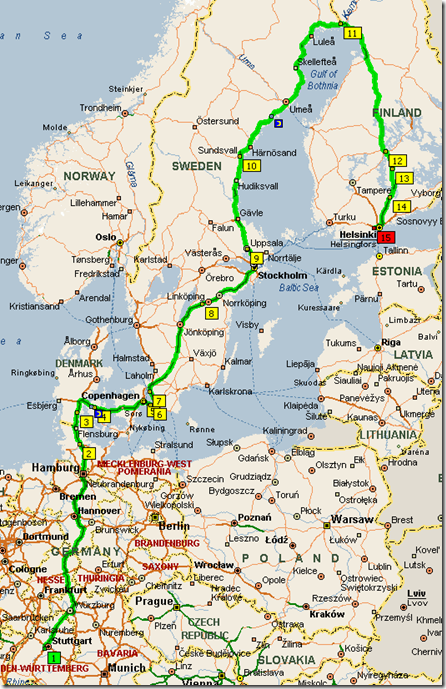 So one more good night sleep, working for the day and then starting to execute the plan!