We got wake up visit at 07:00 as agreed on the night before, had quick breakfast and packing and off we go again.
After driving some 2 hours we had first stop and during this stop we noticed that Kari had a nail through his rear tyre so our intended short stop to drink became a bit longer due to repairing of this.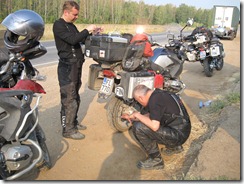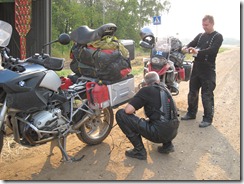 Got this one done very nicely and inflated the tyre using compressor Kari had with him so no need to find air from anywhere else.
As we started approaching Nizhny Novgorod air was getting more and more filled with smoke. During this time there were big forest fires all over Russian and one of the worst ones was just where we were going.
This picture below was taken at broad daylight and this is not fog but smoke!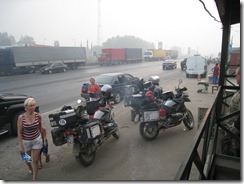 Road was also getting more slippery and I had lots of trouble staying up with my TKC80 tyres.
We started looking for place to stay quite early, but there was not much found on the way to Nizhny Novgorod. Did not want to go far from the main road and thus were looking for a place just by the road.
Eventually we got to Nizhny Novgorod and to the other side of the city so that we can just get on the road on the morning.
Found a hotel where we did required Russian registration, quick dinner with few beers and again a sleeping time. This hotel had even a wireless internet connection, although needed to pay for that so got connected for a short while to check e-mails etc. First time after Astana.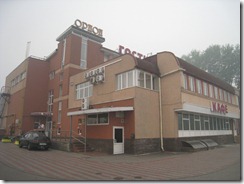 Day was pretty long, partly due to tyre repairs, but we managed still to drive 849 kilometres in a bit more than 15 hours.

Total after this day is 15304 kilometres.