This was the last day towards meeting my family at Antalya airport. Started morning early, I had only 140 kilometres to the Antalya airport.
Road took me through some mountains and then down again via small canyon. On this road I first time took ABS button into use and disabled that. I have had some previous bad experiences with my LT on this bumpy small roads where all breaking power had been gone and I had some near situations on going out from curve. But with ABS disabled, no issues. My R1200GS Adventure is one of those rare bikes where you can disable this feature.
When coming down from the mountain, air was getting warmer and warmer. 38 degrees Celsius when I finally came to Antalya town.
I had one more stop to be done at the local BMW dealer to see if I could have my bike serviced here. I needed basically oil change, new oil filter and valve check.
When I got there, we agreed very quickly to have this on next Tuesday and on the same time one of the BMW recall ones was to be done as well.
After this, to the airport where after short search I found correct terminal and our tour guides as well. They were a bit wondering why we had 4 persons on the trip and only 3 on the plane… but after I arrived this was quite easily explained…
Plane was ~20 minutes late, I was waiting out in the sun for some 2 hours before everybody was in the bus and it was ready to continue towards our hotel.
From Antalya airport it was some 64 kilometres to our hotel and we also made one extra stop to leave people on the way.
Finally arrived to our two weeks hotel in Kemer / Kiris where this is located and also found a parking place for my bike. Hotel security was after me as well when I just ran after the bus and our bus driver had some explaining to do who was this mysterious guy from Finland with motorcycle driving behind the bus…
This was the route for this day, 208 kilometres.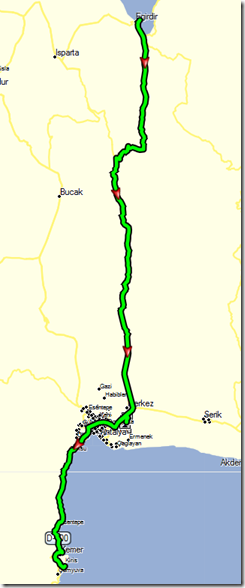 Total route is now 4862 kilometres