We have now spend lot of days here in Rota, Spain have been quite busy: lot of swimming, sun bathing some trips with our rental car, one longer one to Gibraltar where we planned to a trip last year but never made it.
I also had my bike fixed, it had two bearings broken in the rear which caused rear wheel to get in contact with a rear wheel drive outer shield.
I went to local BMW service in Puerto de Santa Maria at noon on Friday without any prior notice, got my bike in and after 15 minutes the result was that I had to leave my bike in there and took a taxi back to Rota. On Monday I headed back to see if the bike was already fixed (place was only 20 km away from our hotel) and in there it was just under final checks. After waiting for an hour I got my bike all fixed and even washed back.
Washing the bike was really the top thing as it was really dirty after all our driving: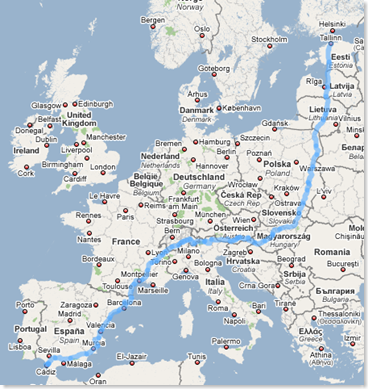 When writing this it's already Sunday, next Thursday morning we should be heading back to Finland, but our route is pretty much unplanned at this moment. We have had some initial toughs on driving from Gibraltar to Nordkapp in 72 hours to get next Iron Butt Ride, but that is still to be seen if we are going to take that or not!