We started at 11:00 from our Arkadia Hotel at Zakynthos, escorted by family to the airport and looked that they got through the check-in.
After that headed to the ferry from Zakynthos to Killini, ferry was about to leave at 13:00.
All ready to roll, my TomTom had direct co-ordinates to the next hotel which was Dovitel Boutique Hotel at Perama near Ioannina.
I started at Killini harbor at 14:30 and ended up in hotel after driving ~400 kilometers. Some detours on the way and some happy surprises as TomTom did not know all of the roads ahead…
Also the hotel POI that TomTom knew was about one kilometer too early, but lucky for me I found an German speaking lady who guided me to the right direction.
Hotel is very nice, quite new and only drawback is that air conditioning is not working. But that was known issue as the hotel manager called day before after I made the reservation and let me know about this.
This was the route that I actually drove, straight out from TomTom (click for more details):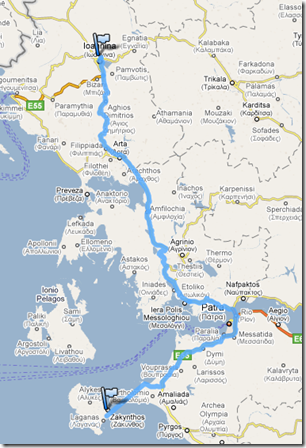 Right now I'm driving on my own, two ex-friends Kari and Arto I had on the way to Zakynthos decided to take quicker route through Italy.