After sleeping outside day started again quite early up in the mountain. Daylight revealed the river where we washed up last night and we started packing our stuff again:
During the night it had rained quite a lot so roads were a bit wet, but views were just great!
Very soon we started going up again, highest point was 3252,8 metres.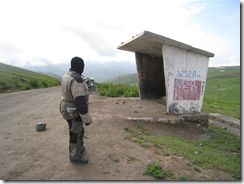 After this point we were on the way down towards Khorog. That was the destination for today.
On the way we had some really nice unpaved roads:
This was probably the best rewards for the trip! And it still just continue!
When coming down from the mountain we had one incident with these local border control points, this was before coming down to Kalaikhum.
These guys were at first very friendly, but after Kari came a bit later than us to this point there also walked this other guy with two starts on his shoulders everything changed. This guy ordered all of our stuff to be searched and it really looked like they were trying to find something, on my gears this guy was looking and looking and when other guys opened my bags and found nothing this guy was shaking his head and told to move forward. Nothing found.
When reaching Kari he had his camera and phone a bit too wide open on the bike and when packing our stuff Kari soon realized that his camera was gone! These guys at the control point had taken it in and even when we started asking where is the camera they were a bit lost that they did not understand the issue…
Lucky for me and Anders all our electronics were in the tank bag which they did not really have any interest, so one camera gone at this point.
After few minutes of asking and wondering the issue, we then just decided to start driving forward, not much that one can do with these local authorities if they start acting like this.
Good lesson to keep all the stuff at hand and not leave it wide open.
We also ran into one water crossing:
And this turned out to be a bit harder than it first looked. I went first and managed to get to the other side.
Then came Anders:
Nothing seriously broken, got everything fixed in few minutes.
Kari was taking it after this extra carefully:
Nothing broken on this, just a heavy bike to be driven on these roads… and its good way to wash your bike…
So we continued and on the way to Khorog and no more incidents happened.
We had learned from bicyclists on the way that the place to spend the night would be Pamir Lodge. This was a bit difficult to find, but after asking few times we got one car to escort us there. Excellent service.
Got there and managed to get last two rooms as well, found shower, western toilet (not just hole in the ground!) and got my clothes washed as well.
Place was quite full with bicyclists and other travellers and after us there were still people coming in.
Today we also made decision on how to proceed further. Originally we had planned to drive to Murghab and possibly to Sary-Tash and then back to Khorog to join with Team 1 and rest of the guys, but instead of this we decided to proceed further to Kyrgyzstan and don't mind about the possible issues in the country. So we would meet others only for a short while and then continue.
Today's driving was 298 km in 11 hours.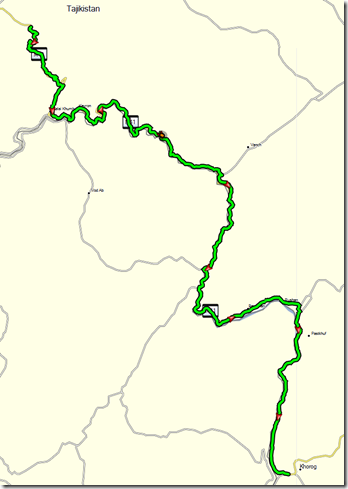 This brings my total kilometres to 10183 km and still going further away from Finland!