For this day we had last night agreed to stay in Astana.
I was going to get my motor oil and filter changed, had already 9000 kilometres from the last one back at local BMW dealer in Antalya. While searching for a place using Google I managed to find one Yamaha motorcycle dealer (N51.14683 E71.37254).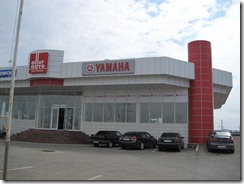 In my Garmin Zumo I had no routable map so I took GPS co-ordinates and just started driving towards that. After a while I managed to find this place and from there found one English speaking sales person. With him I agreed that I came back on the same afternoon, service guys were someplace else at the moment.
So, back to the hotel to wait couple of hours and then back.
Service was excellent on this Yamaha dealer. They were trying to figure out how to remove my oil filter without the BMW oil filter tool, but once I realized what they were after took the one I had with me to solve this issue. I had also new oil filter with me.
There was lots of people watching this.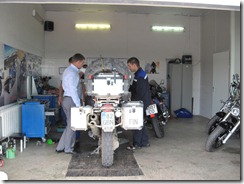 Once done and when it was payment time, they did not charge anything for the work, only for the oil! Excellent!
I even got directions towards a place where to get my bike washed, so this was the next place where I headed. Tried to send text message message to Kari and Anders, but they did not answer so went there directly.
Found this nomad car wash place and again, excellent service.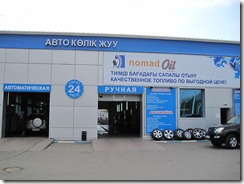 When I drove there some big guy was just about to leave with his car and asked what I was after and once I said that my bike needed a wash he started shouting after the washing guys and immediately there was one guy taking me in and started washing my bike! This big guy was also a biker and probably the owner or boss of the place.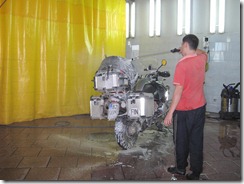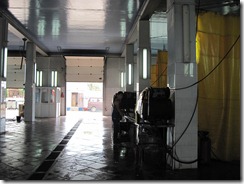 I even had to take my spare Anakee2 wheels of the bike, they hand washed those too.
After I got back to the hotel, not very hard to see which bike does not fit the picture.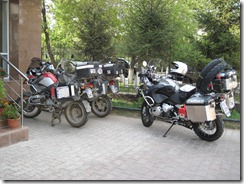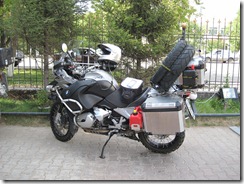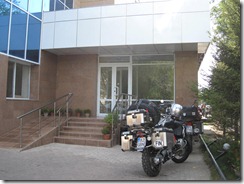 During this service and wash I also managed to drive quite a lot across Astana, this city looks quite nice. Not a city full of tourists, but modern city full of life.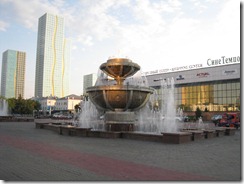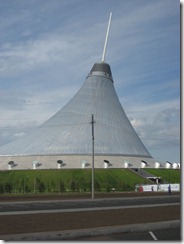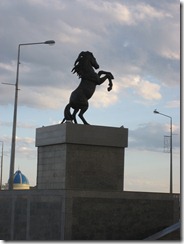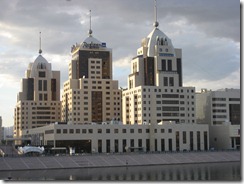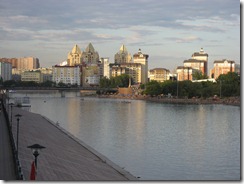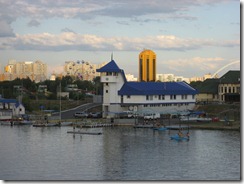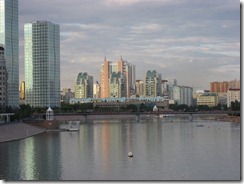 For dinner we went out by the river and found excellent restaurant where we got very good lamb with just some raw onion slices. This restaurant was just by the Kenesary Khan monument.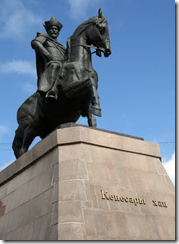 After this it was again time to get some sleep and prepare our selves for the next day.