My original plan for 2012 summer was to do a short two weeks trip to Crimea, which was my target for this year as well, but missed it because I could not get into Abkhazia.
But as time goes by this evolved into a bigger trip and now target is to do a tour to Africa.
So theme for summer 2012 is Africa! And as usual, this will be a trip with my BMW R1200GS Adventure.
And not to make this too easy and comfortable, I will go via Nordkapp and then do an Iron Butt Ride Nordkapp-Gibraltar 72 on the way down. This means driving from Nordkapp to Gibraltar in 72 hours and in kilometers ~5550 km.
So before reaching Gibraltar, I have driven already ~7500 km from Espoo…
Once arriving to Gibraltar, I have usual two weeks of family vacation, this time near Malaga, Spain.
From here target is to drive western coastline down at least to Dakar in Senegal, might be even further down.
When coming back to Europe route is not that clear – yet. Current plan for the winter is to see if it is possible to go via Mali and Algeria to Tunisia and from there to Italy and back home.
Planned route looks like this: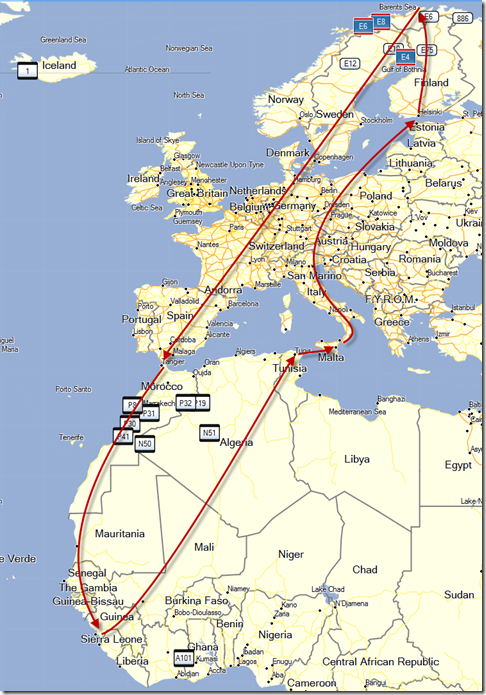 Total mileage for the trip will be 20-25 000 km which means that I will have to carry extra pair of tires as well, not to mention extra gas tanks… Not new as this was the case last year as well…
But as of today, dates have been set, now it is down to see during the winter where and how far down I can go and which route to take back!