My trip could not be described better than saying that 'This is not an holiday, this is an Adventure'.
But all good things come to an end and from this day forward nothing special planned. Just driving towards home, day by day.
When I woke up this morning my whole body was telling that this driving must come to an end. Past few days have been quite rough and it is now payback time.
Yesterday my mind was not ready for driving, today it is the body. But when mind works, body must follow.
So breakfast as agreed 7:30 at the hotel, before that I went to see the bike and took out my Gore-Tex inner lining. It was freezing 10 degrees outside.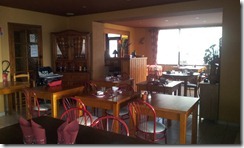 8:30 I was on the road again, summer gloves are now abandoned as well…
Road towards Perpignan was quite nice in the beginning when coming down from the mountains, but soon it became this big boring road. At Perpignan temperature was already 28 degrees and I was sweating. But was not ready to change clothing, not just yet.
At the Perpignan I had looked many times this area and wondered what is in there, so decided to make a small detour to see it.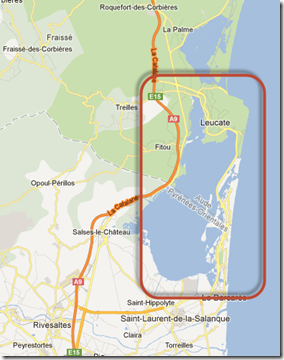 It turned out to be kind of vacation area, villas, campers and now there were also lots of surfers inside this bay as wind was quite heavy. Nice road to drive.
Just by accident I happened to drive through Millau Viaduct which is the tallest bridge in the world. This was not really planned as I had marked that I was not going to drive any toll roads, but as the route looked a bit weird on Zumo, I decided to take a shortcut and just took the toll road. Toll road was only for the bridge, after that it continued as a normal highway again.
There were huge traffic jam just before the toll booths, but I just splitted between the cars and went through quite fast.
After this it was pretty much just driving, nothing much to see. Stopped once to take out Gore-Tex, once to re-fuel and put Gore-Tex back on and once just to walk around. Temperature stayed around 20 degrees for the rest of the day.
I had looked up an hotel called Hotel Leader in Dole which should have Wi-Fi and all. Got a room which was ok, clean and all and got bike parked just outside the door. There was no dinner available in the hotel so needed to take my GSA for one more ride for today to get something to eat and found Buffalo Grill.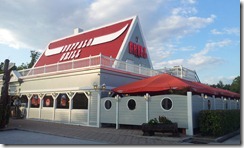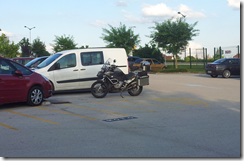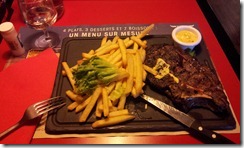 And yes, stake it was!
All in all, this day was with 3 stops 811 km in 10 hours.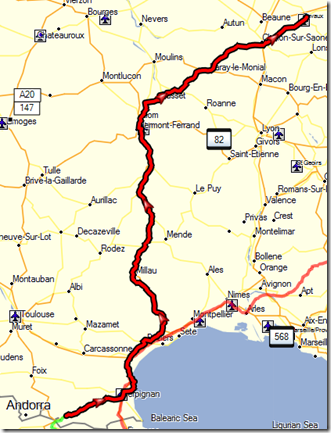 Total for the trip is now 8571 km.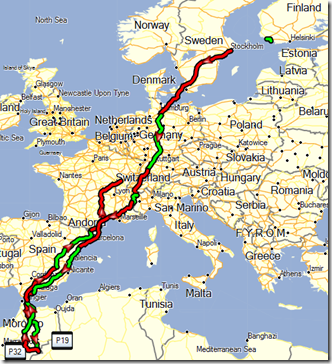 Tomorrow will be a shorter day, only some 400 km driving.