We had already heard the news that next day was going to be really rainy one in Sweden and as we walked outside in the morning this was already quite clear to us.
So full clothes on, for me this meant also wearing rain suit and that came really into need.
Our first stop for fuel was only after 230km and already here we started seeing issues: Tommi's new Honda VFR did not start, all electricity was gone and man himself was really pissed off! After 15 minutes of thinking we took the seat of and found out that one of the power cables was loose and its screw had been messed we could not tight that at all. What a nice job the dealer had done in Bike World for this bike! Just some 1500km in the meter…
We managed finally to get the bike started while holding down the power cable, ran for a cup of coffee before continuing. Tommi's gloves were also wasted, brand new ones were not holding water out…
Called also to Kari and we agreed to change route from bridges to ferry from Helsingborg. Wind was really heavy and we would be probably in a big trouble on the bridge so ferry is safer alternative.
And it rained then some more.
In Helsingborg it stopped when we got to the ferry and while waiting there with Kari we also saw two other friends from Finland, they were driving towards Gibraltar to start some really boring ride to Nordkapp from there. Must be fun…
Few minutes rest and we were in Denmark. 203 km to next ferry from Rodby to Puttgarden. We just missed the previous one due to one more fuel stop on the way. And some rains…
On the ferry we decided to skip the original plan to head to southern Germany on the first day and instead drive just somewhere near Hamburg for a night. Rain had done its job. But good that we did not have any real plan to follow so we do have some room for a change.
Just after Hamburg we drove off from the autobahn and into the village where we found nice bed & breakfast. They did not have a room for us, but an apartment! For 110€ we got this with breakfast: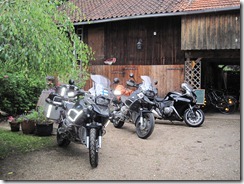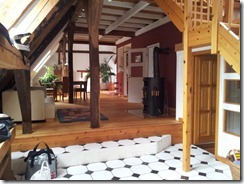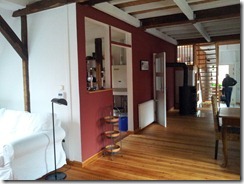 Also there was restaurant near by so we got some food finally.
Day was still quite long, we started driving from Stockholm 6:30 and ended in Garlstorf 20:30 after driving 974km.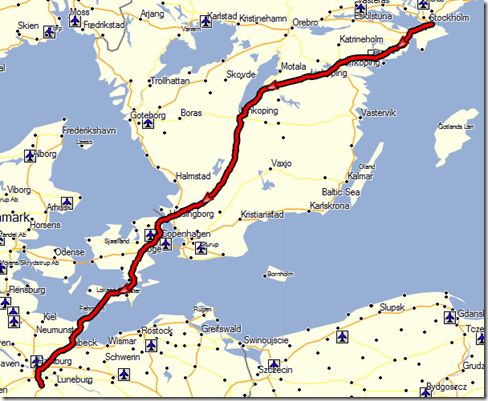 Total for the trip is now 1034 km.