Had a small breakfast at the hotel, packed and to the bike.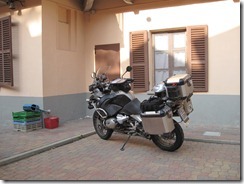 I got the bike parked behind the hotel and as expected it was right there where I left it. Still muddy and all…
To start with I was not planning to take the fastest route from Bardonecchia, but more smaller roads which actually took me into very nice interesting paths. Col de l'Échelle was the last bigger pass on my route.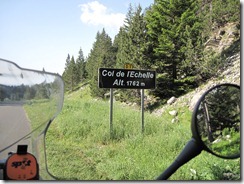 This was all really nice roads: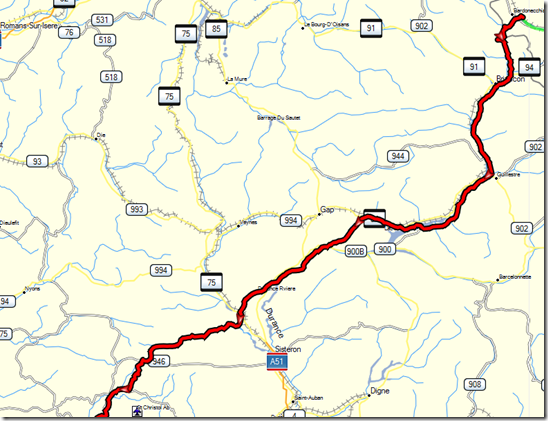 Just before city of Arles, France I ran almost out of gas as well. No good stations anywhere on the route and I did not fill yesterday when coming to the hotel – as I should have… Managed to fill some 34.5L to the tank and gas station man was coming out to see where did I put all that gas…
At this point I had already driven some good kilometers with Zumo saying '… enter roundabout, take the first/second/third exit…' and got really fed up with this. So Zumo got new instructions, toll roads are not off limits anymore!
Once I started seeing that estimated arrival time was ~6 hours, time to look for hotel. Took next exit to some village and searching for an hotel, but nothing found. Continued still some 50 km or so to next one using A-7 and arrived into Amposta, Spain. There I found hotel Montsia after couple of retries. Room with breakfast just under 50€.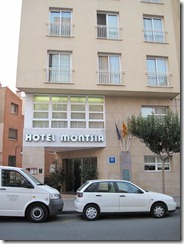 For some strange reason co-ordinates that are in Zumo do not tell exact location of the hotels, but it drives you to location near to 500-1000 meters. After that you need to find it on your own.
No private parking available, so bike was parked just outside of the hotel by the road.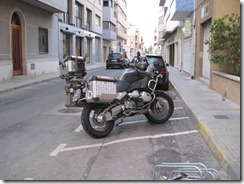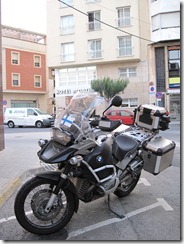 At the hotel I got excellent three course dinner including a bottle of wine at 11€. Could not be better end for the day! And in the hotel room there was also air conditioning!
Total for the day was 904 km in 11½ hours.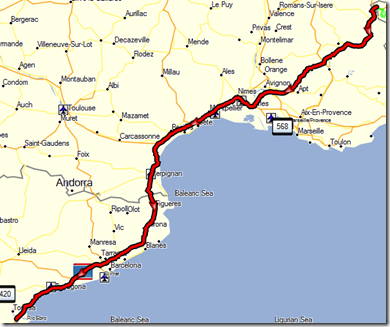 Total for the trip is now 3441 km.