Day started a bit earlier than originally planned. Could not really sleep during the night so 05:00 alarm went off and packing started. Anne had also already arrived back to Finland with the boys and I had to clear some bank matters before I could leave our apartment hotel Don Gustavo. This hotel was excellent choice for our case, two bedrooms, living room and small kitchen. We did not really cook anything more special but some soup and pasta, all evenings we ate anyhow out. Hotel was very clean and well maintained.
At 06:00 I was finally ready to leave and packed the bike.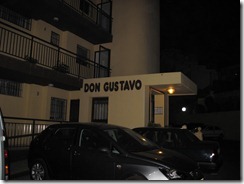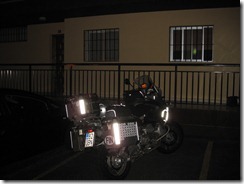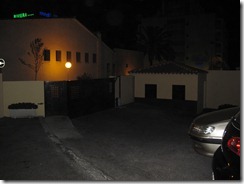 I was heading 08:00 ferry from Algeciras to Ceuta and from there to Morocco.
It was some 25 degrees when I left Benalmadena but on the way it dropped down to 18 degrees Celsius.
I finally made it just before 7:30 and after few rounds I managed to find ticket office and a way to the ferry. Ferry took off pretty soon I had my bike inside. Cost for the ferry was 60€.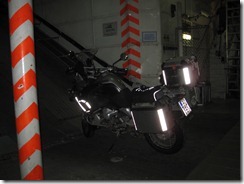 I got very good spot in front of everybody!
After an hour we made it to Ceuta and few minutes after that to the first gas station to fill up some cheap gasoline, 1.19€/L!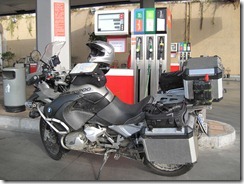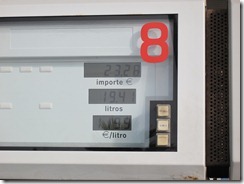 And then to Spain/Morocco border. On Spanish side I did not even had to stop and on Morocco border I also went through quite fast. Some of these *guides* were trying to *help* me to fill out two forms needed to get through, but I do have learned something from these trips and just ignored those and drove through to real ones.
Quick form filling, few stamps and I was in Morocco. Whole process took some 15 minutes to complete. And yes, I did drove in head of the whole queue…
First stop on Morocco side was to get some local currency, just in case.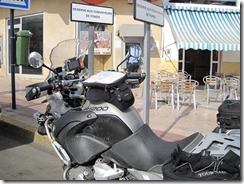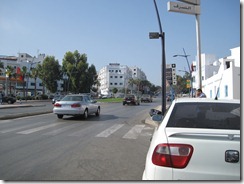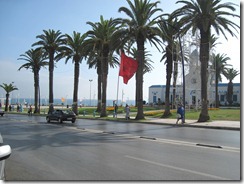 I had planned a route to Fes using smaller roads and some offroad tracks, but as I was so heavily concentrating on the driving, I managed to drive through the crossing where I should have entered these… and once I realized this it was already too late to turn back. This was some 70 kilometers after…
Made few stops to refuel me with water (consumed some 4L on the way and more in Fes).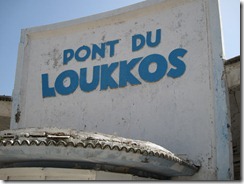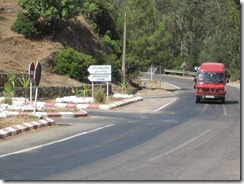 Roads are in excellent shape for GSA, no complaints from this direction. Just what I was expecting from this part of the trip.
Map that I was using is Open Street Map version of Morocco in my Garmin Zumo, seems to be reliable enough especially when accompanied by a paper map – just in case.
It managed to get me into Fes and directly to the hotel, last few meters I had to drive into illegal direction, but as it seems to be local custom in here I thought that why not.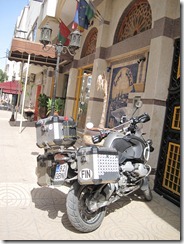 Parking I got in front of the hotel where there is 24/7 watching so I'm hoping that the bike is there still tomorrow morning.
Time was something that I needed to figure out. Garmin Zumo was showing that Morocco was two hours behind Spain, my Samsung Galaxy S2 was showing same and so is my laptop. But everywhere else it was showing one hour behind Spain. After I figured this out did some googling and it turned out that daylight saving rules had just been changed this year and it seems that every gadget I had here was missing this information. Even my phone which should be getting this information from the network! Go figure.
Driving for this day was 450 km in total in temperatures ranging between +18 and +39.5 degrees Celsius.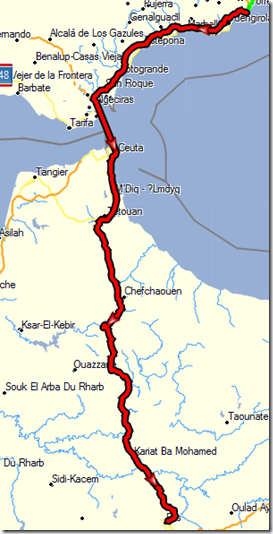 Total for the trip is now 4701 km.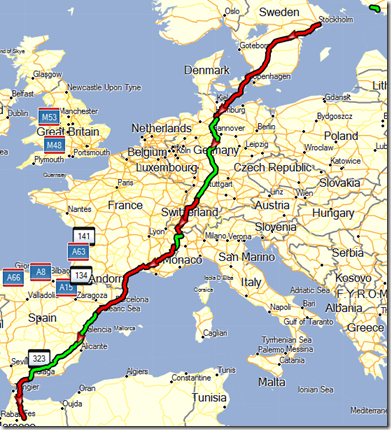 Tomorrow I will be still heading south.