Woke up again at 06:00, packed and went to breakfast. There I noticed a group of people around my bike and went to see what they were up to.
They all were looking at the bike and wondering why it was so dirty and all, how old, where I have been etc. etc. Once I told that I had been in Merzouga, Morocco I could see amount of respect growing in their eyes.
It was no longer an issue that the bike was dirty, they understood why it was dirty. Then someone asked that was I driving offroad in there, with those tires I had (I have Anakee 2 tires right now) and when I said yes, amount of respect was growing even more…
Then I started looking at the bike as well and noticed that something was missing from it: two GSA original fog lamps were not there. I looked some of the photos I had on my phone and yes, they were not stolen last night in here, but day before either in Ceuta or on the ferry from Ceuta to Algeciras. I very much believe this happened on a ferry, at Ceuta I did look around the bike and noticed nothing different. There was a member of a ferry looking a bit weird when I left from there. Ferry company I used was Balearia, next time I will not use this ferry company – just in case!
Person who took these had to work a while to get them out as screws that needed to be opened were in a hard spot, 5-10 minutes work at least. He also must be little wondering what bulb goes in there as I had put Xenon bulb inside it and original is H11 which is not the most common one to find…
Good in this is that they took these fog lamps and not the Hella Xenon's that I have there as well as they would have been much more expensive to replace as these.
Anyway, got some breakfast at the hotel and around 8:30 I was on the road again.
I the beginning I had chosen some smaller roads again, which turned out to be just excellent.
First 4-5 hours were a bit hard to ride, my mind was doing it's tricks again and driving was not that good. Similar day has happened on previous trips as well so I just took it easy, did some stops for coffee couple of times and hoped for the best.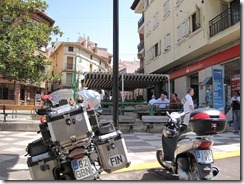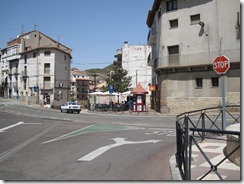 Eventually things got better and driving started to be enjoyable again. If I hadn't reserved an hotel this time in advance, I probably would have called it a day a bit earlier.
Temperature was nice, just below and over 30 degrees which was just perfect.
As a reward for the day I had planned last 150 km to be pure pleasure riding. Especially this part: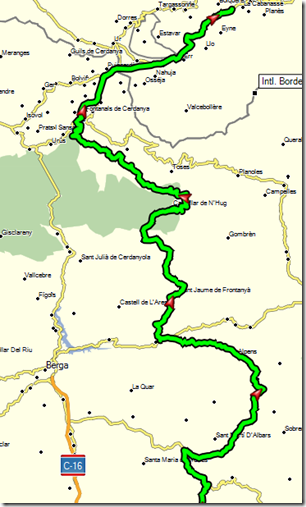 All small roads which had absolutely no longer 100m going straight, all other was turn, turn, up, down, right, left! Just amazing! There are a lot of roads like this in the Pyrenees, just need a detailed enough map and start planning!
Highest peak I crossed was 1930m high. On this crossing there was nobody coming towards me. Totally empty perfect road. I was really wondering why, is the road blocked or something. But it turned out to be just fine and I managed to get to the other side.
Before entering France I re-fuelled bike and rode the rest of the 20 km to the hotel.
Already now I started feeling the cold, it was only 18 degrees outside!
Hotel I had reserved was Hotel Le Catalan, an small hotel outside of everything. But it had perfectly working Wi-Fi, restaurant for food and a room for me, so everything I needed. Room was clean and otherwise ok.
Bike I got parked behind the hotel so hopefully it is there again tomorrow morning.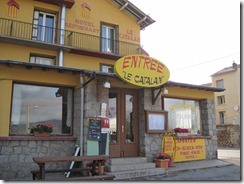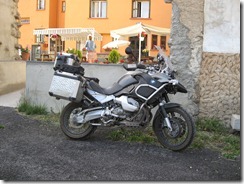 Todays driving was 776km in 11 hours.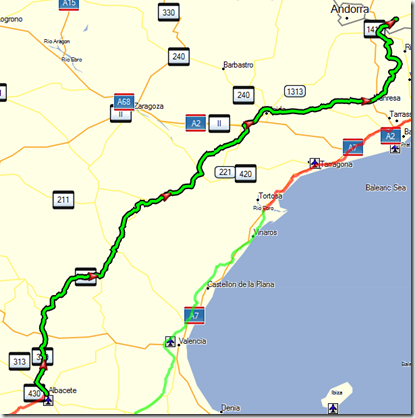 Total for the trip is now 7760km.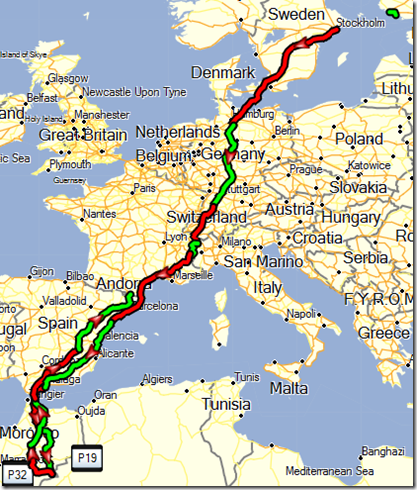 Tomorrow plan is still to be in France as I will be driving smaller non-toll roads towards Germany.