This time decided to take a bit different approach when leaving from Finland. Usually I have been driving one really long day to somewhere, but now I left with 13:30 ferry from Helsinki to Tallinn and was about to drive only few hundred kilometers.
Lots of other motorbikes on the ferry as well and even more had arrived after I left.
After boring two hours ferry trip finally made it to Tallinn, quick refueling and continue Via Baltica and to the hotel.
Took one other stop on the way to change gloves to warmer ones. Although temperature was quite nice 17…20 degrees, it still felt quite cold.
Got a weird feeling on the way as usually I have driven this part at night, now in daylight and all the places looked really different.
It was only 349km to the Motel Brencis, a really cheap one just by the Via Baltica road.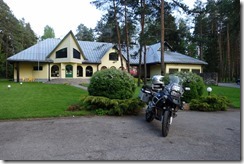 I actually got the bike parked into garage where there was also another Finnish bike.
After few friendly words I got small dinner as well in motel's restaurant where I was the only guest.
This motel is a bit outdated, but looks really clean and well managed and for the price of this will definitely be using this again.
Today's mileage was 372km. Estonia and Latvia part took 4:30 hours.