This was they day to start transit towards Antalya, Turkey. Not much smaller roads planned as I decided to skip Macedonian gravels roads and try what happens on Turkey border. On 2011 we got speeding ticket which we were not able to pay at the time. So just in case, head to the border on Friday after noon, if there are any issues I could still take care of them in good time.
At first I thought that this was my whole breakfast in hotel Villa Diamond, Bitola.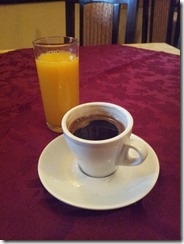 Link into hotel page does not really describe the hotel where I stayed… but same contact information and place was still quite ok.
But I managed to get some more as well: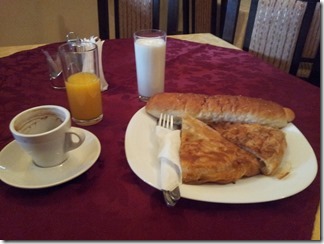 So all good, packing and quickly on the road again just before 09:00!
Spent my last Macedonian money on fuel station before short ride to border crossing to Greece. Nothing special at the border, quick passport check and I was on Greece.
From here I had selected some not that big roads to begin with, but quite soon I was on the big highway with few toll booths which took 1.70€ or so every ~50 km. One stop for fuel quite near the border, again at the station they a bit wondered where I put all that 34L of fuel… I guess they have not seen that often there bike like mine…
On the Turkish border crossing  no problems on getting into Turkey, they just checked couple of times all papers and I was in Turkey. So all good, no worries on the speeding tickets I had got two years ago!
At the border I met one German Stefan Schenelle who was on his way to Istanbul with his AfricaTwin which was a jumpy ride –mode. He had lost his rear suspension already some time ago… After few kilometers he decided to follow me and we drove together to my next hotel Crowded House in Eceabat to wait ferry from Europe to Asia side on next morning.
Once we got to the hotel, only I was able to get a room as I already had the booking for it, but Stefan got a room from the hotel just few meters away. Parking was not perfect, but good. During the evening we got some dinner and day was done again.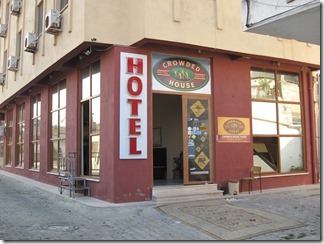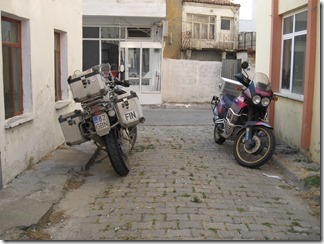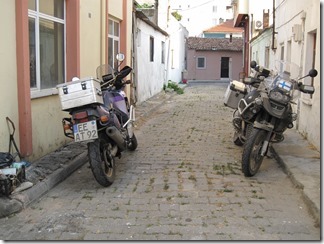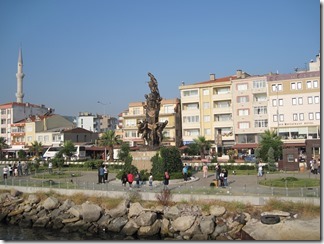 This days driving was 651 km in just 8 hours which included two border crossings, very fast driving.

Total for the trip is now 5402 km and I am almost in Asia side!