This was my day off in Malta as my wife and son were to arrive later on in the evening.
After having some porridge for breakfast I decided to take a drive around the island. Did not take until first stop when I saw another motorbike approaching which turned out to be one Latvian guy living in Malta with his wife and a dog.
He had an custom made motorbike in Latvia, now registered in Malta.
After some talks we decided to drive together, he was going to show me all the sights in Malta as this was his free day as well from work.
This was the ferry port to Gozo, lots of divers as well in here.
One of these small bays where people are going for a swim. In Malta there are almost none big sandy beaches, all are this kind of small ones or then rocky ones.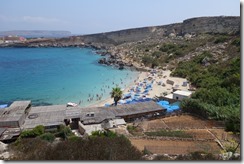 Popeye Village in Anchor Bay.
Blue Grotto area.
Snack time near Marsaxlokk.
Visited many other places as well, total trip was 115 km in 5 hours.
After this tour came back to hotel and took some soup and bread and rested a bit.
In the evening I drove to the Malta's airport to see when Anne and Max arrive and to find the taxi as well. I had already booked a taxi from airport to the apartment and agreed to meet with the driver at the airport.
Airplane was half an hour early we managed to get back to the apartment before 20:00.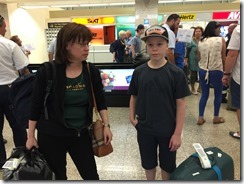 And almost right away for dinner as they had not really eaten anything in the airplane.
Now it is time for some family time and the journey continues after a week. Anne will fly back to Finland, Max will come with me.
This day's driving was 152 km, total for the trip is now 5229 km.