Day started really early, wakeup at 02:30 after sleeping only couple of hours. Quickly some sandwich and water, shower, final packing and then to get Max up as well.
At 03:00 we were outside of For Rest Aparthotel packing the bike and 03:15 we started driving towards ferry port in Valletta. Ferry was scheduled to leave at 05:00 and we made it easily.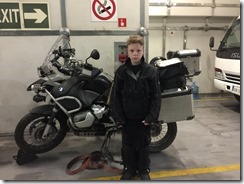 After bike was securely tied, we went to find a place for next hours. Ferry trip itself was only 01:45 but we were here an hour earlier so can easily get some sleep.
Slept quite well for some time, wakeup just in time to grab sandwich and a coffee.
Did not have any special plan to drive through Sicily, but just headed towards next ferry port without toll roads.
Had few breaks on the way, some roads were big (one had previously been a toll road but was now under repairs and was not that), some smaller going through many villages and some just spectacular roads going by small mountains by the sea. At one of these parts there came a car towards us full of Finnish people shouting 'Suomi!, Suomi!' to us. Nice to see that the flag in front of the bike is working.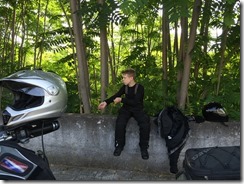 Arrived in Messina just in time after driving 234 km, ferry had just been arrived and was loading new passengers. Quickly bought a ticket, passed all the cars and went into head of one queue and it did not take long until there was a man waving to us that go. We were one of the last ones to get in.
Got a break in air conditioned space which was good as temperature outside was already 36 degrees.
Next was to get out of town and to the bigger roads. I was skipping smaller ones as it was jut too hot especially for Max with his Rukka Gore-Tex outfit. Already changed his leather gloves to more breathing enduro gloves similar to what I am using. I had a spare ones as the ones I'm using right now are pretty old and worn but still work.
Some breaks on the way, one to leak extra water out and one to get more fuel until 174 km later we arrived in Hotel Alhambra in Paola.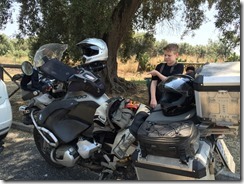 Hotel was really nice renovated just by the road.
After getting our stuff into room and little cooled down we went for a walk to find the sea and for a swim.
And of course some ice cream as well was on the way.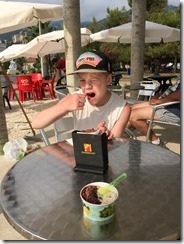 Walk was a bit longer than expected, over 7 km first in downhill and then uphill back. Once in the hotel needed to take a shower again.
Got a dinner at hotel and day was done.
This days driving was 425 km.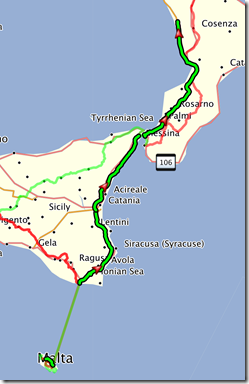 Total for the trip is now 5713 km.