Woke up early again, by 06:00 I was pretty much ready and started thinking on how to get the bike out from garage. Garage door was locked and the guy who opened the door last night was nowhere to be seen.
Lady from the reception helped me to find this guy, he was still sleeping in a room on separate building and came out looking really sleepy… but eventually he got his eyes opened after having a cigarette and I got the bike out for packing.
By 07:00 I was ready to ride again.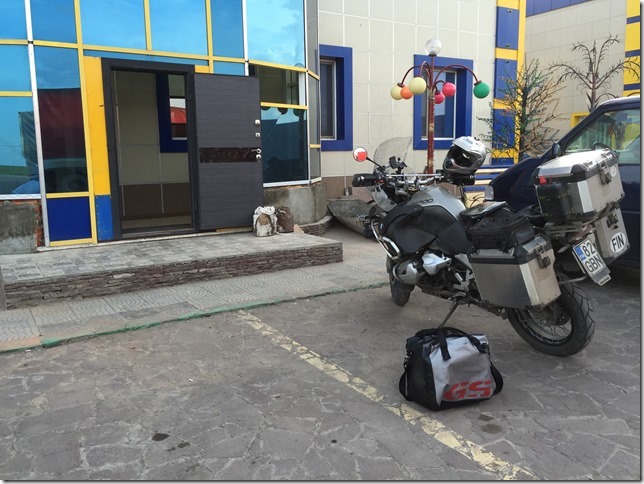 After a while I decided to take a break and stopped to have coffee, something to eat and more importantly, to get water.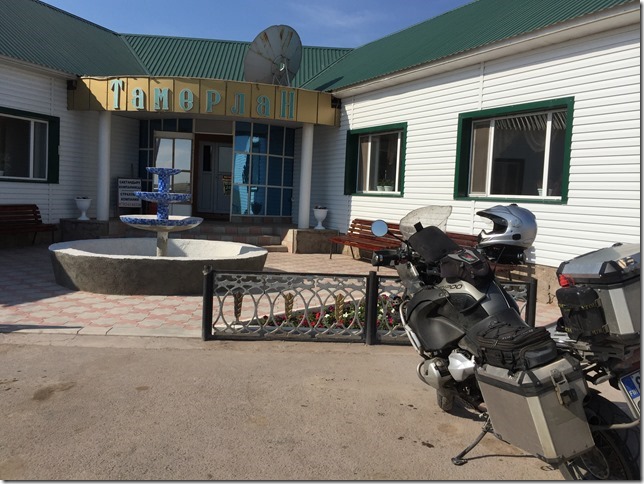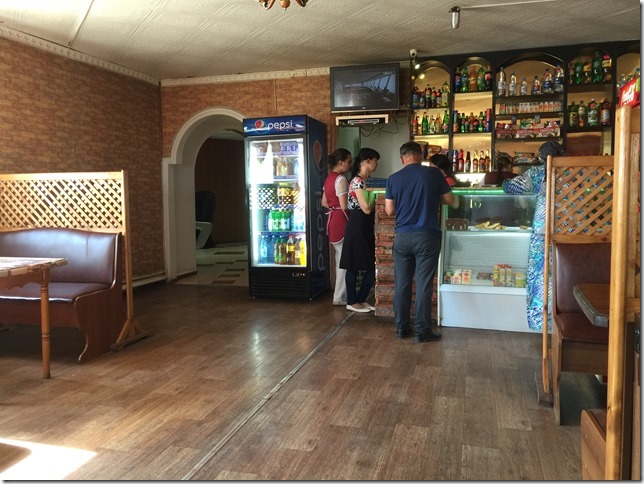 Total damage for this 450 KZT which is about 1,2 EUR. Not bad at all.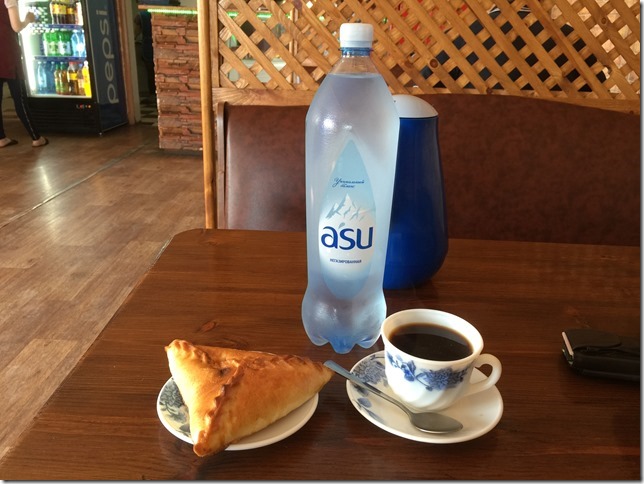 After this I drove directly to Astana and got some more fuel over there. Thunderstorms were all over around me but managed to escape from them without getting wet!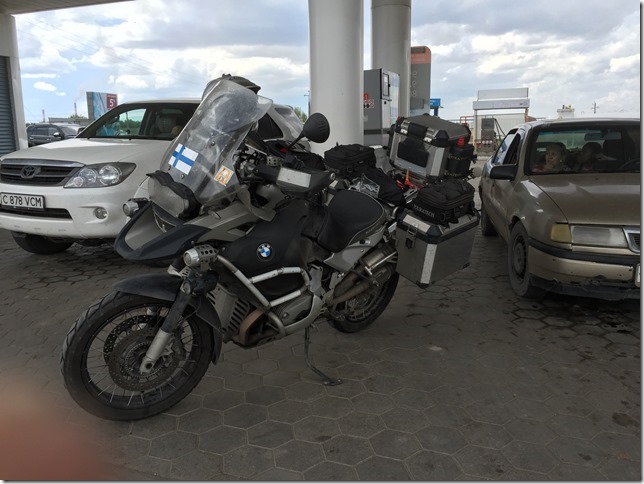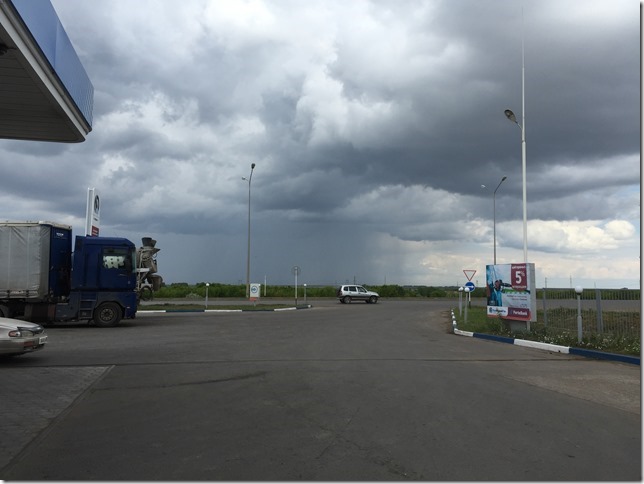 Yesterday I was still thinking of spending a night in Astana in same place we were on 2010, but as driving felt good I decided to drove further over to Pavlodar as it was just over 400 km from Astana.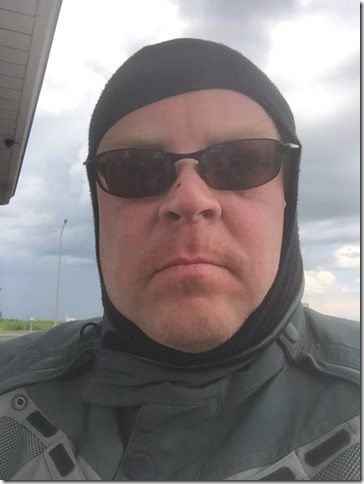 I really should have had internet connection last night as road from Astana to Pavlodar turned out to be 400 km long motorway construction site where road conditions were anything from perfect new motorway (for 5 km) to dirt roads and anything between those. Really hard 400 km.
On the way I had just one break for drink and thus managed to keep my original schedule – missed it only by an hour or so.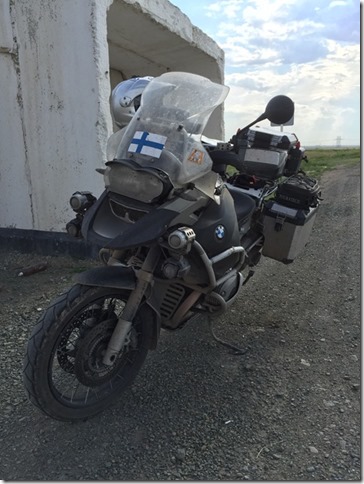 Bike is all covered now in this clay dust, need to get it washed at some point. At least the oil leaks from the rear are now more clearly visible if anything good comes out from this.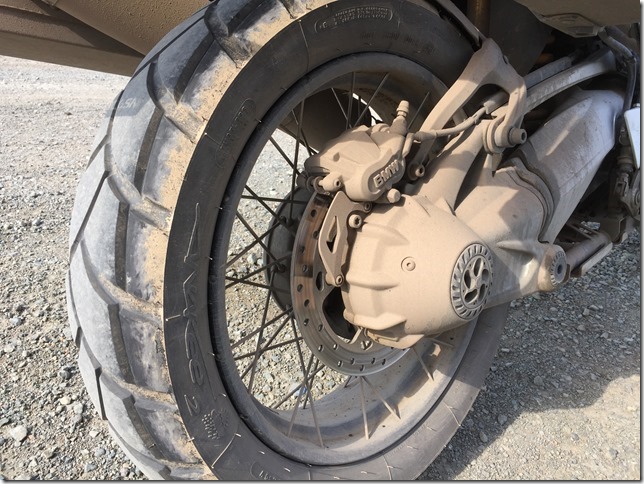 Obviously I had nothing reserved in Pavlodar so I was looking at the GPS for hotels and tried first one. No luck, all full or did not want me in.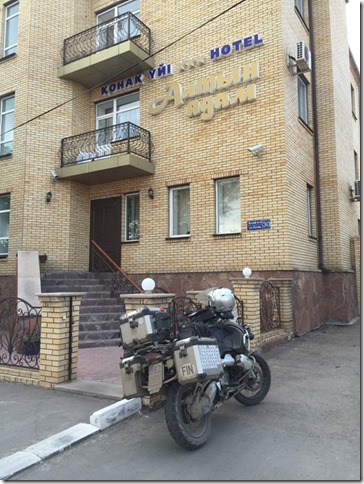 They did gave me directions to this hotel Kazakhstan, looks really nice from the outside, but when taking a closer look everything looks so different. For one night stay for me it was just fine, parking behind the hotel and there were also some cameras to watch after the place in reception. Price for this was not too bad – considering that I had been driving pretty long day and needed an shower and good night sleep.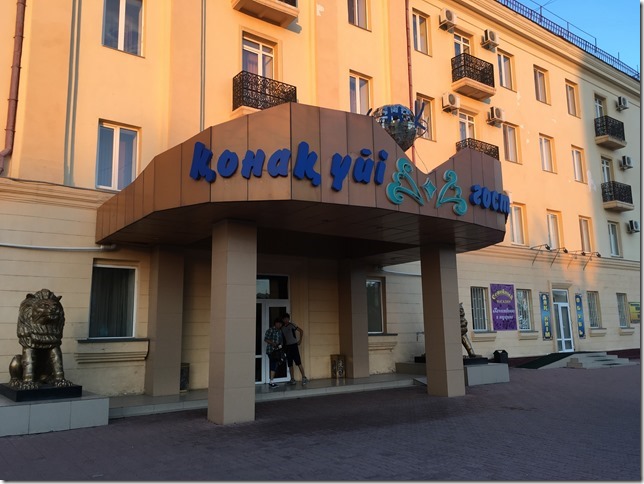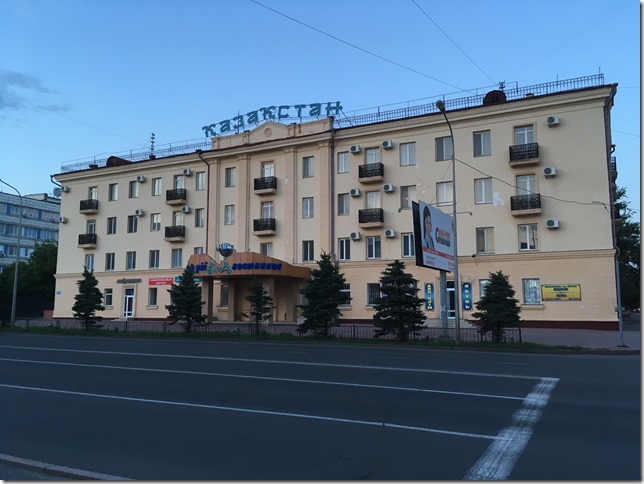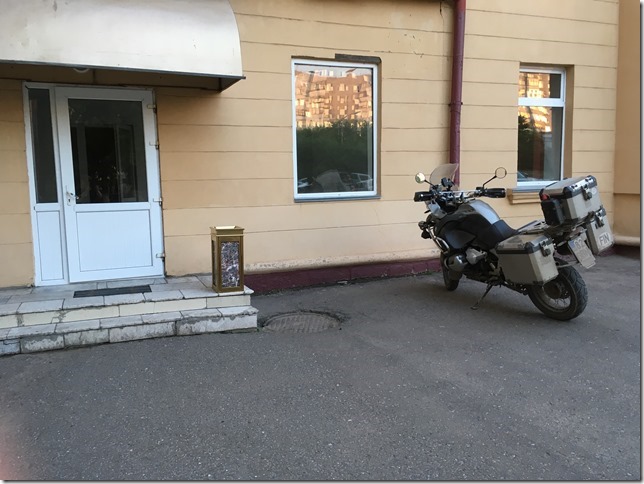 After getting me and clothes washed, I went for a walk around the area and to find something to eat.
In Pavlodar there is plenty of room for people to walk, nice place in that sense.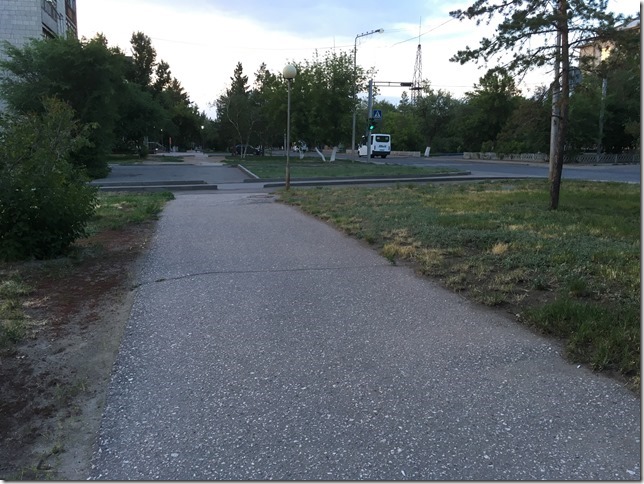 Some war memorials found in lots of places.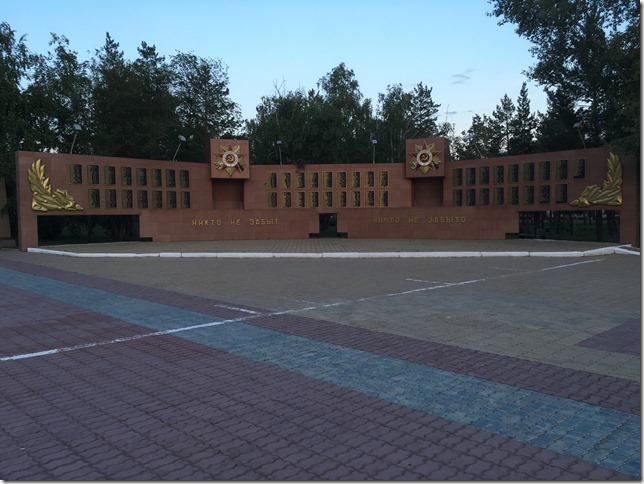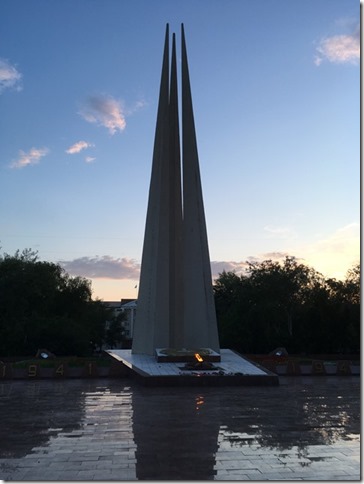 I quite often walk through local parks as well and this one was otherwise quite nice but the watering system might have been a bit more hidden. Big iron pipes running all around the park.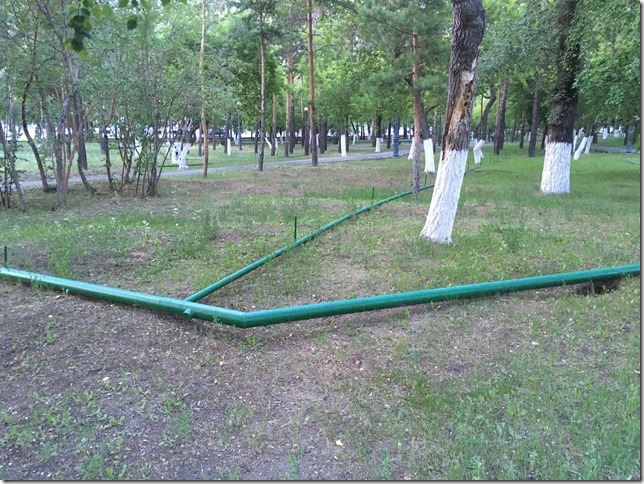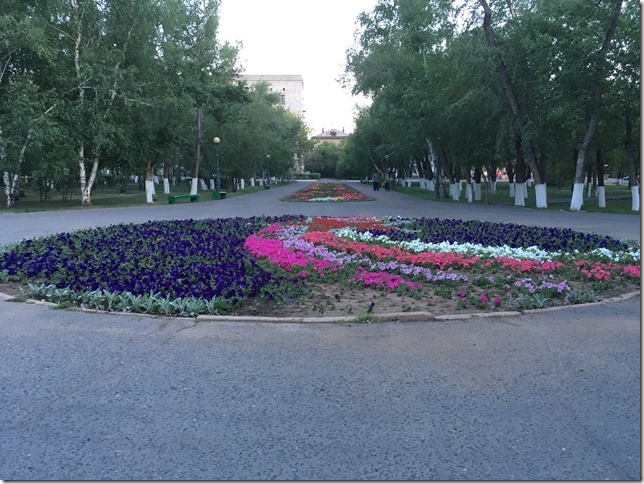 For food option I could have chosen this: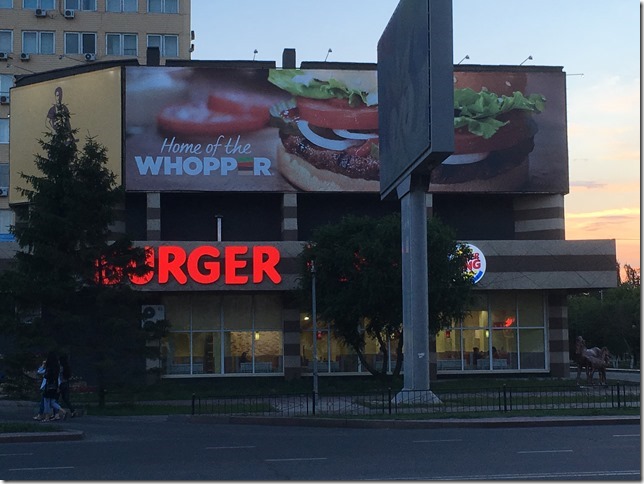 But instead I went into this one and it was excellent choice: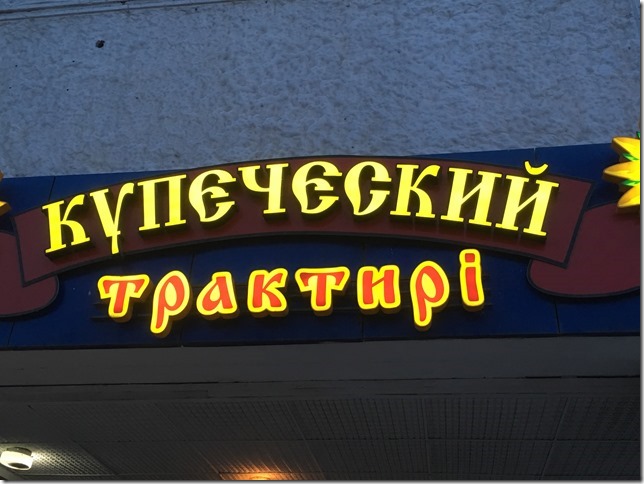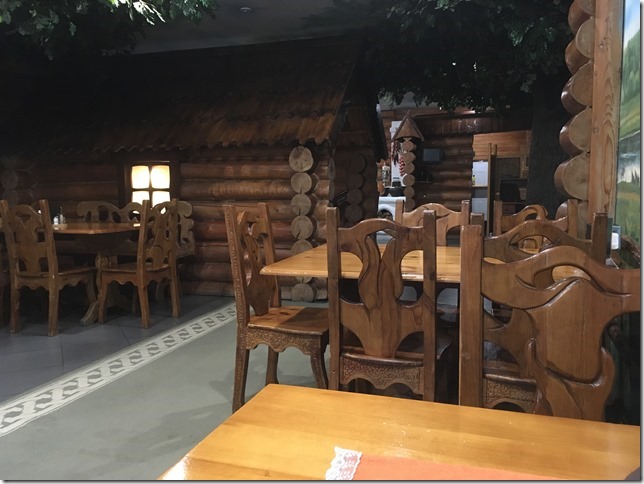 Almost blindly with a little help of translator on my phone I managed to get these: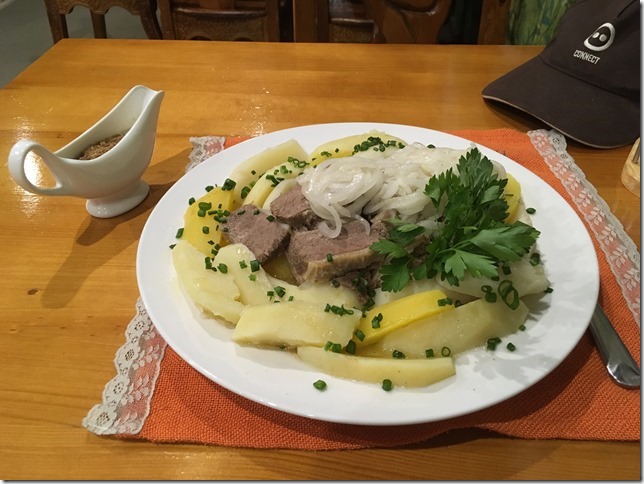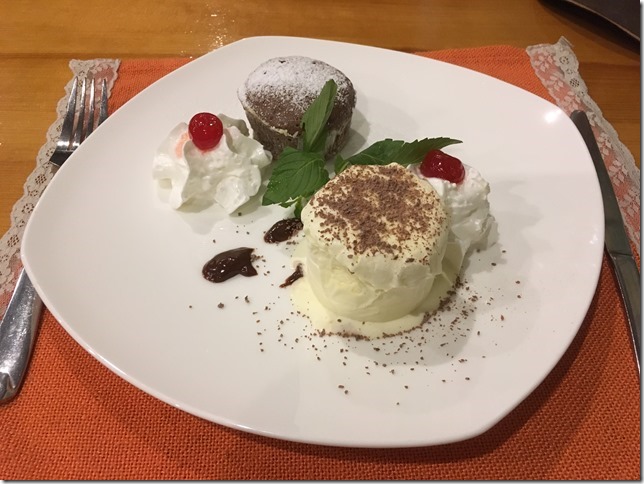 While waiting for dessert I had two coffees and when it came I realized that they had really baked the cake in the oven after the order. It was still hot, chocolate was just coming from it and it was crispy on the top. For sure not heated in the microwave.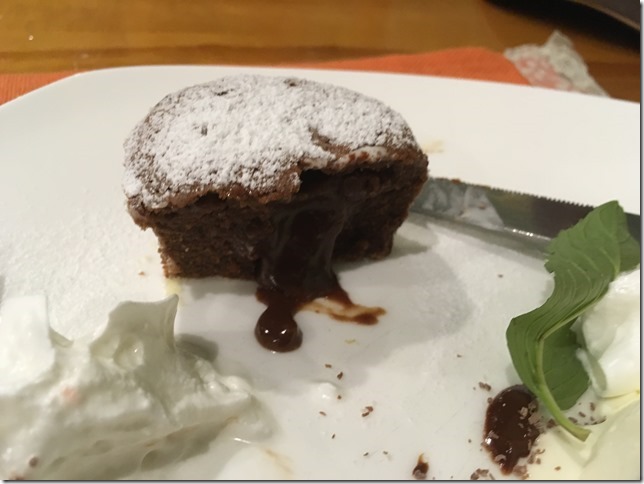 After all this eating I was done for the day, not much planning to be done as I had already picked direct route to Barnaul, I just needed to book an hotel which I found quite easily, this was a one with a washing machine and all so I could get my laundry done more easily.
This day was 920 km in 12 hours, pretty long and hard day. I believe this was the longest one on this trip as well.

Total for the trip is now 11329 km.