I woke up before 07:00, a bit lazy morning to recover a bit from yesterday. My body was giving some unusual signs again that some extra activities has been done yesterday and everything was not back to normal.
Coffee is a good start, did not bother to make any other breakfast than that.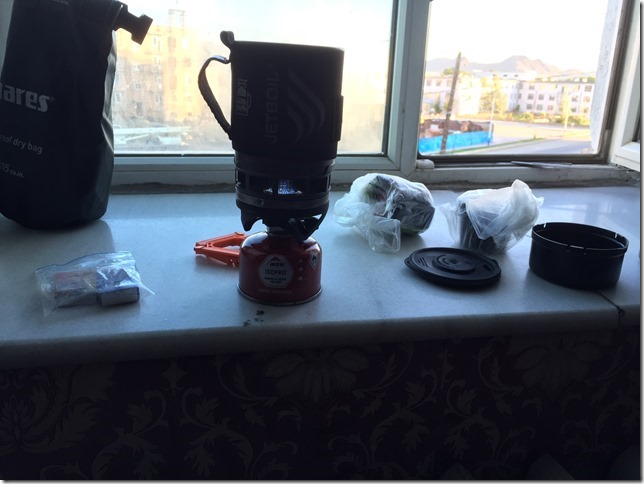 Than I managed to open my computer and saw some e-mails that needed my attention for a few hours.
Since room did not have a proper working desk, I made one of my own: I laid sideways the one (and only) chair and put blanket from bed over it to make it a bit softer. Worked pretty well I would say.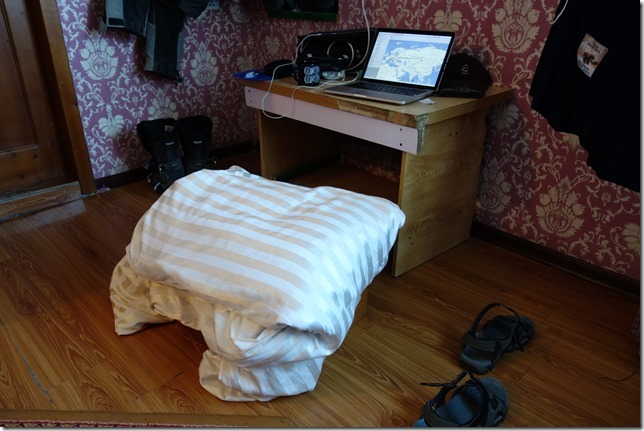 Closer to 10:00 I was ready to ride again.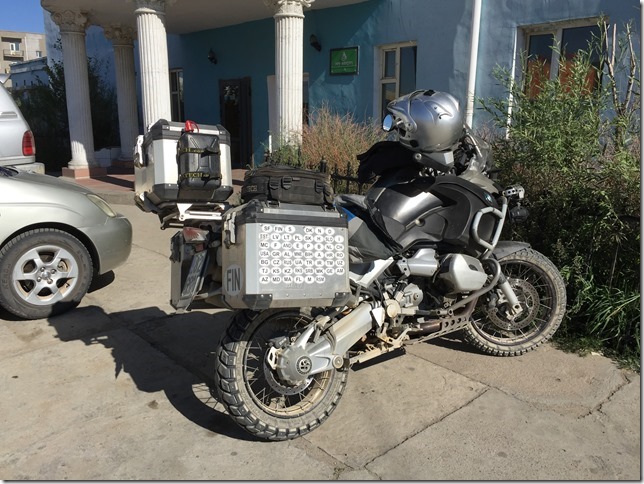 First thing to be done was to get more fuel. Got 92 octane, but after leaving from this station, couple of stations forward there was one selling 95 as well…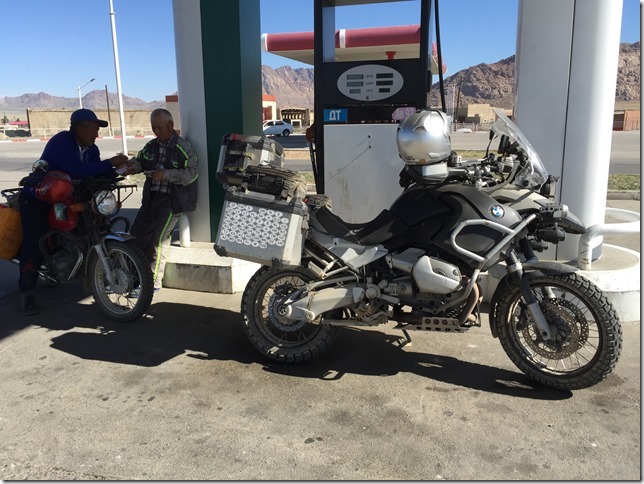 There were again some gates outside of city – as in Olgii – I'm guessing that this is for some sort of toll collection point for the new road. No toll for me, man in the window just waved and opened gates for me.
After I got out from city I noticed that my screen was loose again. As road was just perfect I did not bother this too much but continued for an hour and then took a break to drink and retighten this. It just doesn't stick with all this shaking and needs to tightened quite often.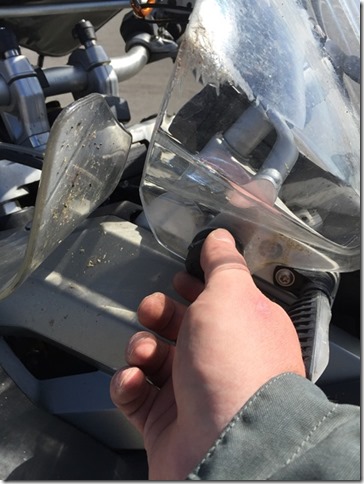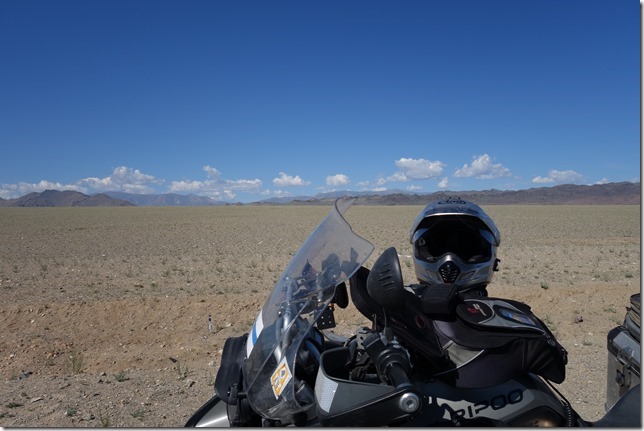 First 160km or so were really good road to drive and an boring one. But got me some mileage as well since I started quite late.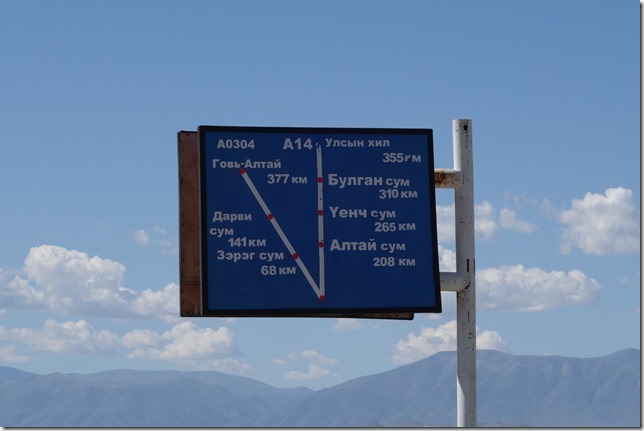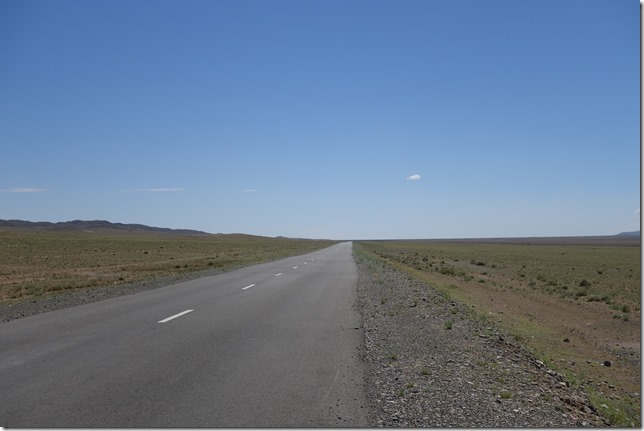 Scenery was quite flat, some green stuff also on the way.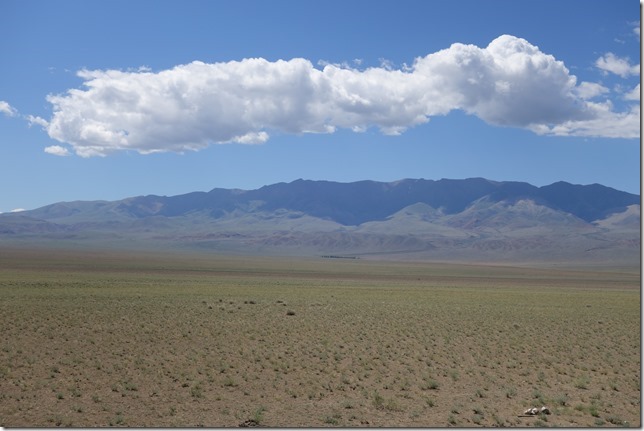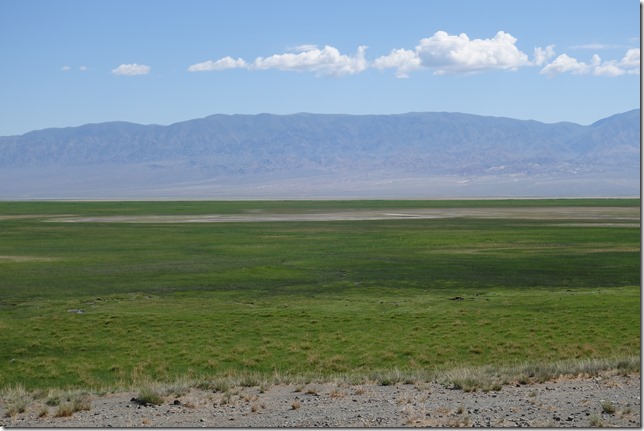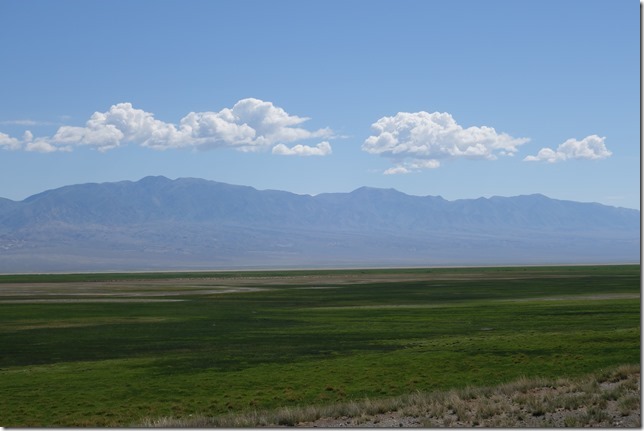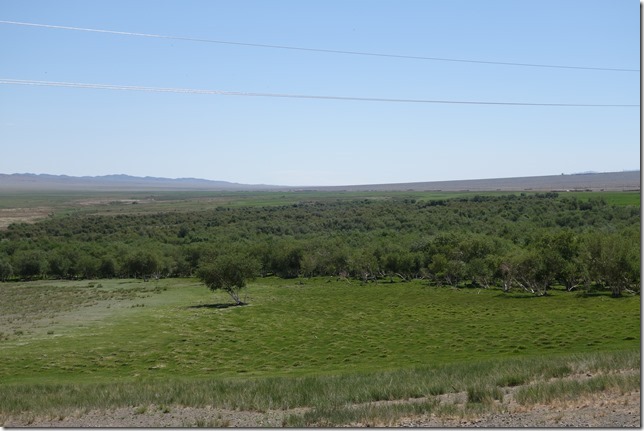 Once the good paved road ended, then started these. Lots of road work underwork so in a year or so this will be good road all the way.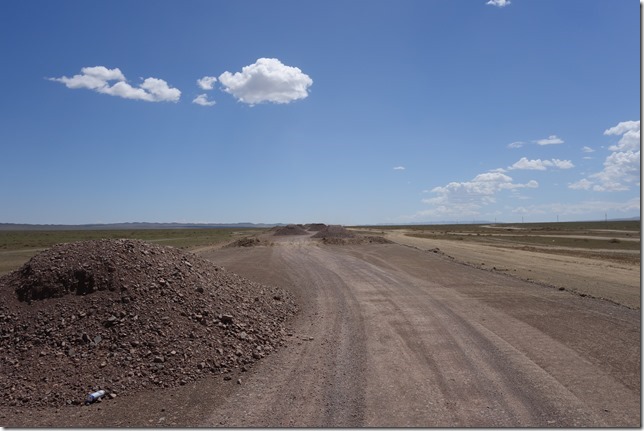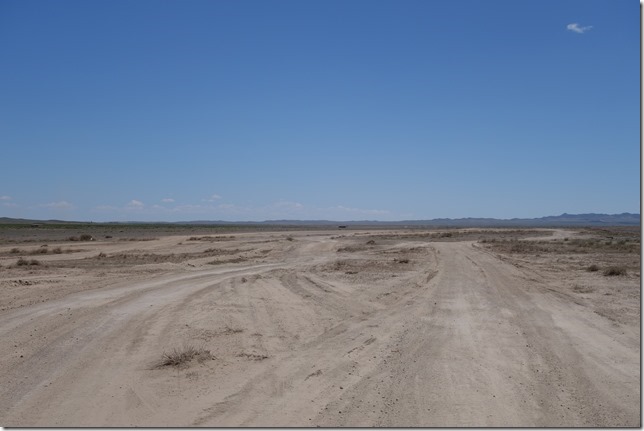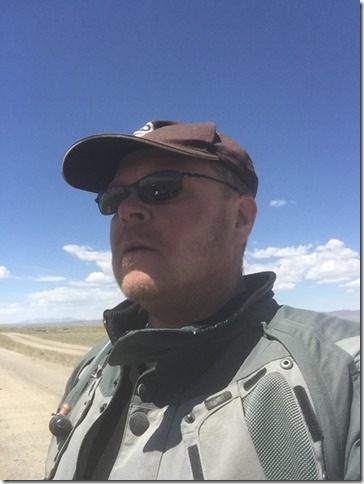 Sometime after the paved road ended, I should have taken the track south, but it turned out that it was not there where my map said it should have been. I was looking at alternative track to get there, but no, I could not find one. So I needed to take Plan B into action and continue this main southern road.
Like this, green is the route I drove, pink the one I should have taken: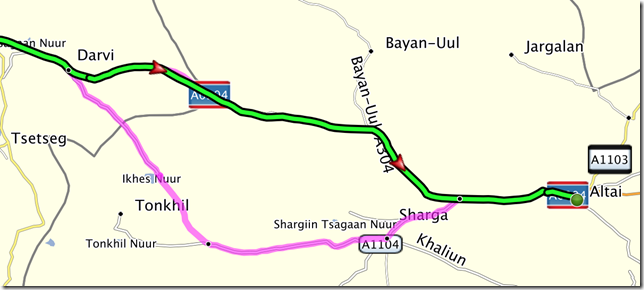 Some better sections as well where the old two lane road was still perfect condition. I could easily keep 70-80km/h in here.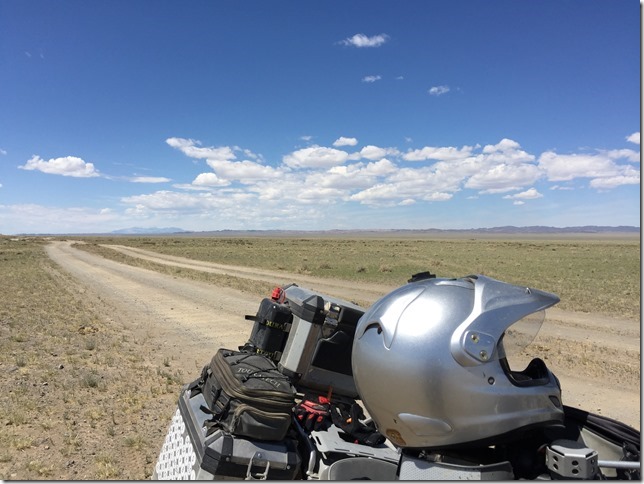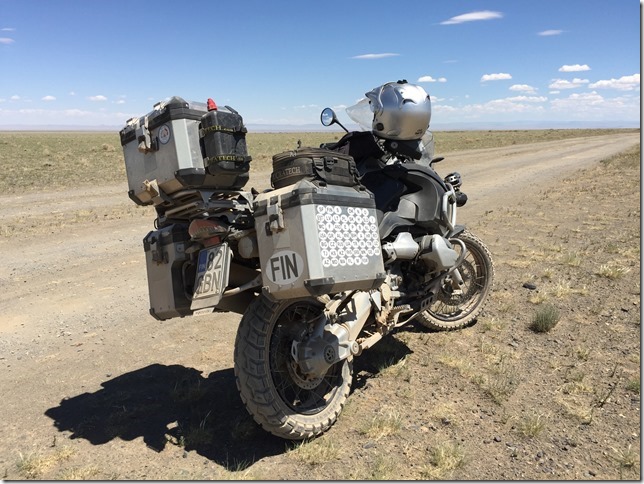 Loads of camels on the way. First I stopped to take pictures, but at some point they were just too common…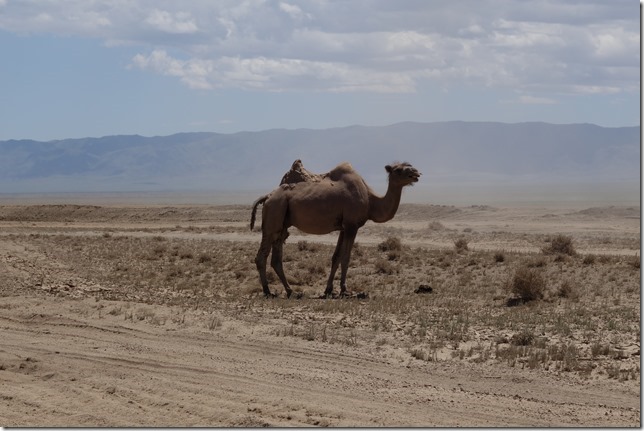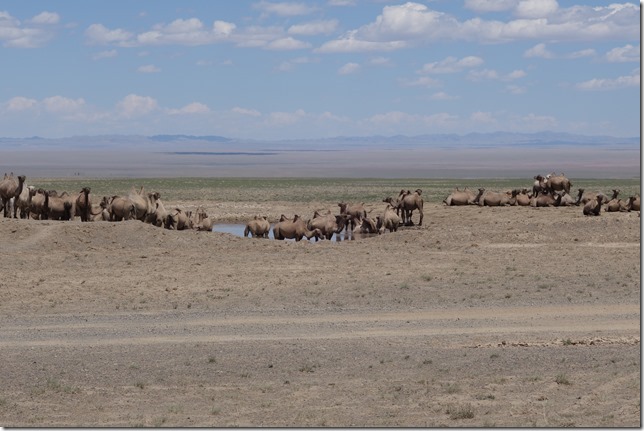 This southern route at its current condition would have been totally impossible for me to drive through in any sane time alone in case it would have rained lately. Almost whole section is flooding when it rains and still in many places there were these wet muddy section left.
Those that were already dried out and cars had been driving over it, that dry mud had been broken into mud dust and there was no way of knowing what kind of holes there were. Bike just went through this dust and couple of places it went really deep, almost fell on couple of these.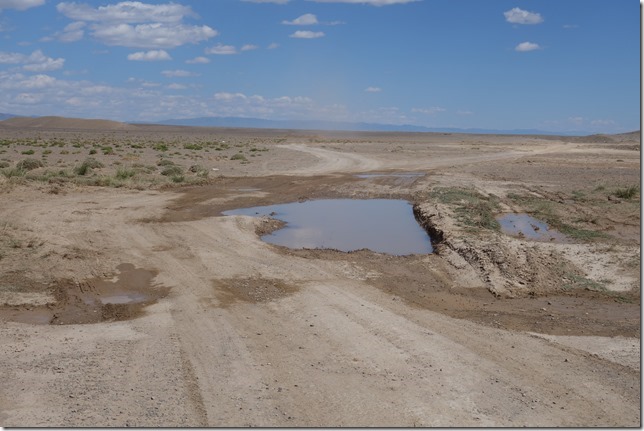 At the end there were these multilane highways, really nice ones to drive.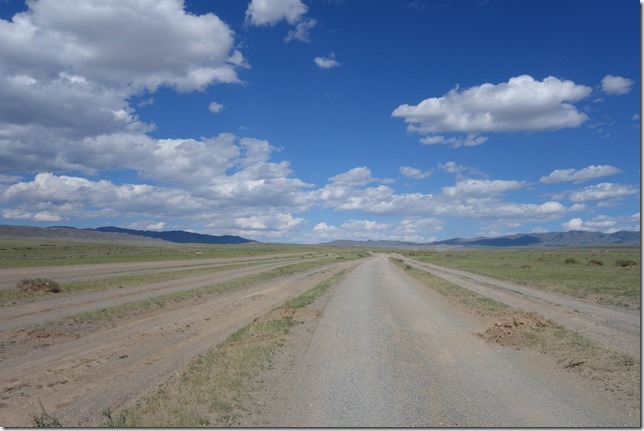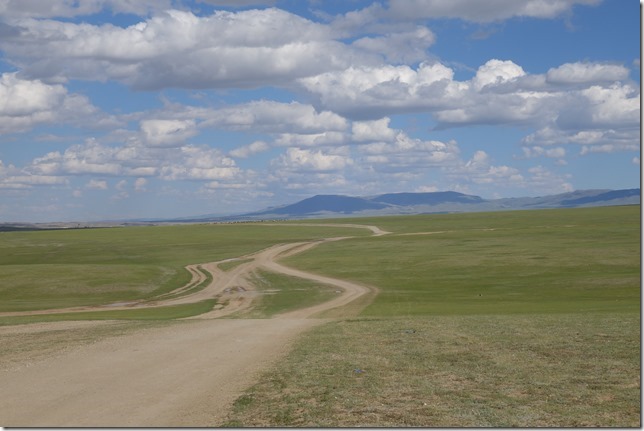 City of Govi-Altai I was planning to spend night had also an airport.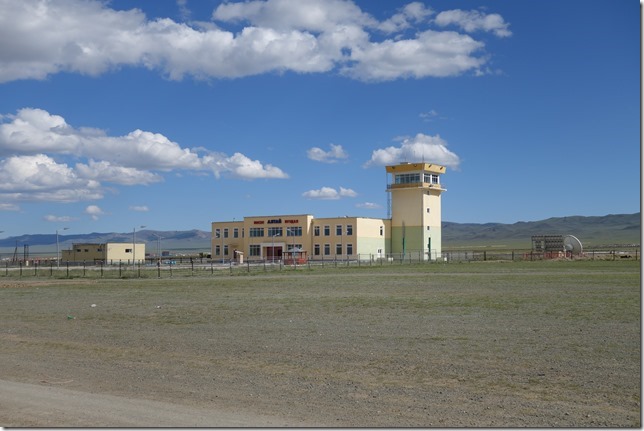 While looking at the place to stay I found a fuel station with 95, immediately went and got my tank full for tomorrow.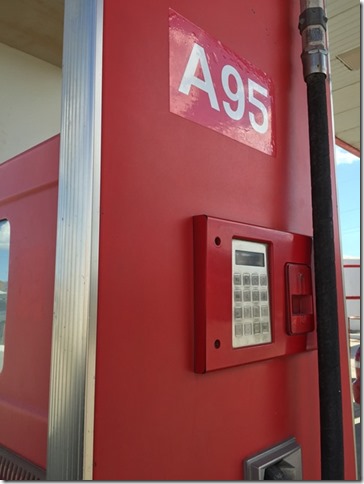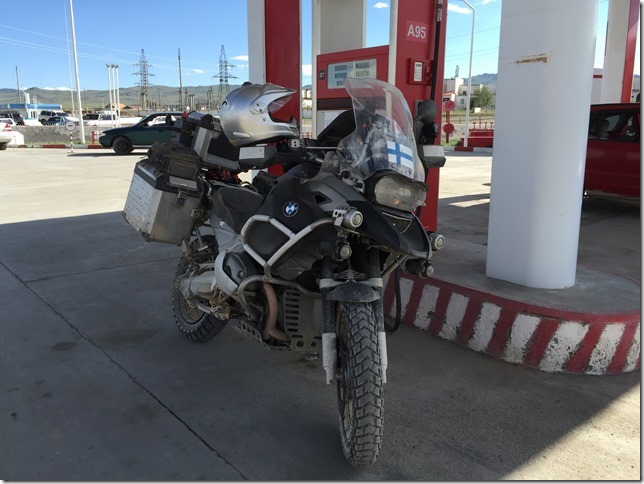 When driving around the city and trying to find a hotel, I'm pretty sure that somebody called immigration and told that there is some weird guy in city. Just as I got fuel paid, there was car coming high speed to the station, stopping and two men approaching me and talking something in Mongolian. Other guy came from somewhere else. After I took my earplugs off and switched to English, this other guy told to show passport. Really weird.
After looking into the passport and seeing the visa with stamps on it, he was happy. As he was talking good English I even dared to ask from him directions to the hotel and he was kind enough to drive to the hotel in front of me!
And it was indeed a good hotel, just by the round about (I think the only one) in N46° 22.448′ E96° 15.105 and has also a working Wi-Fi. Really nice one.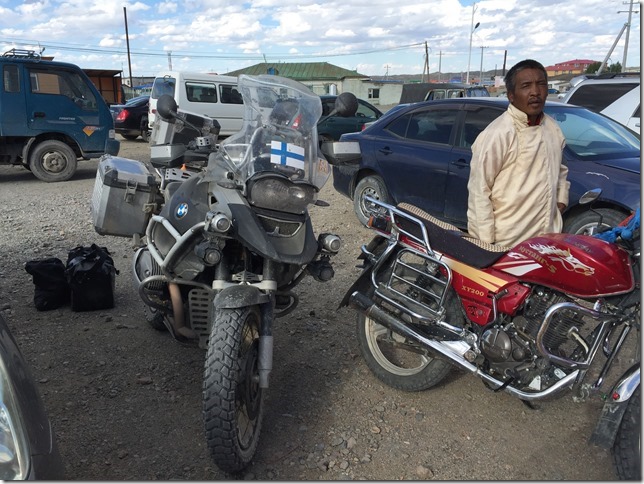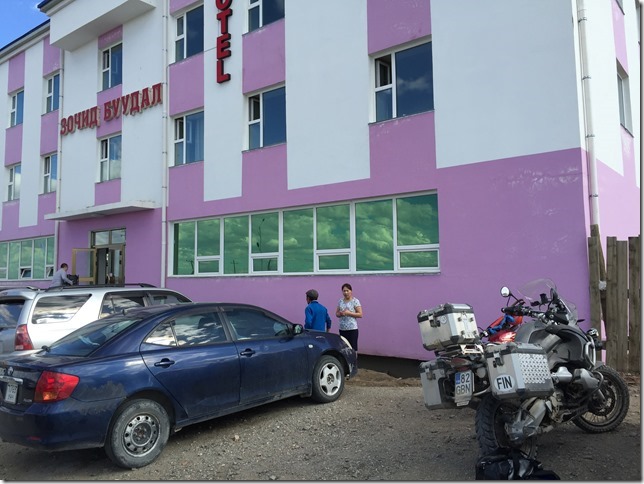 Behind the hotel there was also backyard with video cameras to park the bike for the night.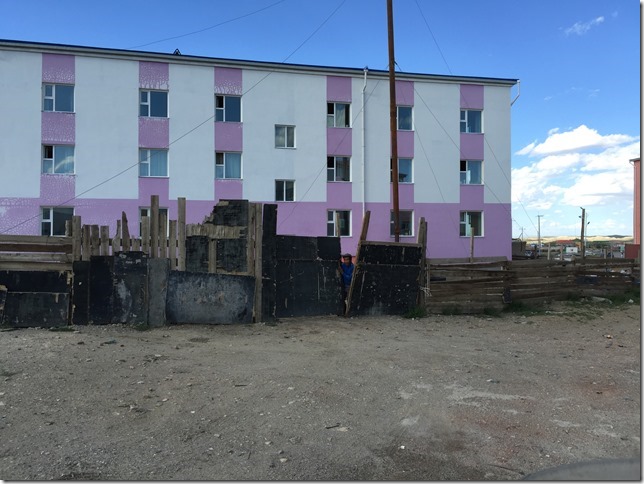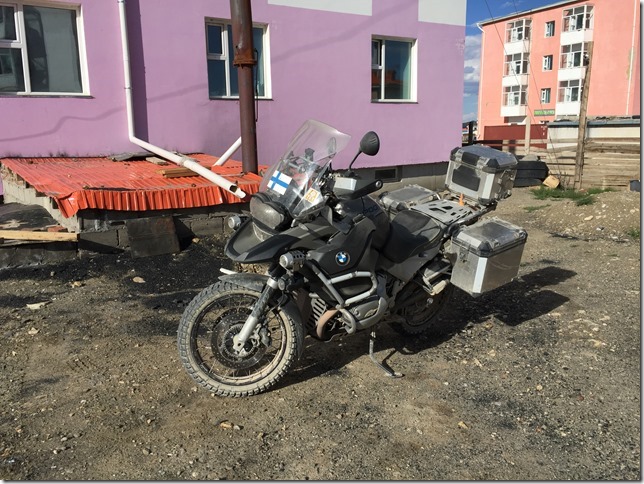 I think I need to wash my clothes again once I get out from these dusty areas…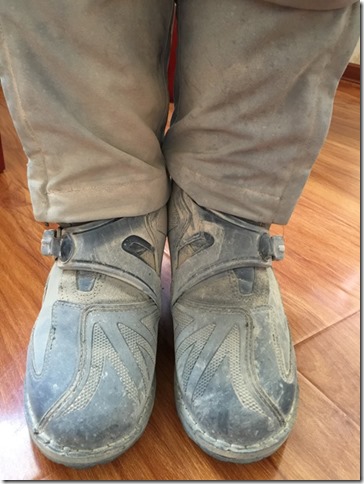 This I have not seen in anywhere, there were these extra small carpets all over the places and people were swiping their shoes into those. I'm pretty sure that if the lady in the reception would have seen my riding boots he would have said that they are fully booked…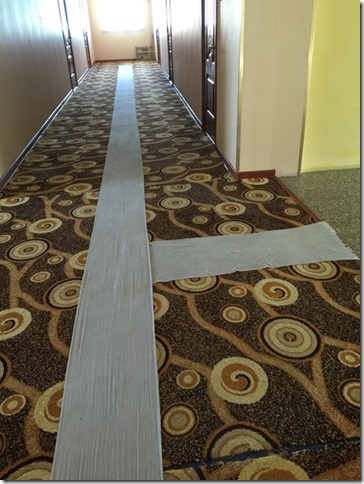 After getting all clothes washed, time for a walk around the city.
Here's some local art.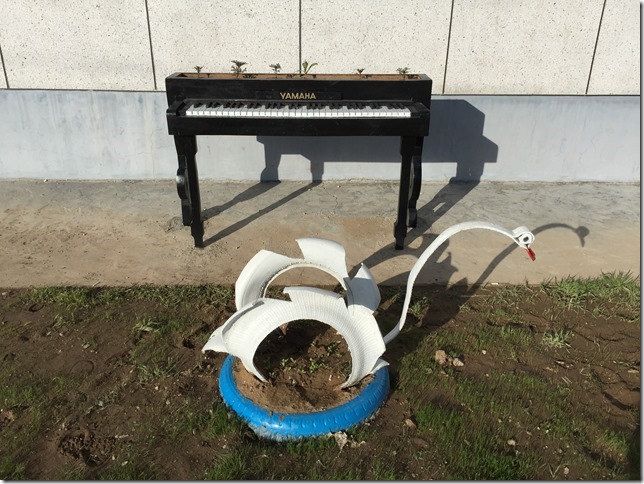 And statues.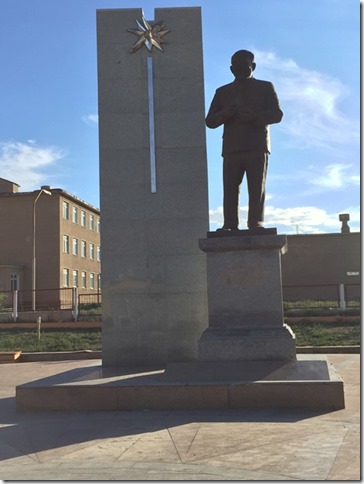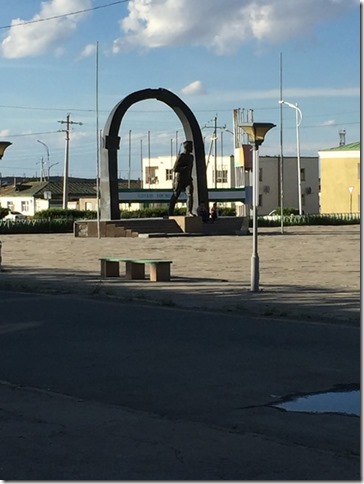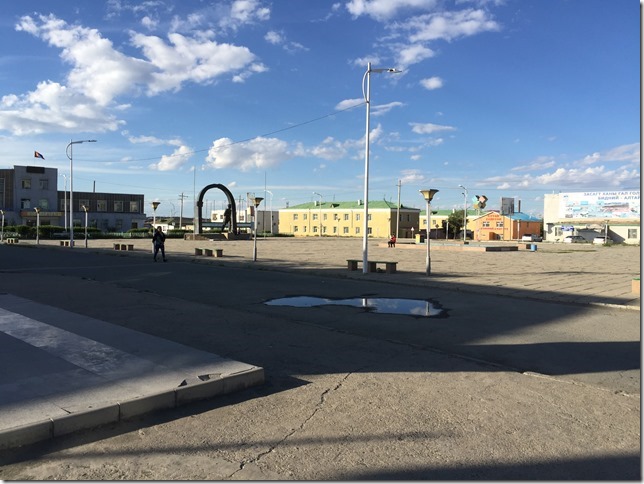 I was also trying to find food, but there really were no restaurants that I could find. One was being rebuild and the one in my hotel was also a bit weird.
I just took enough from the minimarket nearby and made my own dinner. In the room there was electric kettle so no need to use my Jetboil either.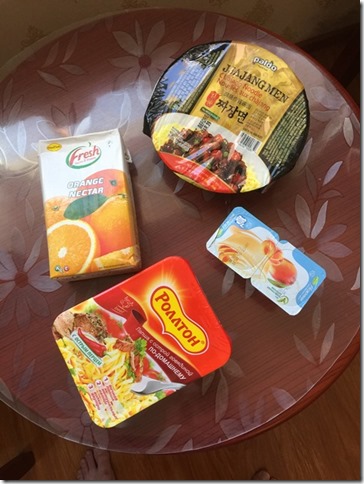 After eating my so called dinner, I went to bed quite early. Tomorrow will be probably the toughest day on this trip, will see then how that goes.
I'm still not sure what time is in here, computer, GPS and phone are saying GMT+7, some web sites tell that GMT+8 already and receipt from minimarket and bank tells also GMT+8. So I'm probably now 6 hours ahead of Finland. Or then not. Mongolia seems to have two timezones in use.
Here was also a low table option, so I made my work desk as a standing option instead.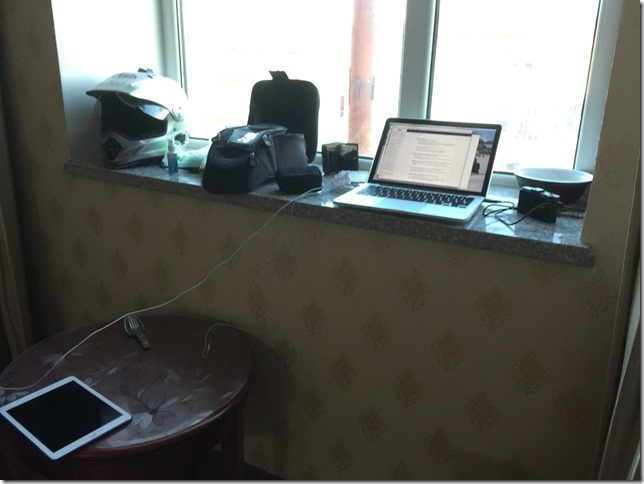 This day was 446 km in 8 hours.
Total for the trip is now 13641 km.