Very soon after the start of the day I found out that last night decision to call it a day was right. Next 200 kilometers were almost all either road works, road not done yet or under work.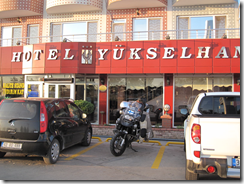 Riding a bike during dark hours would have been a nightmare and very challenging. Road was missing all signs and road paintings and it was switching from one lane to another all the time.
Daytime riding was not that bad. I started day early, at 06:05 am engine was already running and I was all ready to take off.
First 300 hundred kilometers was quite easy, but things started banging again. last 250 kilometers on Turkish side was full of police and military checkpoints, stopped counting at 12… Almost all of them wanted to see passport and bikes registration paper and then they went and *check* those. Go figure what was the purpose of that. Road also turned into small mountain road, highest point recorded was 2080 kilometers.
Some parts of this road was under work so there is hope that during the coming years this will be better.
Ride on Turkish side was ~600km. Garmin MapSource is not capable of calculating this route so I was on manual mode. It was somehow trying to go to Iraq as well.
Just before the border I stopped to refuel as I had heard some issues with fuel on Iran side, better go with all tanks full. There was really great people at the station, had tea and great chat event we did not had that many common words… this seems to be the issue on lots of places in here.
After getting rid of these checkpoints, I finally arrived at the Iran border. There the over eager border officer looked at my double passport and started demanding already Iranian visa. And that was in the other passport. I had used this double passport on the places where visas where not needed and that caused now the hassle. And the issue with English language…
But, after some talks he finally understood the issue, stamped my Turkish passport page and off I was to Iran!
Meanwhile, some local young kids managed to play with my GPS which was locked into the bike and did an reset for it. All current trip data was lost, which I discovered just when writing this, no track record on Turkey side last day…
This is how it should have been looking: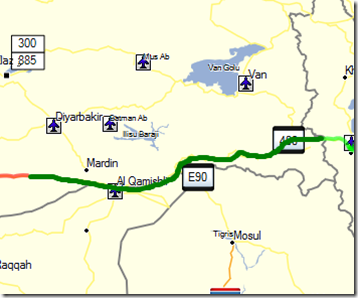 On Iran side things went smoothly, I was assigned an border patrol man to guide me through all the paperwork, few rounds to different managers, filling in the Carnet (which is needed for Iran, required 5000€ cash deposit in my case…) and finally the paper that I gave out in the border gate when leaving that I really have my bike when I enter Iran from the border.
All in all, paperwork at the border took only 1 hour, did not had to wait on these official queues, I was invited to managers office directly at the border.
Iran side roads looked excellent.
For Iran I had now planned to ride through the night towards Teheran and further on to Turkmenistan border and these roads on good condition gave me all the tools for that.
First days driving on Iran side looked like this: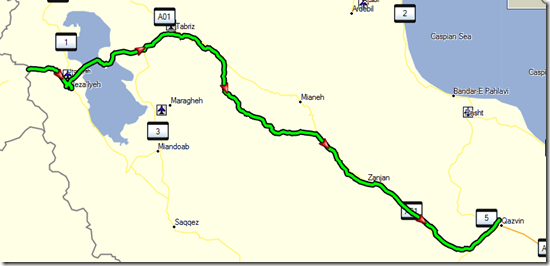 And yes, right after I came out from border to the city, I managed to get lost. Needed few extra error and trial efforts!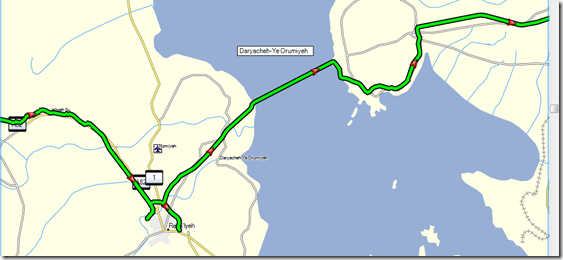 Thing that messed this up was my idea to ride through the lake. This was not on Garmin's maps and because of that all roads were missing as well.
Iran side marking roads with signs is interesting issue: sometimes there are clear signs, sometimes they are only on Arabic, sometimes only in western letters and sometimes both, sometimes they are before the turn, sometimes they are only on the road where you should have already turned. Go figure. This caused issues also later on the next day…
Road across the lake was a toll road, but as I entered the booth, guy was just smiling and chatting and after that just said good trip and sent me away without any payment done. Which was good as I did not have any Iranian currency, only dollars and euro's.
Same was also on the road from Tabriz to Tehran, this was some 440 km toll road. Excellent condition motorway, 120 km/h speed limit. On this road there was a lot of people selling you fruits and stuff, looks like families are like living in there.
Everywhere I stopped people came to me and in case they had tea, that had to be taken as well.
Fuel, this was an interesting one. I had not given or taken the fuel card from the border so I was a bit in dark on this, but this was not really necessary. First stop for refueling my bike there was really nice couple just letting me to get fuel from their own card and did not accept any payment on that! Other places was the same, on one case there was manager of the station who charged 10USD for 33 litres. Not bad.
All in all, this day gave me some 1285km driving.
Whole trip looks now like this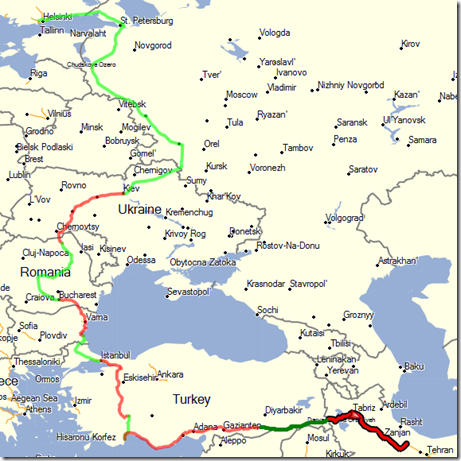 About 7159 km in total.