Early wake up again and to the breakfast. Once I was packing the bike I started paying closer attention to what was parked next to it.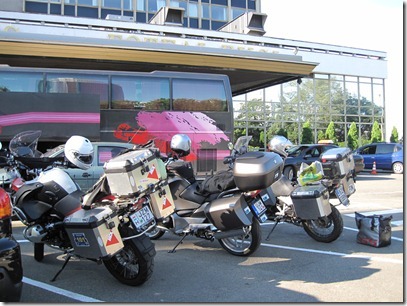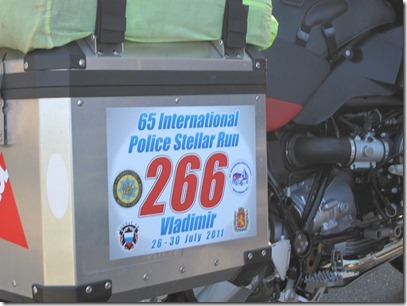 It turned out that there was a group of policemen from Hungary going into this Police Stellar Run held in Vladimir, near Moscow.
Lots of bikes!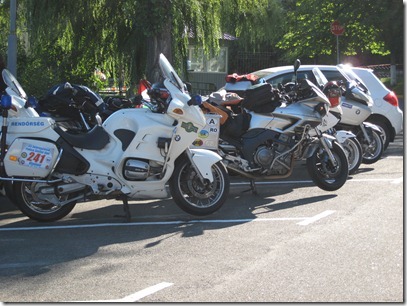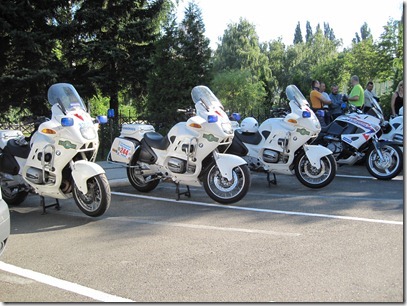 I thought that as we had same direction, I should head out soon as when these guys enter the border, there is going to be a big mess!
On the way out from Kiev I did refueling so that I could get out from Ukraine. I also did try to buy some water to go, but as I had no local currency and – note this – at the gas station, they were not able to sell anything else but gas with credit card purchase! So no water, had still one bottle left from yesterday, that had last until I get to Russian side.
Some 300 km ride to Ukraine-Russia border crossing, road was pretty straight and almost in good condition all the way. Some road works, but not much.
At the border it all begun again. Saw just some 20 cars ahead of me so I thought this is not going to last long to get through. Well, it lasted.
There was also a group Russian motorcycles crossing the same border, so I went with them and we waited and waited.
Also the Hungarian policemen arrived after a while and entered their own queue. There was also other policemen with these same stickers in their cars going into same event. Must be a huge one.
Ukrainian side of the border took 2 hours! No idea how they can be so slow with this, last time year I ago when I came from Russia to Ukraine on this same border, it was just showing passport and forward. Nothing like this.
Russian side with all paperwork and advice for fellow Hungarians for filling up the paperwork took only *normal* ½ an hour and finally I was able to drive forward.
Once I got on Russian side, I started looking at Zumo a bit more carefully and the route it had on it. This was going via Moscow now and that was not on my original plan! Started playing with the route while driving and turned out that I needed to take out Europe map and leave only Russian map to active, otherwise Zumo would always do recalculation and go via Moscow to Finland! Europe map includes these major roads from Russia anyhow, so better to take that out and leave only the one that I really need.
Last year I did not have this sort of issue so this must be now some new software version that came few months ago to Zumo.
Drove without a stop to Bryansk, quick refueling there and forward. Road from border to Bryansk was quite jumpy, but for GSA not a big issue.
I drove this exact same route last year, only in opposite direction. From Espoo to Kiev without stopping for a sleep. As I now had extra kilometers behind me, decided already when leaving Kiev that I will do one or two stops on the way and not even try to do the same.
After Bryansk I started looking at hotels in towns, but those that I had originally planned had none on the way, so I headed towards Smolensk which was a bigger city.
Once I got to Smolensk I started just asking for a hotel from everybody and eventually got it narrowed down to few blocks where there should be a hotel and finally even found one.
Not a cheap one (3800 RUB + 100 RUB for parking), but was not really ready to do extra work to find cheaper one, time was already past 9 pm.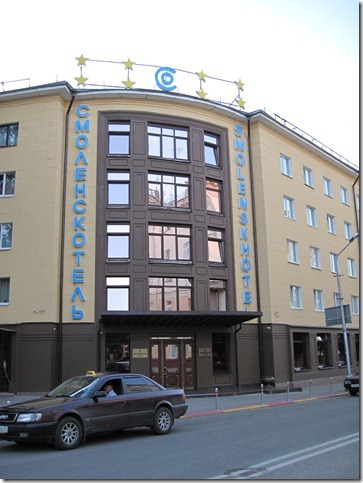 Hotel looks fancier outside, but inside the rooms it is just and old Russian hotel, clean and works well for my purpose. Included even Wi-Fi which works! Only issue I have is the time for breakfast, it starts at 8 am. Well, I get a bit more rest this way.
Shower and quick walk around the hotel to find place to eat, nothing found really. There was one fast food place in the park, but all was in Russian and could not find a person to translate that so left that place.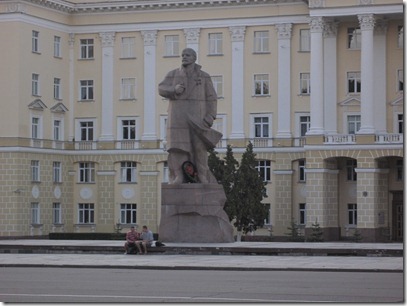 In the park next door there was all park benches in use, young people were just sitting there and drinking beer (pussikaljaa).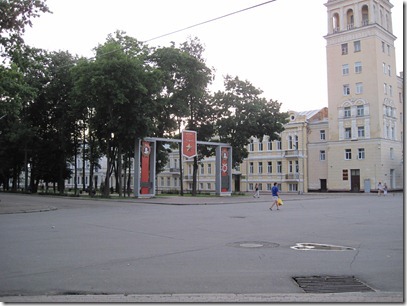 Ended up in a local store and just bought some water and a sausages to go.
Looks like I'm going to have an issue with my right hand, the insect that bit me in Bulgaria has caused more issues than I thought. Whole hand is red, swollen and it hurts quite a bit. Up until now have had zero issues like this, so I guess something was expected to come. Should still not limit my driving…
Today driving was 764 km in 11½ hours, tomorrow hopefully is a bit faster as no border crossings!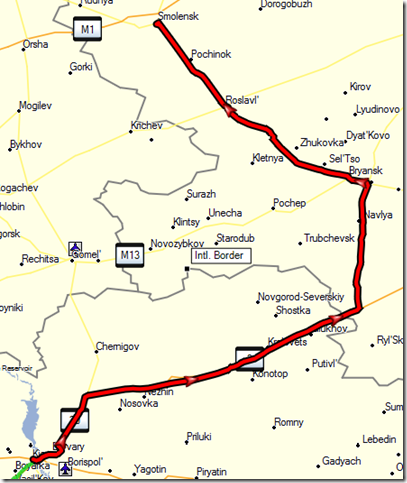 Total for whole trip is now 11502 km.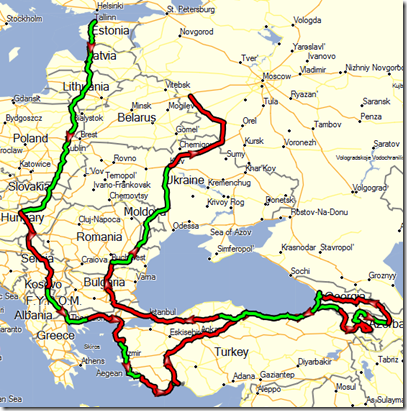 It is still ~1200 kilometers to home, so one more stop on the way. Last year I drove from Espoo to Smolensk in 16 hours which is a bit too much right now.