I had already set my mind few months ago that this winter I will drive one Iron Butt ride. First trial was set for New Years Day, 1st of January 2012. Date came but at last minute I decided to cancel the ride. Reason being mainly that weather had been so poor in southern Finland that I had no time to test my gears in real winter conditions.
Lucky me, there was already group planning an Arctic Butt Experience for February, just on time before our winter holiday.
Second good thing came in January, winter arrived finally into Finland. I was able to do few test runs in -18°C as well as few longer runs as well. Some changes to equipment also was made as a result of these test runs:
Purchased Gerbing's Heated Insoles
Purchased bigger boots size 47 to get enough socks to keep feet warm even if 12V fails to keep them warm
Took also some extra trousers and jacket in case temperature drops below -20°C
Purchased small 6Ah battery to keep my mobile phone charged as I did not want to drill a hole to the top case for power and neither I wanted to take tank bag with me. My phone has some issues on charging low temperatures, so decided to keep it charged all the time!
Last minute purchase on the way to starting point from FennO Optiikka Rovaniemi was new Oakley driving goggles with my own lenses so that I would not need my glasses nor contact lenses. These proved to be best ones for this event!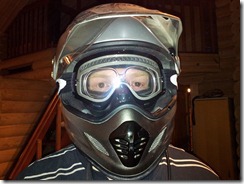 I had already before these purchased an bigger driving outfit designed for snowmobile drivers to accommodate few extra layers of clothes.
So all in all, I had following on when started the drive:
Trousers: Rukka Outlast, Rukka Toast (Microfleece), Rukka RVP Technica, Scott Motorsport snowmobile trousers
Jackets: Rukka Outlast, Rukka Toast (Microfleece), Rukka RVP Technica, Gerbing Heated Jacket, Scott Motorsport snowmobile jacket
Feet: Gerbing Heated Insoles, 2 x wool socks
Head: Scott Wind Warrior Hood Facemask, Oakley Goggles with lenses, Arai Tour X3 Helmet
Hands: Rukka Apollo gloves inside handlebar muff's from Dusty Wobbls ry. Gloves are just plain summer gloves, no need to have any winter ones inside proper handlebar muff's.

And as a main tool for the trip, my bike: BMW R1200GS Adventure with special winter tires with spikes.
All packed and ready, we started driving towards Levi from Espoo on Wednesday evening and finally arrived there on Thursday afternoon after driving some 1010 km through the night. Quick unloading of all stuff, sauna and something to eat it was time to call it a day.
Artic Butt 2012 Experience was about to start on Friday morning 07:00.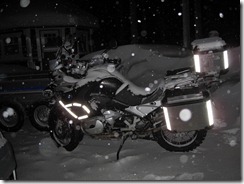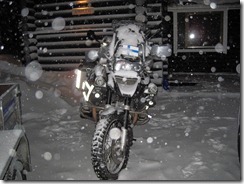 I woke up at 5:45 and started preparing myself for the ride.
It took 45 minutes to get all the clothes on, some sandwich and juice and I was ready. At 6:45 I was at the starting place we had agreed last night – alone.
At 07:00 I started calling after the other guys, they obviously had some issues on getting here, but finally few minutes after 07:00 they started appearing to the place.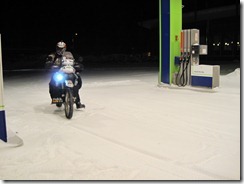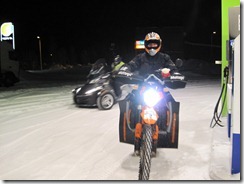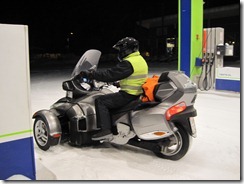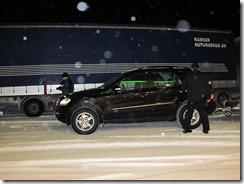 Few words, quick refill and final picture.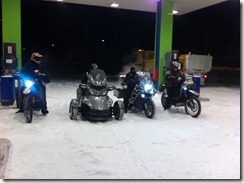 So we were four guys to start riding 1628 km in 24 hrs or less:
Ilpo, BMW
Sakke, KTM
Jaska, KTM
Harri, Can-Am Spyder
And we also had safety car to follow us incase of issues, Kari and Pertsa driving that.
Finally at 7:19 we started our ride.
I had some issues in the beginning with my vision, I could barely see anything through my goggles which were totally full of mist. But eventually I found how to breathe so that they stayed clear and I started to get the speed up.
Did not take that long until first stop, Harri had issues with his liquid heated clothes which stopped working.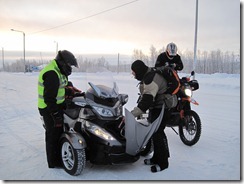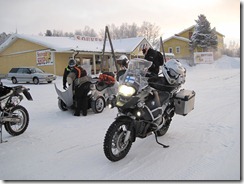 We were also spotted on traffic cam: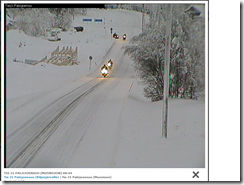 At 10:30 we had our first stop for fuel at Kilpisjärvi after driving 254 km. Average speed for this leg was 80km/h.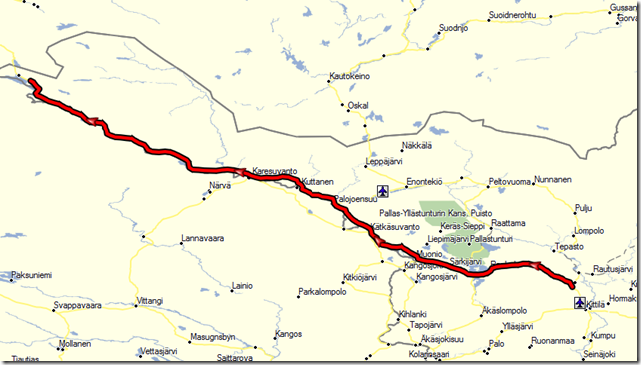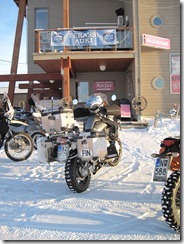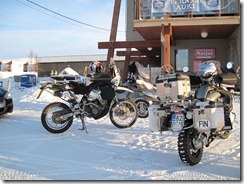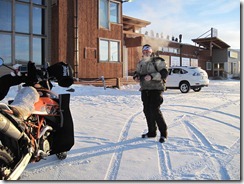 At this leg we got coldest weather on this trip -23°C and everything was ok, nobody was cold or anything. Just quick refuel and to the road again.
10:53 we started driving again, next leg was from Kilpisjärvi to Kolari, 266 km. Average for this leg became 89km/h, we were all the time improving our driving. Weather was still just excellent, sun was shining and not too cold once we got down from Kilpisjärvi. Now it was just modest -7°C.
We arrived at Kolari at 13:53.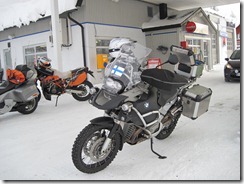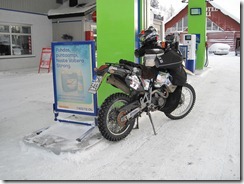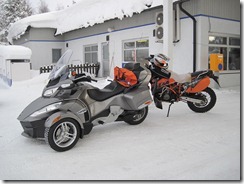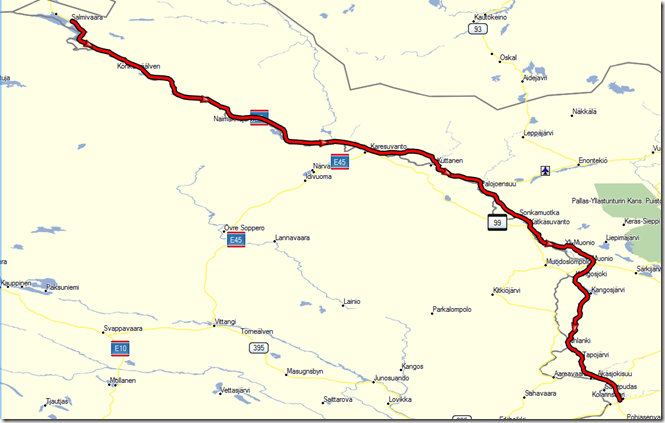 After refuelling and warming up we started driving again at 14:18. Next leg was just a short one, 75km to Muonio where we arrived at 15:05 with average speed of 96km/h. At Muonio we had some issues with stop, Sakke had giving instructions to go to ABC fuel station and that was where we went. As this was just a cold one, we had a debate over to go to Shell or SEO and end result was that me and Sakke went to SEO for snack and Harri and Jaska went to Shell first and when they realized that we were not there, they came to SEO… Better stick to original plan…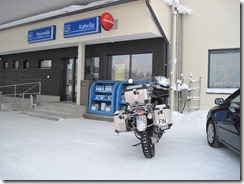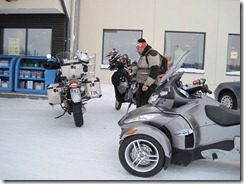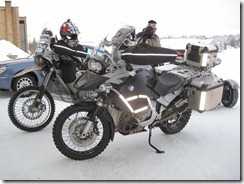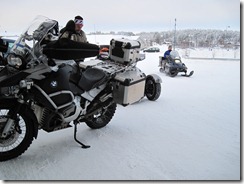 This was my place to warm and dry my gloves: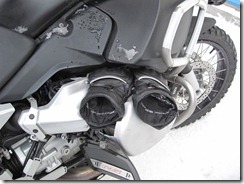 This was really a small leg just to get official documents gathered for the Iron Butt ride.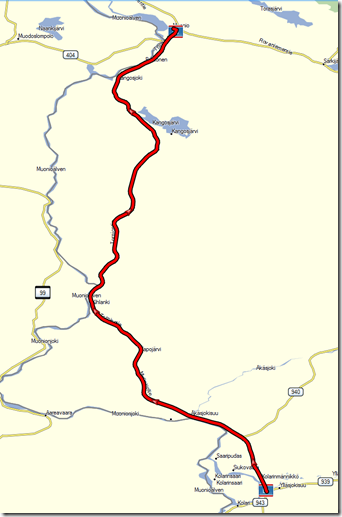 After this leg started the most exiting part, Pokka's road. This was the one part which I was not so sure how my bike would handle on it, but as it turned out only the first kilometers were a bit bad, but after those it was excellent driving again.
At 15:31 we started driving again towards Inari where we arrived at 18:11 after driving 233 km with average speed of 87km/h.
No issues on the way, speed was good, road was better than expected. At Inari we saw second time our safety car.
At 18:41 we started driving towards Utsjoki which was some 125 km leg and we arrived at 20:02 there with average speed of 92km/h.
Others had a quick refill, I just took a break as I had no reason with my big 33L fuel tank to refuel on every stop. Weather was still excellent, a big chillier on the north, but still ok.
This was a quick break, at 20:15 we started driving towards Ivalo and next stop. On the way we had a quick stop at half way just to warm up a bit at local cafeteria as in Ivalo we were going to refuel on cold station.
We arrived to Ivalo at 22:28 after 164 km with average speed of 74 km/h, well on schedule or actually a bit ahead of it. Quick refuel and back to the road at 22:36.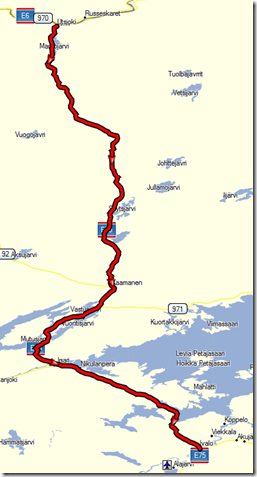 Next stop would be at Sodankylä where we had agreed with local biker club Mc Pyssykylä where we were promised to get into their clubhouse and have some coffee.
We arrived at Sodakylä 00:30 after driving 159 km with average speed of 65 km/h. Still wondering about the speed as we were really not stopping… I at least had some issues with my ESA settings, had it on too hard as it should have been on soft and got speed up only after getting this right.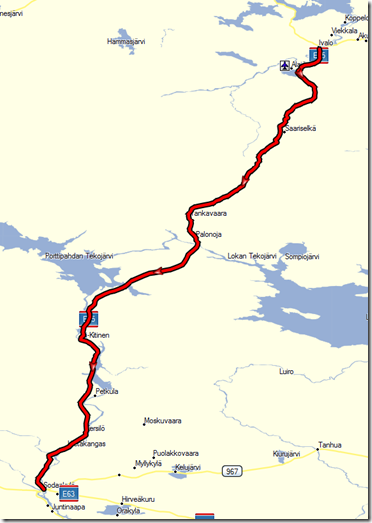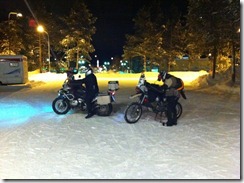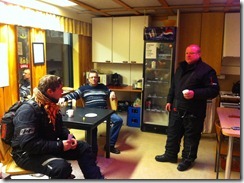 At 01:01 we started driving to southern most spot on our route, Sodankylä and its place on Arctic Circle. This was again a short one, just 121 km and we arrived there at 02:26 with average speed of 86 km/h.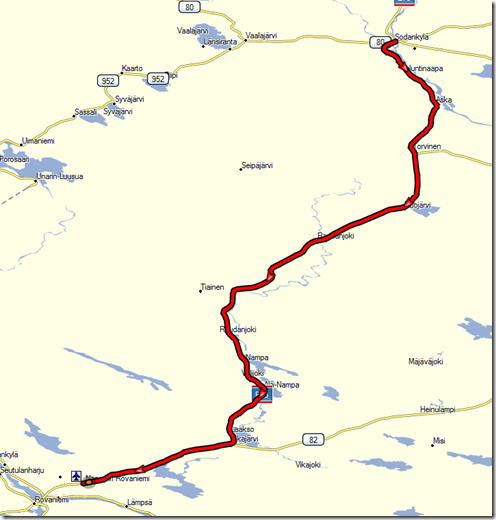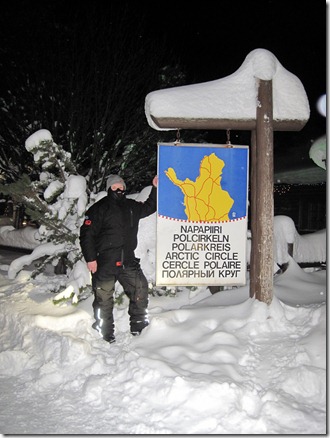 Some pictures, refuel and back to Sodankylä, our last waypoint.
We left at 03:00, again a short leg of 120 km driving which we made at 84 km/h. Arrived in Sodankylä at 04:25.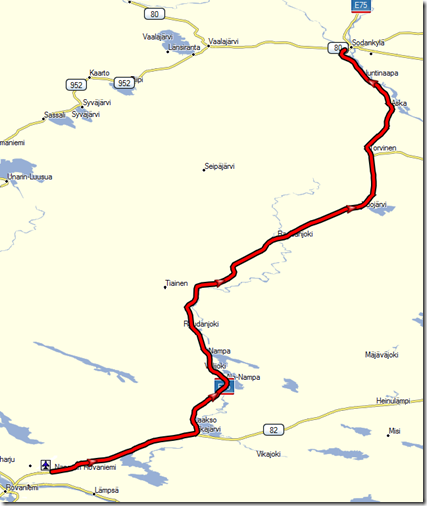 Again, just refuel and short break and we continued towards Levi and our last leg at 04:38.
This last leg was just 102 km and we made it back to our starting point at 05:57 with average speed of 77 km/h. Jaska came few minutes after rest of us, he had some issues on the way and was left behind at Kittilä.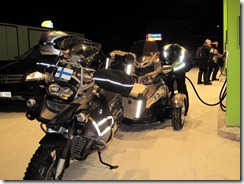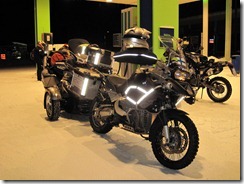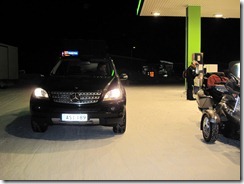 This time we all managed to get safely and without any real issues to the target.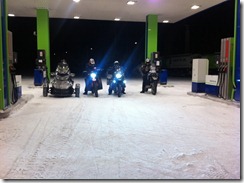 Whole route that we drove was this: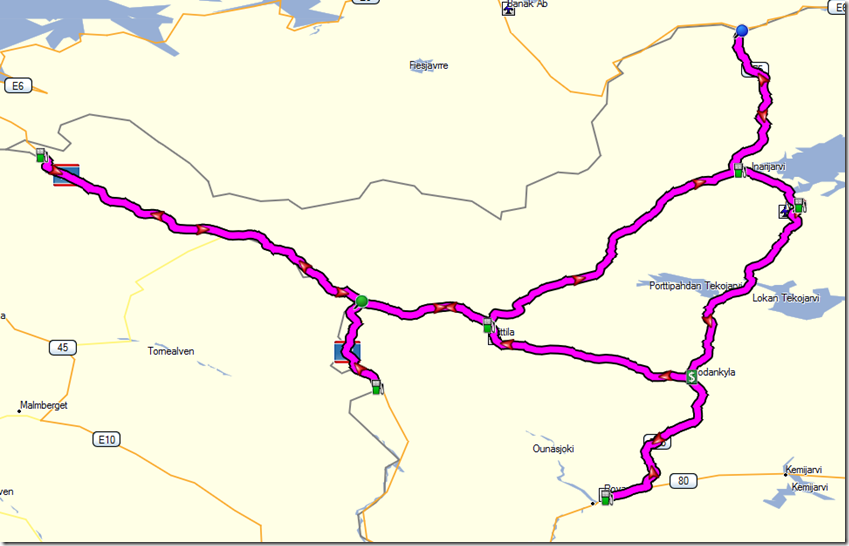 From this point forward, back to lodge, some sauna, food, drinks, sleep and relaxing with some other equipment!