I could barely sleep during the night as I was waiting already when to get On The Road again!
But morning came and I was carrying rest of the stuff into the bike while waiting Harri to arrive.
We took off 08:00 in the morning and headed towards Vaalimaa using almost direct route, except one detour at the end to see this last bits of Kuninkaantie between Hamina and Vaalimaa.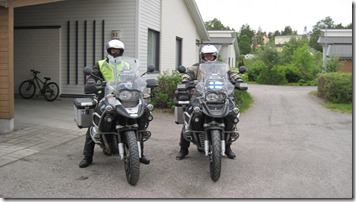 At Vaalimaa border on Russian side we also witnessed a car crash: One Russian car jumped not once, twice but three times to another Russian car and then everything was totally messed up. I first thought that this old man was trying to push this other car away from it. Lucky for us we were not in front of this car, but behind… Every border officer was watching this and nobody was doing any actual work anymore… What a mess.
From Viipuri we also made a detour and drove this smaller road by the sea to St. Petersburg. We did not drive around or through St. Petersburg, but instead took this road that goes through Kronshtadt.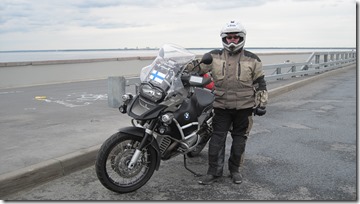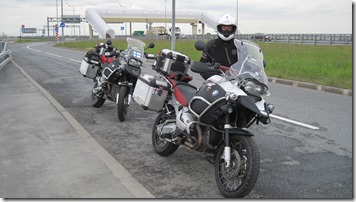 After St. Petersburg we headed a bit west and then started going back south using smaller and smaller roads. As I was planning this route I had almost no idea what to expect from roads on this area so this was a bit surprise. We found new road with lots of road ends –signs but we chose to ignore them all. At one point there was a roadblock, but they let us drive through, they were still building this road while we were driving there.
We also found some gravel roads which at first looked quite bad forest roads but turned out to be quite nice country roads to drive with an GSA. We also found roads that did not look like driving with these bikes, so we just continued with the bigger road and took a detour.
As Harri was not really with me all the way, once we had driven some 730 km it was time for Harri to continue on his own and me to Kiev. At this point we had driven already 11½ hours and I still had 1200 km to go…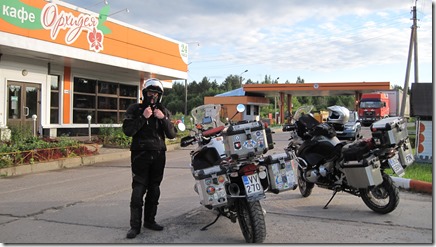 For the night I had planned some bigger roads so I would not need to drive blindly in small gravel roads. Night went quite smootly – as expected between 4 and 5 I had my worst moments when whole body was telling that it is time to sleep. But with small breaks after 50-100 km driving and this all went nicely and as sun was raising all this was left behind and all was good again.
I had two dead ends and Russian side, road was changing really bad gravel road with mud and water so I decided to take an alternative road. Not really up to fighting my big bike up from some ditch after all this driving!
Border between Russian and Ukraine was new to me and probably not going there again. This seemed to be in use more by the locals and they did not really know what to do with Finnish passport. All was done by hand, inspecting, measuring and on both sides.
Ukrainian side was all small roads to begin with. Those smaller roads that I had planned looked so bad that I decided at one point to skip the plan and set navigator to take me directly to the hotel.
Kiev was really hot, well over 30 degrees and I still had my Gore-Tex pants on… jacket I took off when I left from the border…
This days total was 1922 km in 29 hours.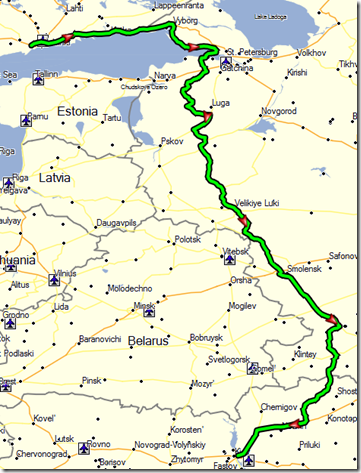 One might think why I do this kind of journeys, but answer to this is very simple: Because I can! To leave from Finland and be in somewhere without spending 3 or more days on the way I drive long days and then start the real thing. And this is good practice to learn my limits – and I know those very well by now.
Every muscle in my body is screaming now, but I know that after few days this is all over and *normal* feeling is back. Only real issue I have is with my right hand. I hurt it some two months ago while playing with my KTM and now it is reminding itself that not all is well. Have to see how much affect this is going to have which routes to take.