I was leaving from Hotel Bratislava a bit later, my recovery operation from yesterdays drive was still on-going… but packing started quite early and I found my bike in same place & condition as I left it.
I finally left from hotel just before 10:00, but found it a bit hard to drive out from Kiev. There was massive amounts of cars blocking all roads and it took almost an hour to get out from town. And it was really hot.
I also needed to refuel on the way out, but this I took only when I got out from town. I filled a bit over 34L, tank was really empty…
Today's plan was just to get near the Carpathian mountains and again to drive there using smaller roads. I drove whole day through bigger and smaller villages, some bigger roads which were really irritating to drive as when road is better these people drive like crazy with their cars and when road get jumpy they just slow down and I pass them all with the bike as for me these roads are just perfect.
My new suspension is really going to get test driven on these roads and if it survives all this I can believe that it is quite good quality! And it works great!
Took some stops on the way, just to drink and walk a bit.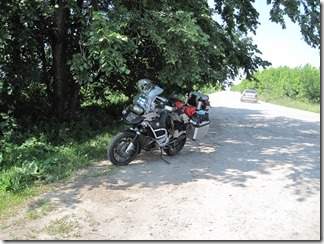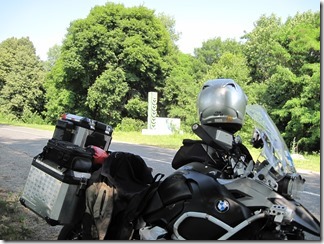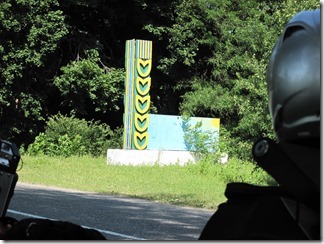 Once I started approaching Carpathian area all the surroundings started looking greener, there were forests and small hills. It also looked all the time that it was going to start raining, at one point I stopped and already started taking my raingears off from bags, but then it stopped again.
Did not get wet on the way.
When I had some 120km left, I had some special tracks selected which were taking me through some hills and forests with gravel roads, but I only found out that they were all wet and muddy and once I had been down with my bike twice I decided to skip rest of them and drive just fastest paved road to the hotel.
This took me even longer route than expected and I even managed to ran out of fuel – first time on this trip – but as I had my spare fuel with me I managed to get to the fuel station.
On the smaller villages and this mountain area there are lot of fuel stations, but they were either out of fuel or they did not sell it anymore. Everybody looked like they were getting their fuel from these bigger villages and I did not have many of them on my way.
Day was getting late, it was already 21:00 when I found the hotel at the end of another muddy track only to find out that it was totally new and closed! And I had my booking done for this one…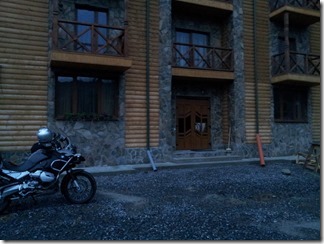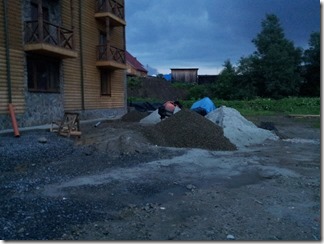 It did not take long until there were couple of young buys running towards me and started getting me into their hotel just next door and I happily accepted their offer… It was just about to start raining as well.
But managed to get into room, got even some local pancakes this late from their little kitchen and I was done for the day.
This should have been a cooling down day, but it turned out to be full day of heavy driving at the end.
I needed to lift my bike up twice when I fell with it, but no damage to bike or me so all was good.
Todays driving was 703 km in 11½ hours.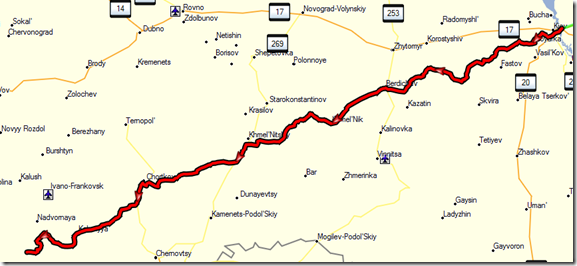 Total for the trip is now 2624 km.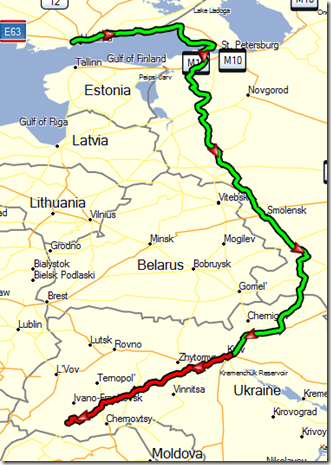 As one can see from above, I'm not taking the direct route to Turkey