Needed to wait until 07:00 before I got breakfast, while waiting for that I already had a coffee in a room as I woke up quite early.
While waiting I was charging all of my GoPro batteries as scenery should start be much more enjoyable than in the past few thousand kilometers.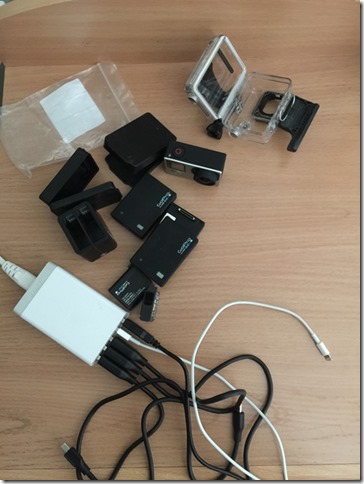 Finally it was breakfast time again, this time it had changed a bit.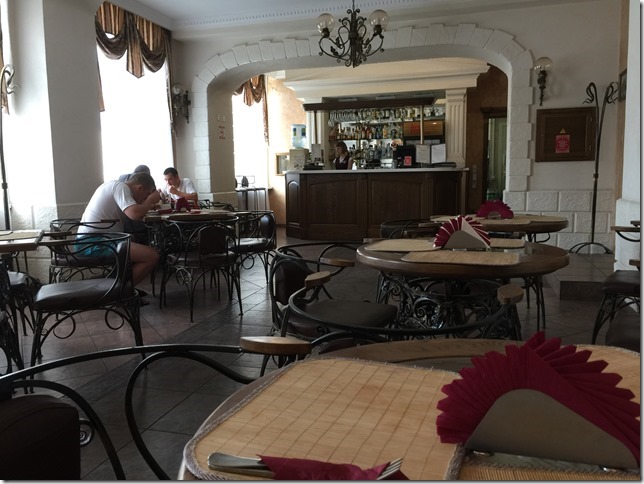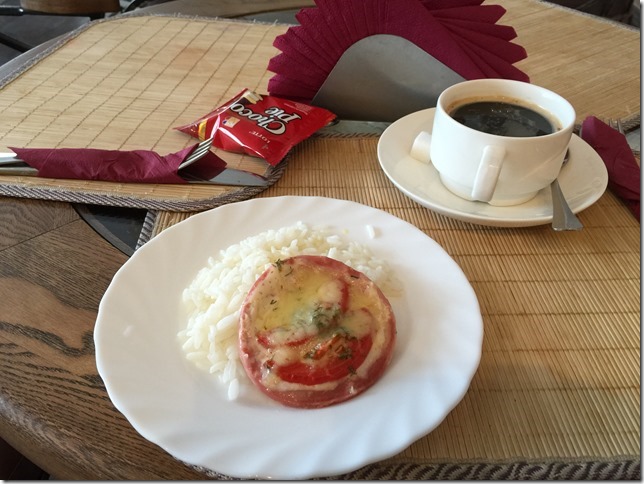 And by 7:30 I was ready to ride again. New tires all so clean and good to go.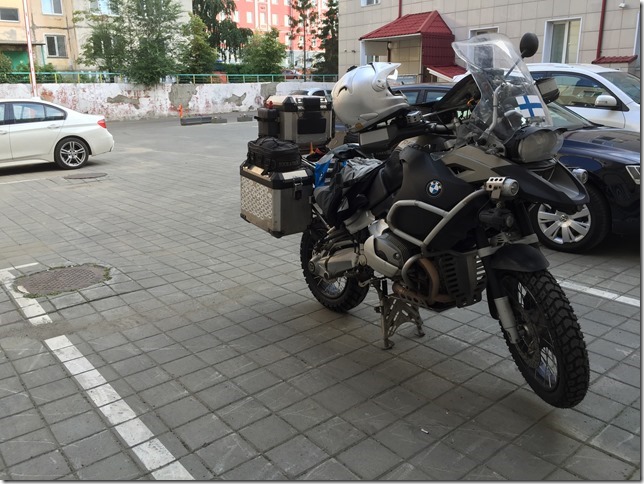 First few hundred kilometers until Biysk was a bit boring, but especially after Gorno-Altaysk scenery started changing and things got much better.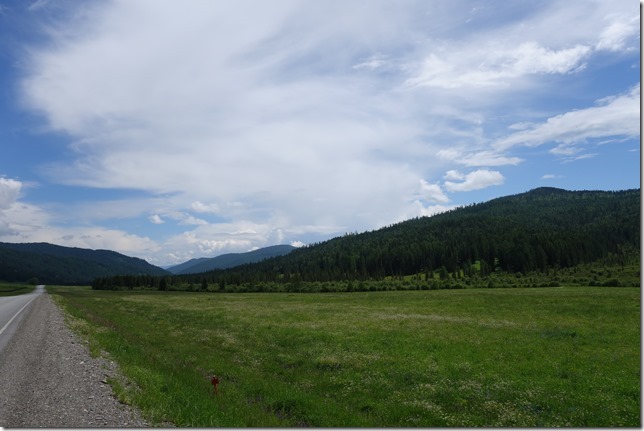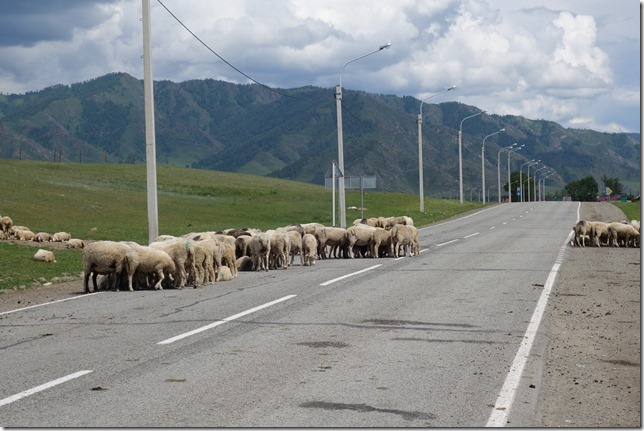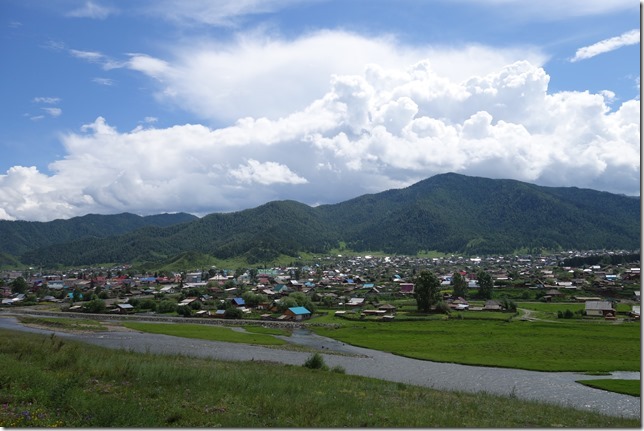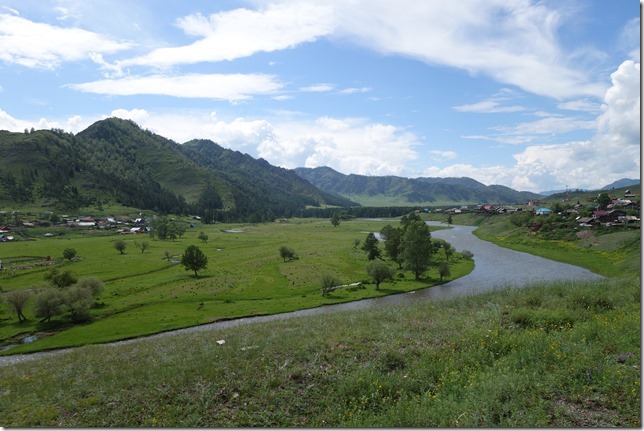 Had a small break somewhere just to get something to drink.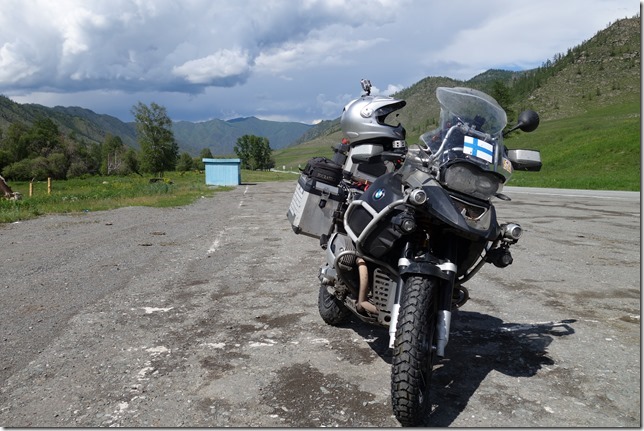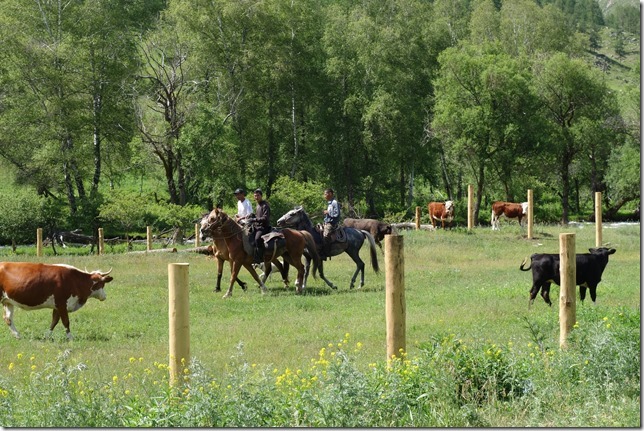 And things started looking even better, but also lots of clouds appearing everywhere and it looked like it was going to rain all over the place any time soon.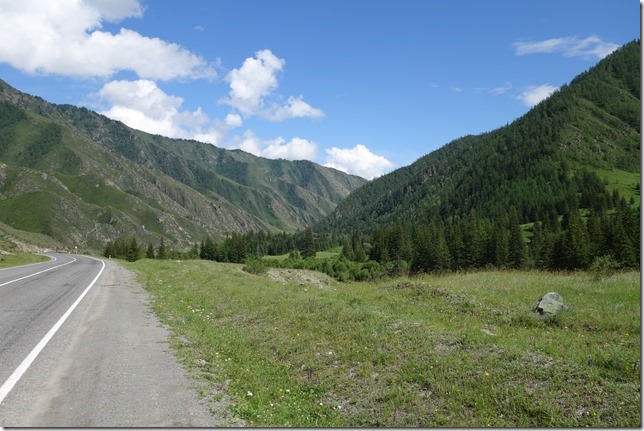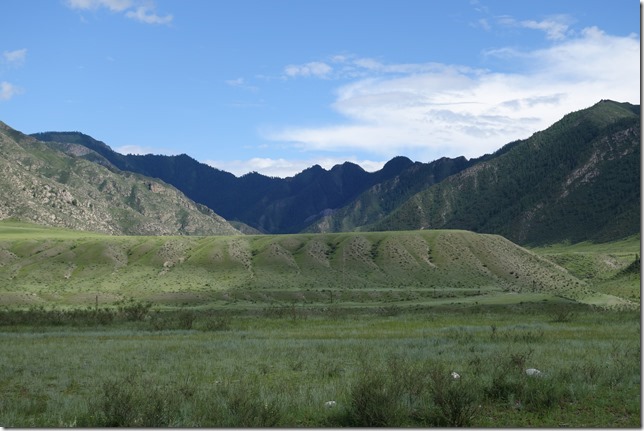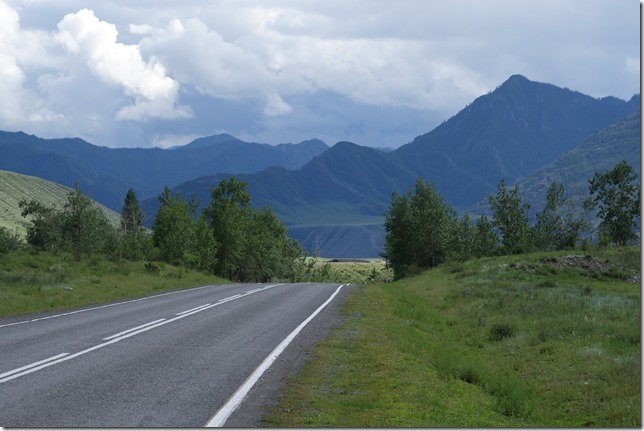 Lots of cows and sheep's on the road, need to watch road all the time what is ahead.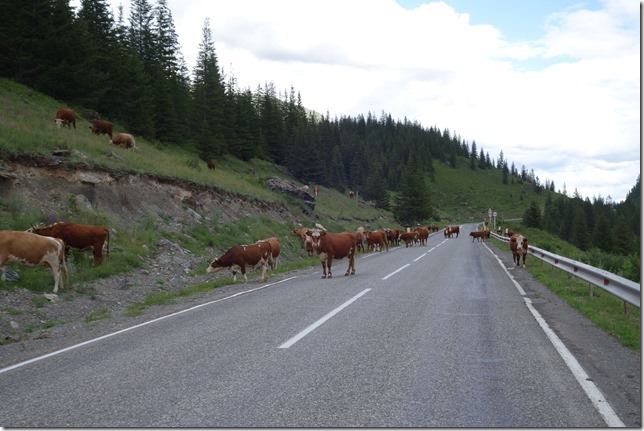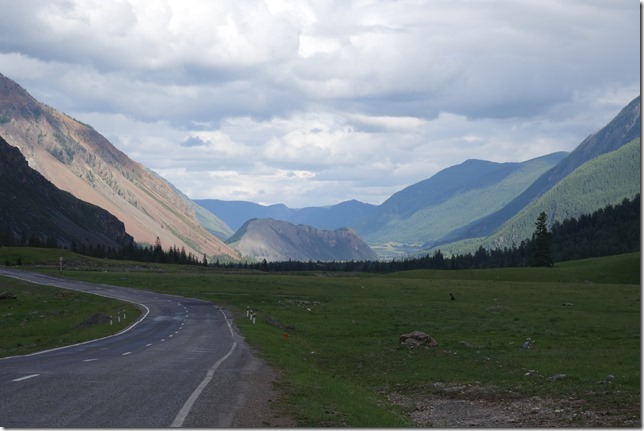 Break for fuel, water and a snack I bought last night in Barnaul. Same fuel station there was also a biker from Yekaterinburg and he had been driving around Altai area for few days. He also had an GS, not always driving with this 6-cylinder BMW. He just had to show the picture of it as a proof…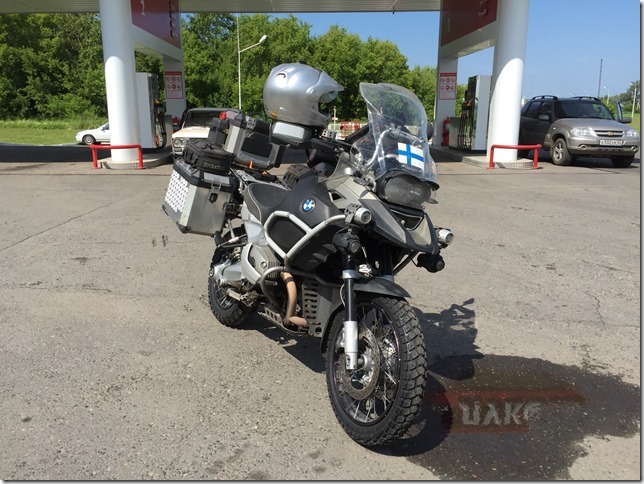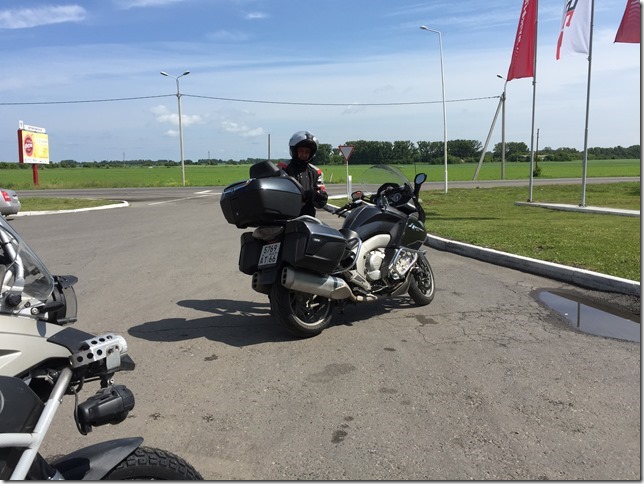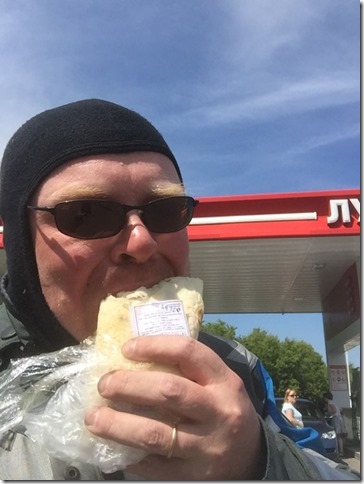 I must admit that Altai is very nice looking area. Road condition is great, lots of other bikers came towards me so I guess it was already so that their weekend trip was over.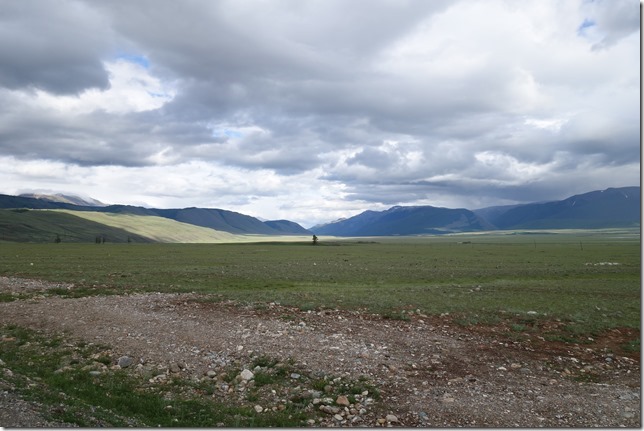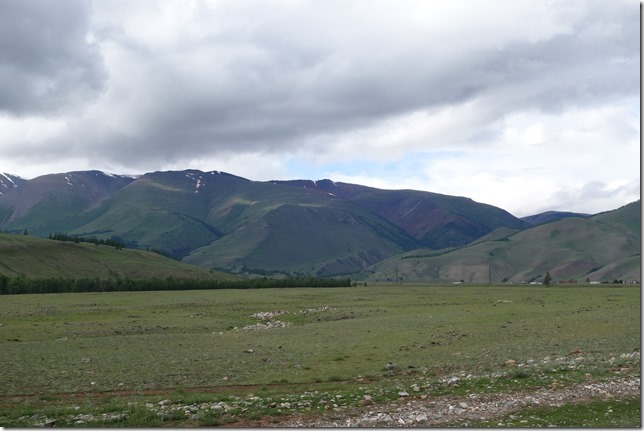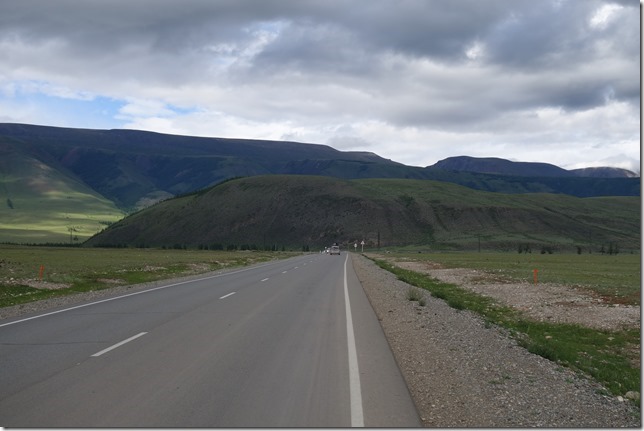 Some more coffee on the way, I don't bother to make my own anymore in here, faster to get it from the these roadside café's than taking all the stuff out from bike and starting to boil water. And it costs only like 20RUB a cup.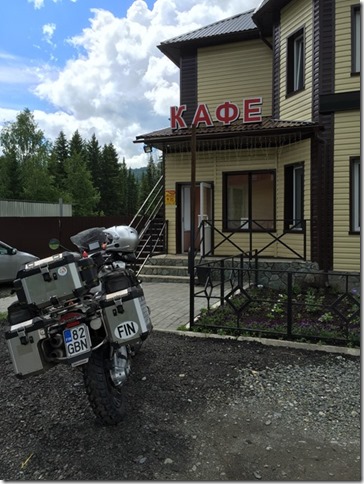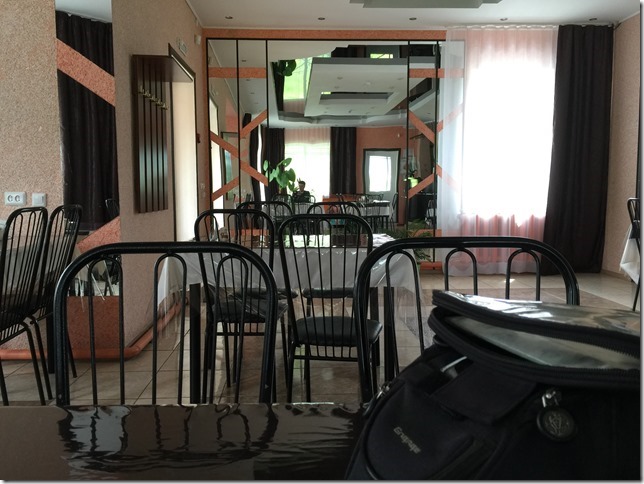 When arriving to Kosh-Agach I made a last stop to buy fuel, this one station was selling 98 octane so obvious place to stop.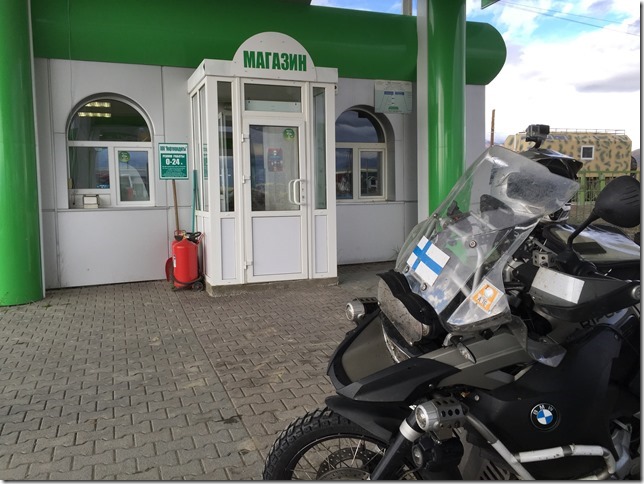 And then to find the place to stay.
Which was not so easy. GPS co-ordinates took me to totally different looking place than in the pictures, was asking from some men where to go and they pointed me to totally opposite side of the city.
Went to next location where I found correct number on the house (OSM map does not have any street names for this city), but there was one man coming and told me that I was again in wrong place!
Then I decided that I go this big bright shopping mall building and start calling the place where they are located.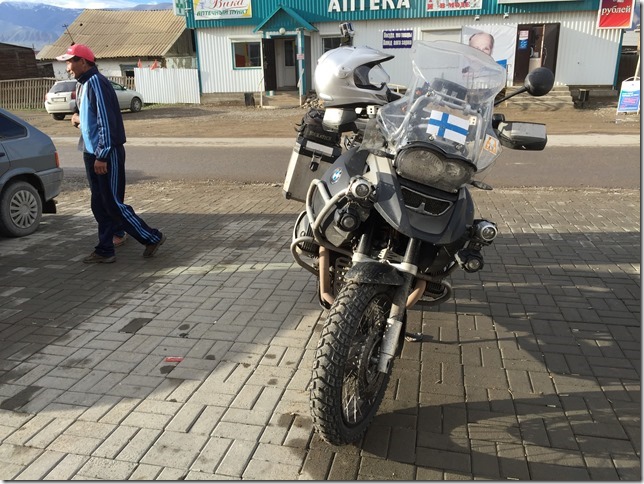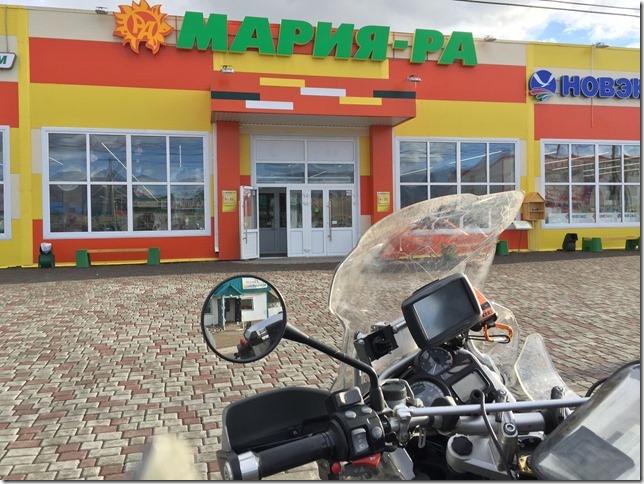 Lady answered, then came another one and all of the sudden all I could hear is 'wait a moment, wait a moment'. It took probably half an hour for this lady to get it into her head that I don't know where to go and I got her to come and get me.
Then it took another half an hour before she arrived with her husband and kids and they took me into totally different city (I guess, it was pretty far away) and again, place is nowhere near what was advertised in booking.com under name of 'Guesthouse on Tsentralnaya 24'.
I should have been 'twin/double room features a electric kettle, microwave and kitchenette', but all I got was bed in a room which they used to com into their home! And it had also kitchen table full of used cups.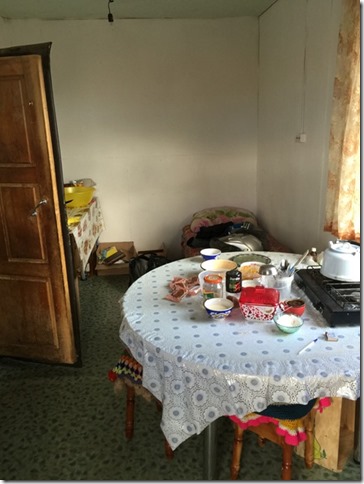 Rest of the building did not convince me, although there was a sauna ready and warm in the backyard and outdoor toilet on one corner.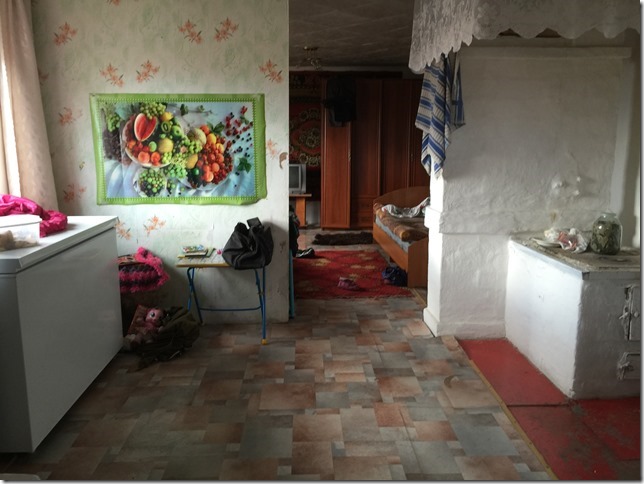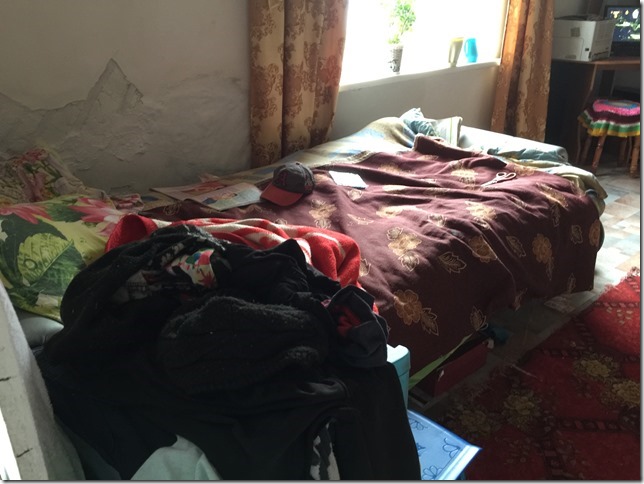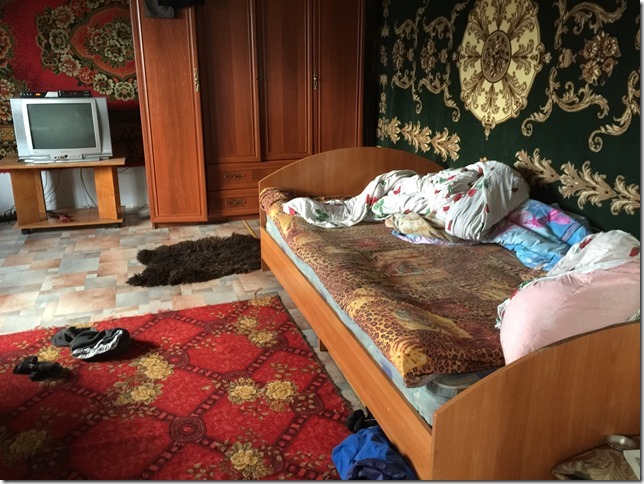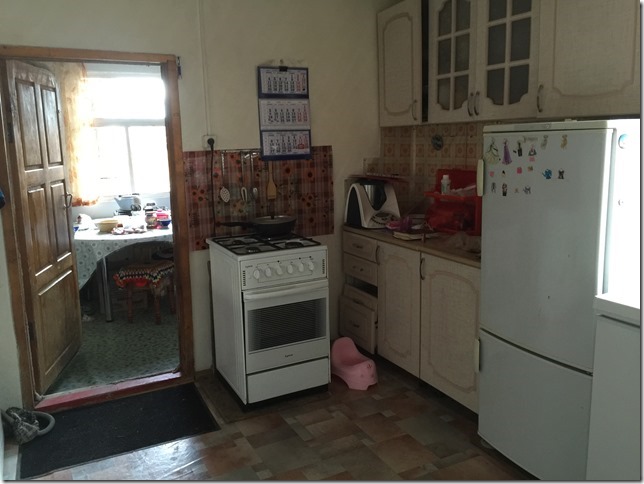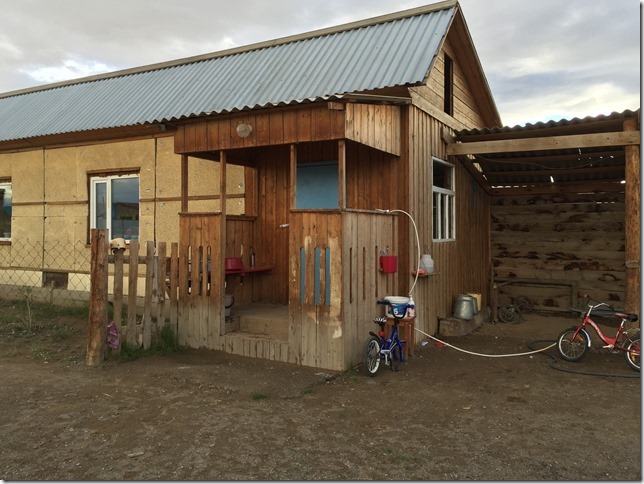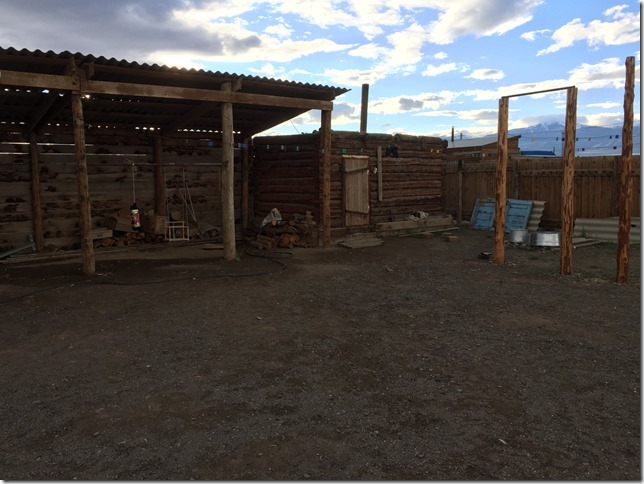 Did not take long until I decided that I will not stay in this place!
This was now second miss in Russia that I booked through booking.com, I guess in Russia they do not check anything and people here list whatever accommodation in there. For rest of the trip I will not use booking.com services anymore, cannot trust those and even with this place they are trying to charge 600RUB which obviously I will not pay as I did not have to do on the place in Barnaul either!
Drove back to Kosh-Agach and with a little help from a boy in motorbike I found a decent motel with a twin beds, toilet and shower were on separate room but everything else was ok. Even Wi-Fi working and price was the same 1000RUB as for the crappy original place I had booked.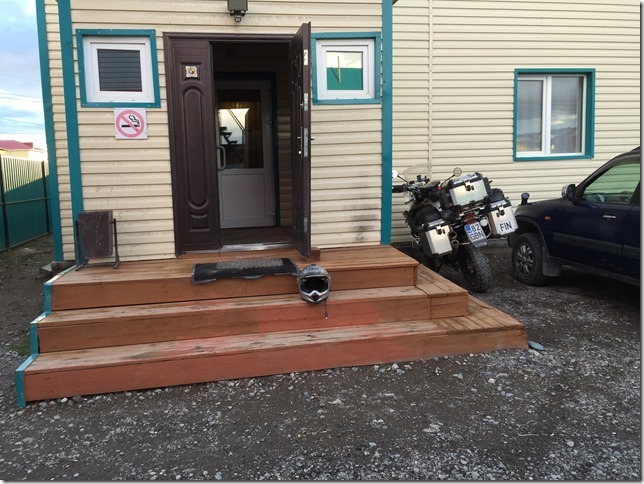 This place is actually listed also on OSM map and is right by the main road which goes through the village.
This is the route I drove while looking the place to stay. Lowest point is this lousy building I was about to stay…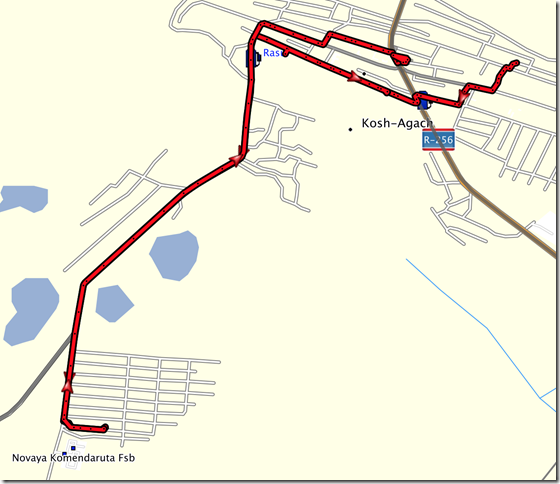 Got an shower, changed clothes and walked to shop to get some more water and something to eat. Time was already 21:30 and pretty much everything else but this big shop was closed.
Then it was time to plan a bit more tomorrow's Mongolia routes, take it easy, relax and sleep a bit.
This day's driving was 724 km in 13 hours and 1,5 hours went by searching for a place to stay.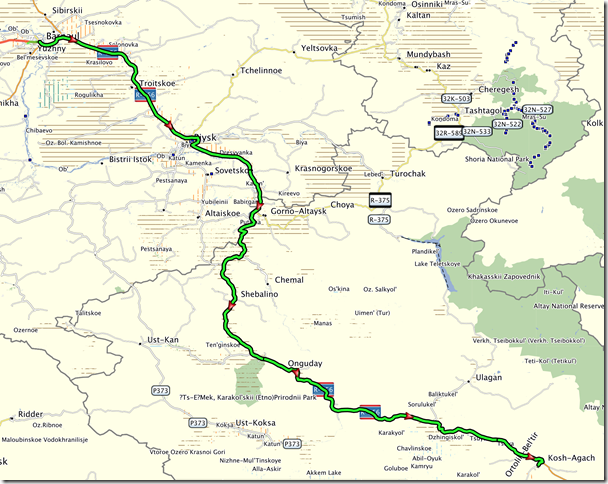 Total for the trip is now 12 630 km.