Wake up came at 05:00 in the morning and at 5:30 I was all ready and packing stuff into bike. I had parked my bike on previous night just in front of Hotel Alay reception.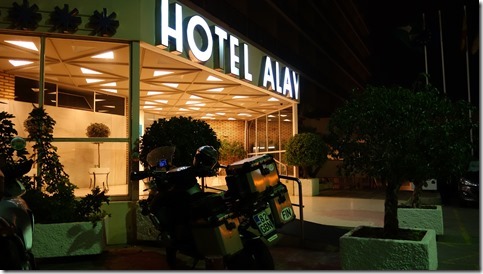 After driving some 20 minutes I was just before 06:00 in our meeting point in Fuengirola waiting for Janne to arrive.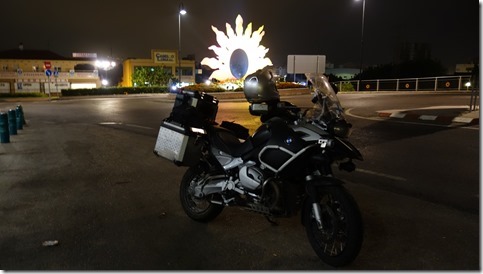 And some 15 minutes late he drove there as well.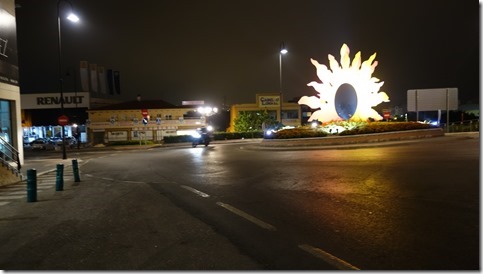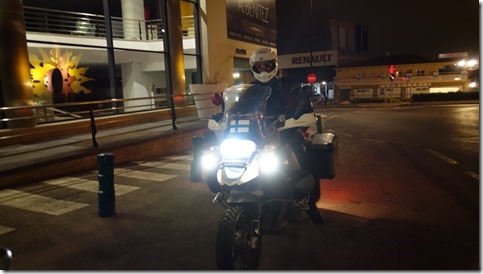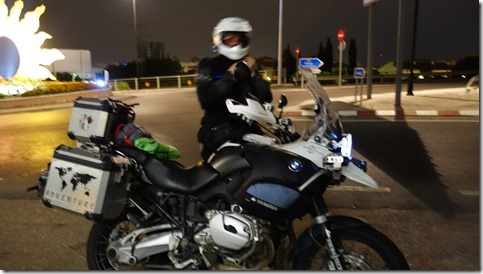 We were now some 15 minutes behind planned schedule so we decided to take the paid highway instead of free coastal road to get into ferry on time. It took a bit over one hour to drive into Algericas port. A quick stop there to purchase tickets from Algericas to Ceuta. Ticket was 66€ for each of us.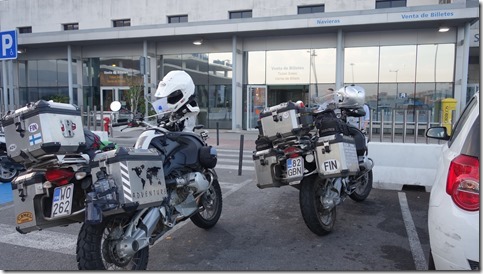 Ride from Benalmadena to Algericas was 128 km.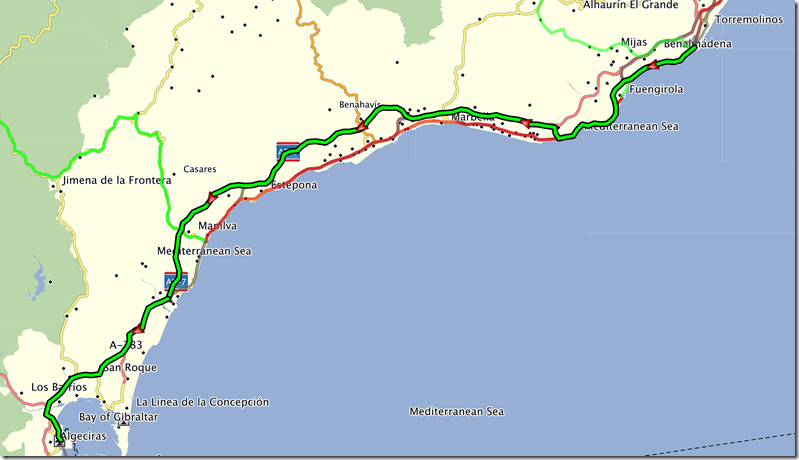 In the ferry there were some really weird crew members tying our bikes, had to show them really carefully which parts they can use from the bike to tie it down. If we would not have waiting for this to happen they probably had broken something…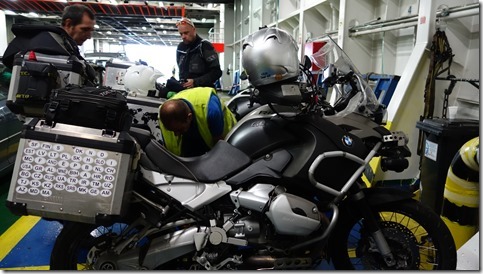 Crossing over to Ceuta took 1½ hour and that time we just used to consume some coffee as breakfast was a bit short at the hotel when I left.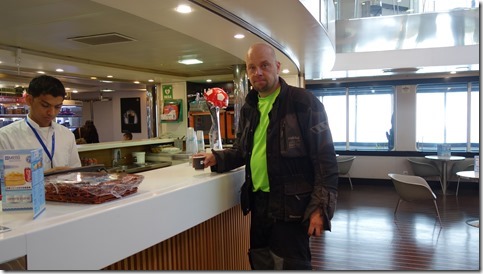 Once we arrived to Ceuta there was time to buy some fuel. In Ceuta there is very cheap fuel, 98E was only 1,18€/L.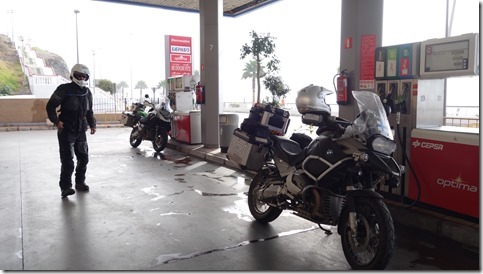 Spanish border was easy ride through, on Morocco side things were a bit more complicated. Just before the border there were these *fixers* waiting for us and trying to give papers for us – against a fee of course. We just drove through these and straight to the border. There were also these waiting, but much more friendly and *officially* working there.
Janne got his papers done quickly and all things passed, for me things were a lot more complicated. It turned out that two years ago when I left from Morocco they did not sign me out properly. According to their papers my bike was still in Morocco. It took over an hour for them to figure out what to do with my bike but eventually they did and we were ready to enter Morocco.
These fixers on the border got some money – 5€ in my case. That was all I had in my *walled*. On these borders I always carry this kind of small fake wallet with just enough money that I'm ready to give out.
Just after the border we stopped to fix all the gears and take few pictures.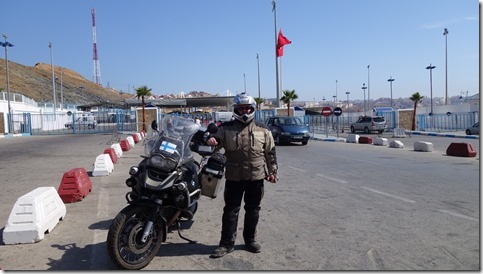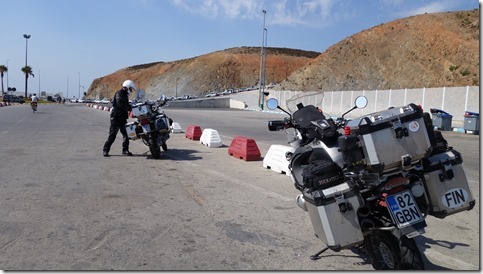 We gained two hours due to time zone difference and as Morocco does not have separate summer/wintertime once we entered into Morocco.
We stopped shortly also to get some money, on first ATM Janne got money just fine, my VISA was not accepted.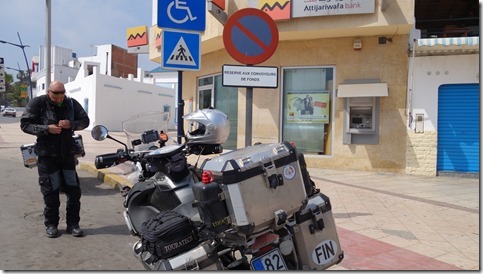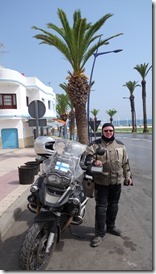 We needed to make a second stop and there my VISA card worked just fine.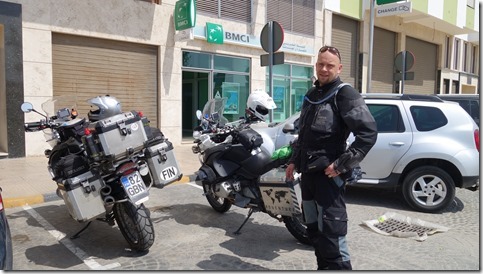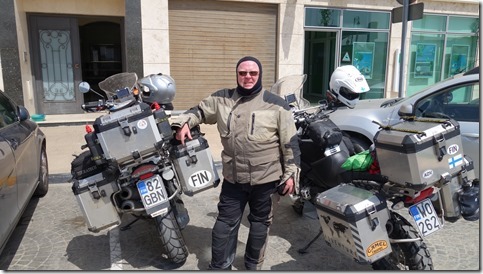 Now we had everything we needed for this day: money and water.
At first we drove the coastal road from Tetouan towards East, really nice paved road, lots of turns. This was also part that I had driven before.
Had couple of stops to drink, eat and see how the plants look like in Morocco.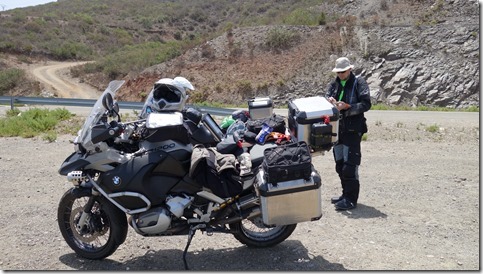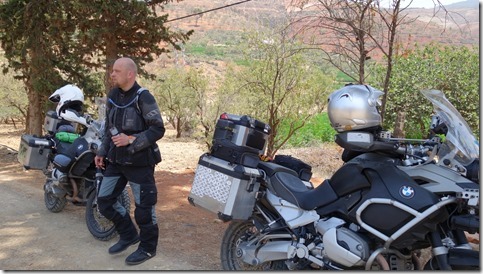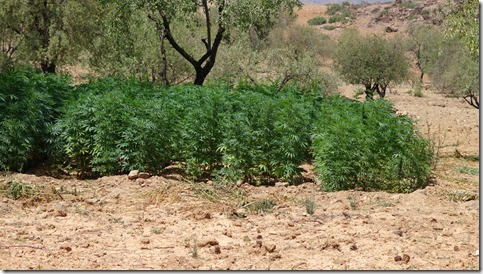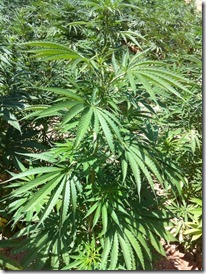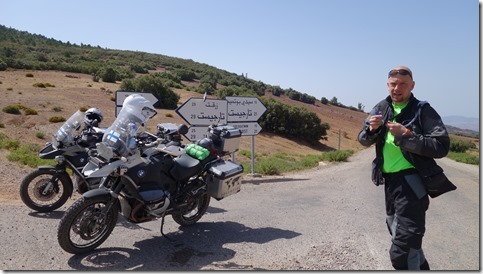 These plants are very common on the Rif mountain area.
On the way had some gravel roads but mostly paved roads which on GSA terms we in excellent condition.
Our day ended in Taza where we first refueled bikes and bought some cold drinks before trying to find the hotel.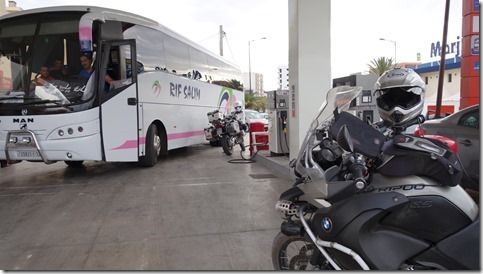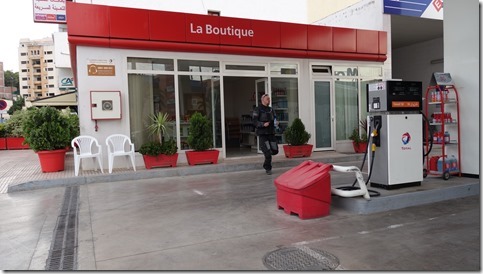 After this we needed to find the hotel, I had picked randomly one from the navigator and headed towards that. Hotel Boujida turned out just perfect place to sleep: air conditioned room, working Wi-Fi, garage for the bikes and seemed very well managed. Price was also reasonable: 360MAD (~32€) and it would have included breakfast as well but as it was Ramadan that was opted out.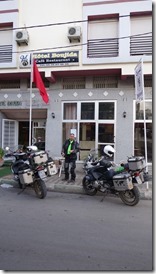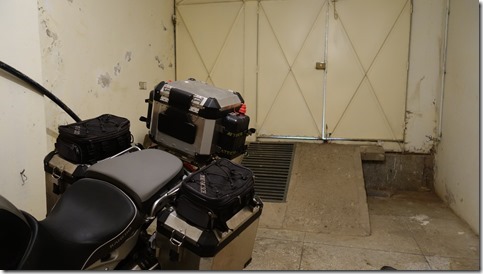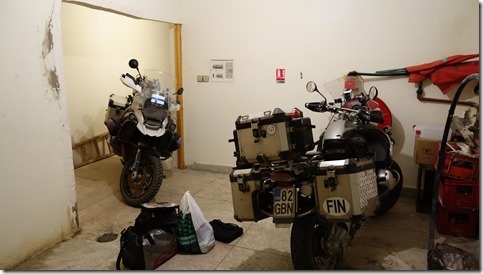 Finding dinner was then kind of an walking exercise. During Ramadan all places were closed and we needed to walk quite a bit before we found a place where to get something to eat. But eventually we managed to find something to eat.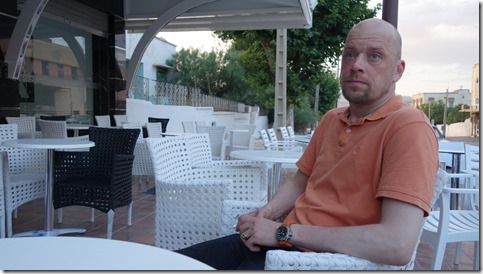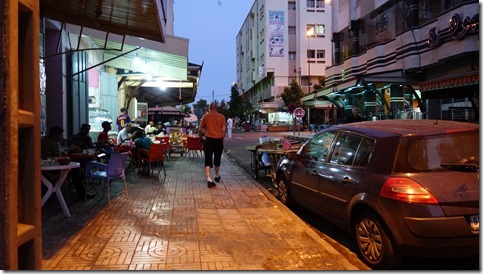 All this was just 34 MAD (=3€):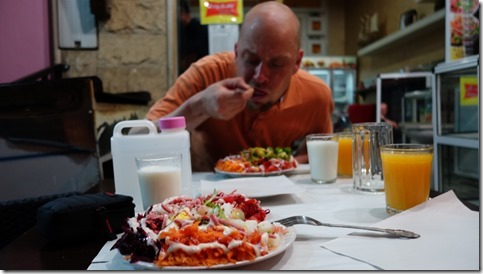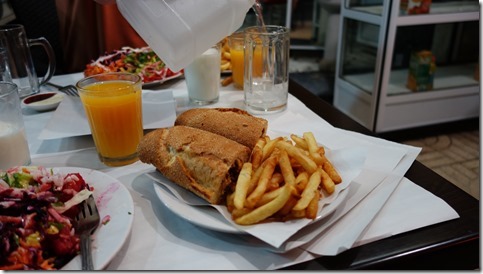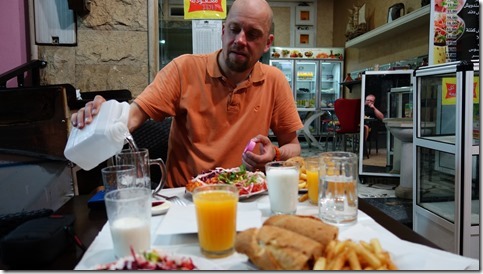 After these some coffee for Janne, water for both of us and day was done.
Ride on Morocco was 405 km and took some 9 hours. Whole driving day was some 14 hours long, but time difference between Morocco and Spain helped a lot.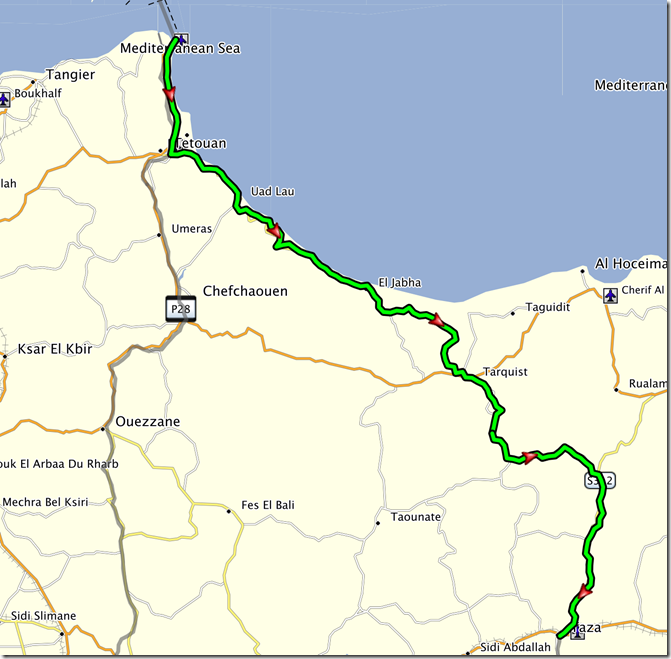 Total for the trip is now 6842 km.