Had to wait a bit to get breakfast, it should have started 07:00 but in practice they got it ready by 07:20… Got also a strange question when I went to eat: "Are you from Israel?". Go figure where they got that idea, maybe there was somebody else from Israel and they mixed me to this person.
I was the only person getting the breakfast:
Funny when coming towards north, even the bread starts to get darker: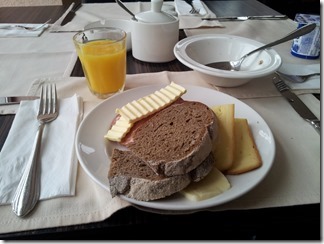 After this quick packing of all the stuff and to the road again. Bike was nicely there where I left it yesterday: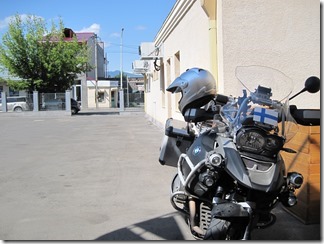 First driving through really nice road from Akhaltsikhe to bigger road E60 which was again a boring experience. The real one was just waiting ahead of me, the old Georgian Military Road.
What I have heard from others was that the road is in pretty bad shape right now and it has also rained in the area for the past days, so expectations were quite high on how this was going to be.
I rode same road in the beginning as I did on 2011, but on opposite direction. Passed the water reservoir from other side, last time I was high up in the mountain.
And pretty soon after getting on to the mountain area it started raining and I needed to stop to put rain suite on.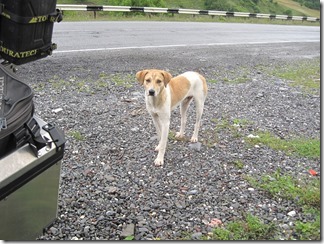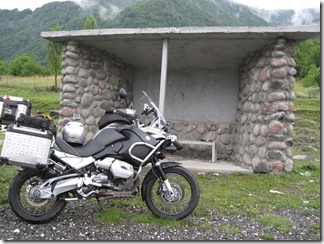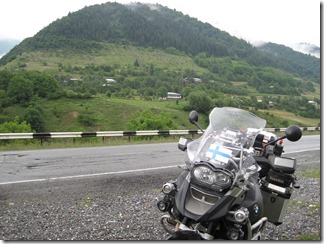 At this point I also found out first thing that I had got lost: Rain cover for my tank bag. It was nowhere. Last I had seen it on Albania-Macedonia border so must have somehow managed to left it there, border officer was very keen on seeing all my bag contents and it was a bit of a hassle there.
But no worries, all the stuff tank bag into water tight bags and trip continues.
And then it rained a lot.
Some 40 kilometers before the border crossing road turned into really bad, some 10 kilometers over the mountain pass was in really bad shape, but last 20 kilometers were quite fine. Lots of trucks, other cars and even a group of other motorbikes came a cross.
Lots of mud, holes and everything that makes driving with this type of big bike really bad.
But, eventually I made it to the border without falling down.
Georgian side of the border was easy, just drove ahead of all cars, handed over the documents in plastic bag as I was all wet and was not really going to take those out on my own. After few minutes I was heading to Russian border crossing.
There was few kilometers to drive and found out that there was few hundred meters of cars waiting there. Again drove as close to gates as possible, but passing all cars was simply not possible as they were blocking the entry so needed to wait some time to get road cleared. But pretty soon managed to pass rest of them as well and got to the border to fill in papers.
No English customs papers found in here for me, filled these two forms in Russian just by remember what to put in there. When I got the the customs booth, I saw that the border officer actually searched my bike from the database and even asked if that was me that he found. So easy job for him, just printed out the sticker and I was done.
Crossing from Georgia to Russia took pretty much the normal 1 hour to pass.
And then it rained again.
At one point it looked like rained stopped and I was about to take the rain suite off, but then it started raining again. And it rained all the way to Pyatigorsk where I had looked two hotels try if they were ok or not. My plan had slightly changed since the early stop on Georgia yesterday.
First hotel I did not even find, second one was not there where it supposed to be, but after couple of asking rounds I managed to find it finally.
Judging from the road to the hotel I was not waiting that much.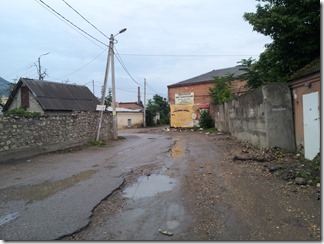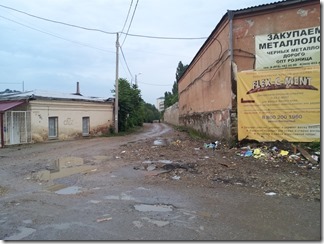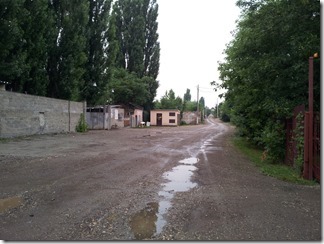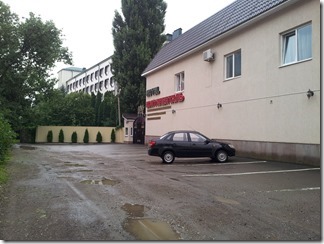 But once I got inside it was totally fine.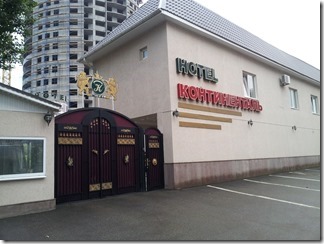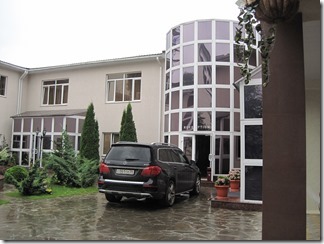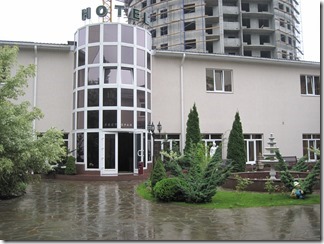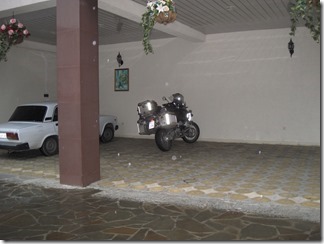 After check-in what was left was to find some food which turned out to be an task. Nobody here speaks any English, no English menus, all in Russia. Two restaurants I tried ended up no food since I was not able to tell what I want so the last option was one take-away where I could point what I want. And I could even see when they grilled it.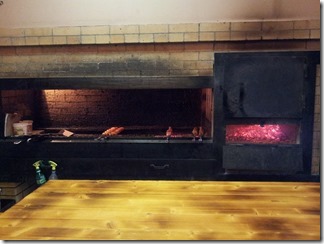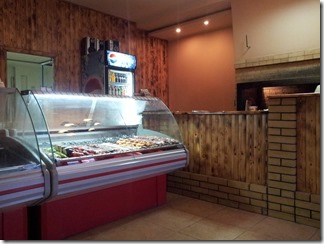 What I got was this: Grilled meat (300 gr.) inside a bread, onions and chili/tomato sauce. Damage for all of this was 250 RUB. So went back to my hotel room to eat. And it was good.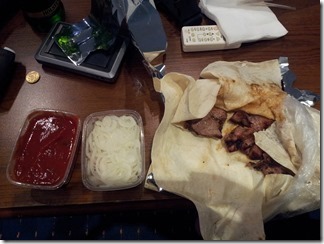 Total for this day was 556 kilometers in 11 hours so quite a normal driving day.
Total for the trip is now 8284 kilometers.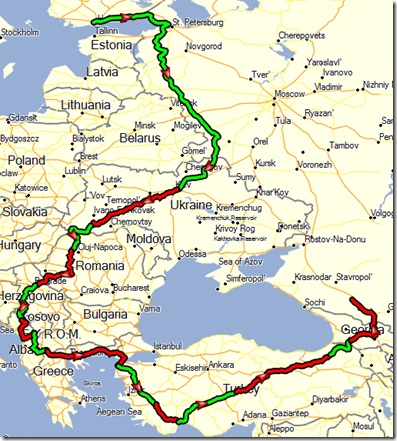 During the evening I stared doing some thoughts and checking on how the weather looks like and it seems that original route from here forward is going to be changed. I do not want to drive in the rain through Russia back home!
But tomorrow morning will be the final decision point.