Distance to home: 1212 km, estimated day of arrival: 8.7.2016
Woke up really early little before 04:00. Had not changed my wristwatch to local time and thought that it was already time to wake up, alarm was about to go off at 06:00 as usual. Took a while until I realized what time really was and could not get to sleep anymore so decided to start doing my morning activities.
Little before 06:00 I was ready again and started moving towards bike. When getting out from the room I thought that some other guest was also about to leave, but no, it was the lady from the reception that had slept in a room next to mine and was looking really sleepy! Not probably her best time to wake up… Place was totally locked so without her I would not have got out from there.
But little after 06:00 I was ready to ride again, sun was shining and temperature was really nice 18 degrees.
I had set my goal to drive to either St. Petersburg or Vyborg, depending on little what time would be when reaching these cities.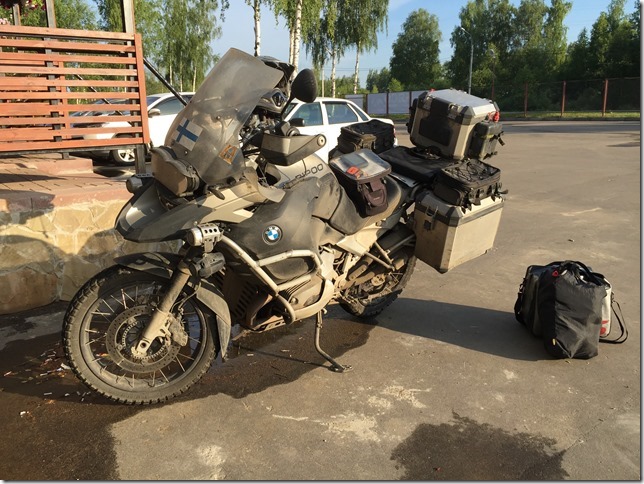 Before getting out from Yaroslavl stopped to get more fuel. This was first fuel station in Russia where no prepayment was required, got finally full tank and then went to pay like we do Western Europe.
Road from Yaroslavl to Cherepovets was really enjoyable to drive – with GSA. Parts of the road was really jumpy and in bad condition, but was not an issue for a bike like mine.
Before Cherepovets was stopped by a local police, he wanted to check my papers for some reason.
After this got into road which was in really good condition and also equipped with lots of police men with radars. Must have been every 15-30 kilometers on the way.
Tried to get some soap and coffee, but local café's in this region were a bit different types. This place for example was serving full lunch that you could pick and eat. Was not going to have such a big meal in the middle of the day.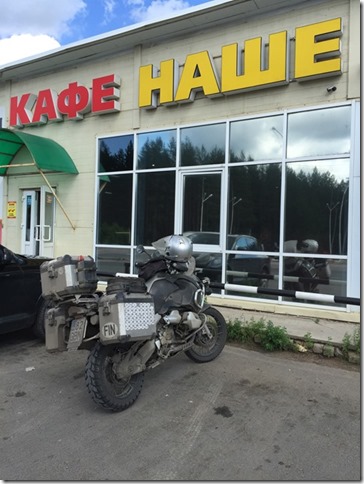 So continued further until it was time for another break for fuel. This place did not need prepayment either, so again got full tank.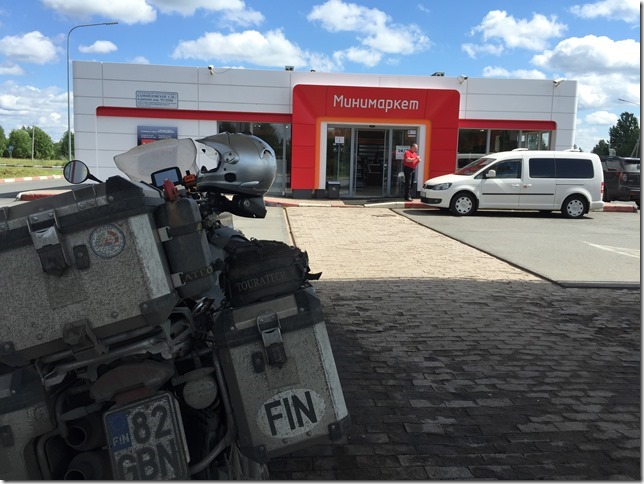 And got my small snack for lunch.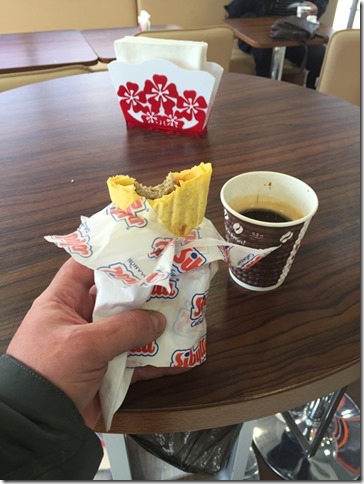 Some 200 km before St. Petersburg clouds started to look really dark again so I put my rain suite on again and rain started pretty soon after this. And it rained really heavily.
Really heavy road works before St. Petersburg and also on its ring roads and these coupled with lots of rain made driving really interesting.
At this point I started doing calculations on if I would make it to directly home and not stay in Vyborg where I was planning to do an tourist evening by walking around the city.
And as rain just continued I decided to head home.
Last refuel before the border, was hoping to get some Russian vodka as well, but they had stopped selling that in this station since I had last been in here.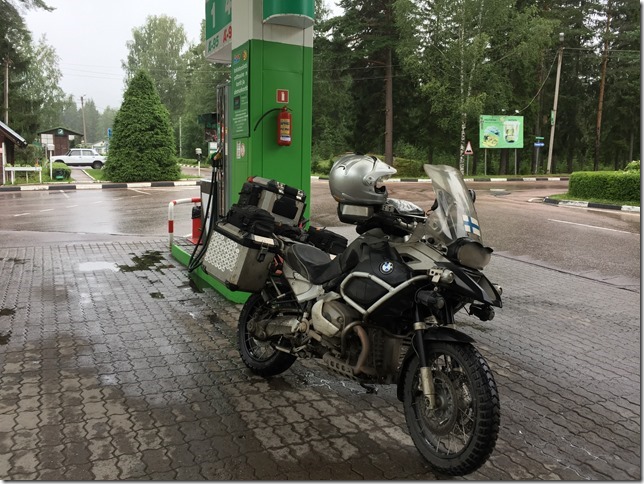 Russian border was really fast, just two cars in front of me.
After this border in no mans land there is tax free store so I purchased an present for myself.

Finnish border was even quicker, nobody in front of me and then there was just an open road to Espoo – and it rained all the way…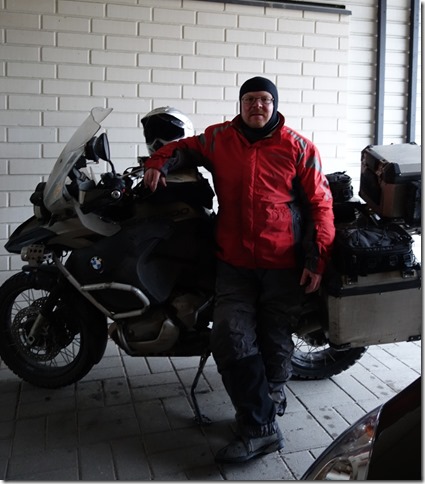 Arrived safely to home, got my usual stuff out from the bike, some food and then sauna. Day was done.
This day was 1221 km in 14,5 hours. Longest day on this trip and was also quite hard riding due to the heavy rain on the way.

Total for the trip 22135 km.

Happy to be home in one peace and GSA served well again, no real issues during this trip.
Now some rest, equipment maintenance, washing up clothes and bike maintenance during the coming days.
Will resume normal working mode by Monday, until then still on vacation mode – kind of.