Even after a long day yesterday, I slept only some 5 hours and woke up before 06:00. Best Western Malmö Arena Hotel was a good one as it had water boiler in the room with two coffee portions as well so got my first dose of coffee without need to bring my own cooker.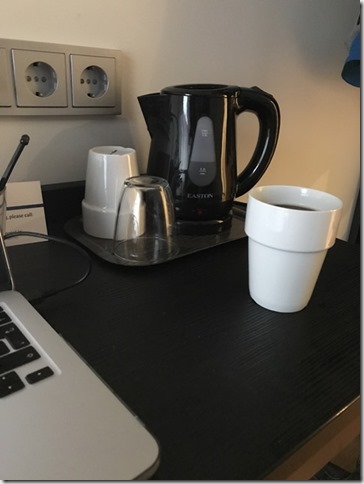 Room in this hotel was pretty nice, view from this first floor room I got could have been a bit better, but was not going spend my time there looking outside so not bothering me.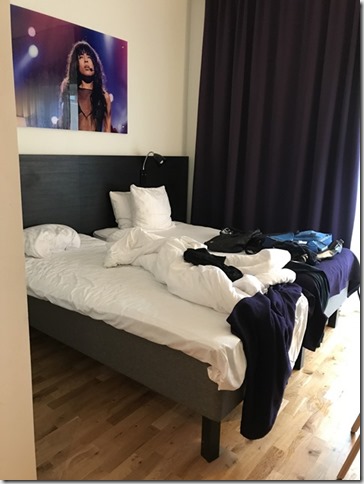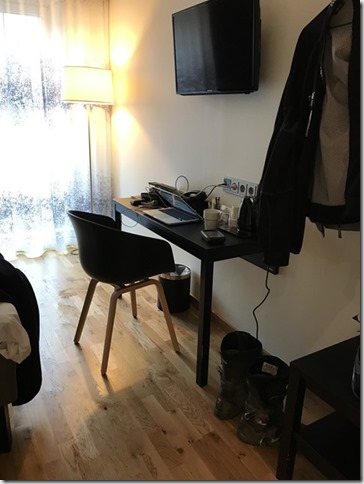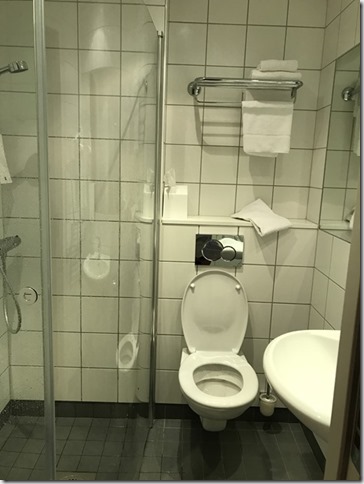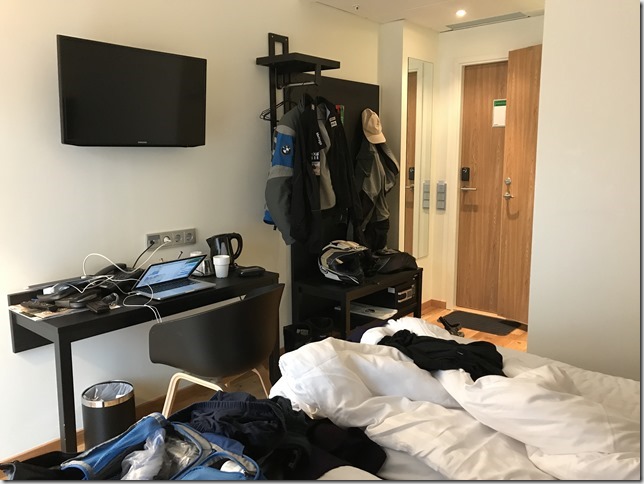 Breakfast started 07:00 and before that went to see that my bike is still waiting outside…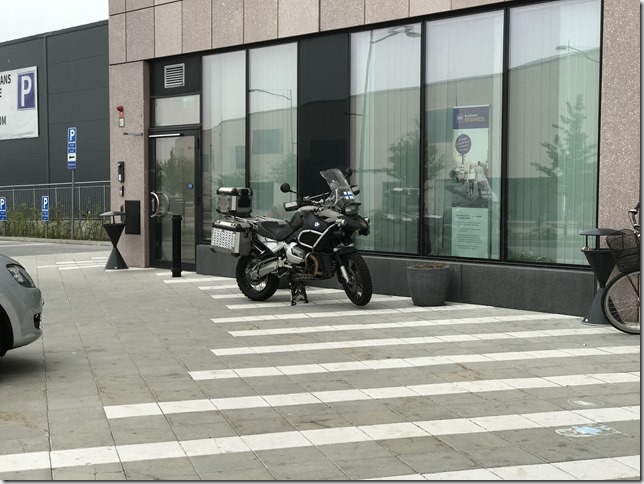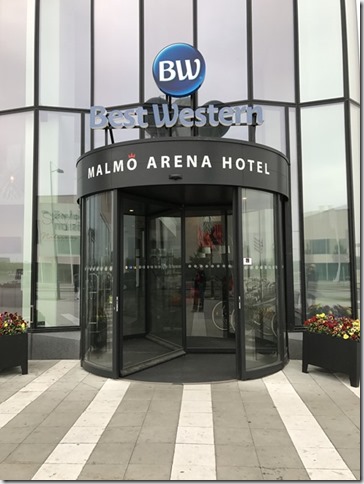 Breakfast was pretty nice normal for Scandinavian hotel. No complaints. Lots of people from Finland here as well, first Finns spotted after I left Finland two weeks ago.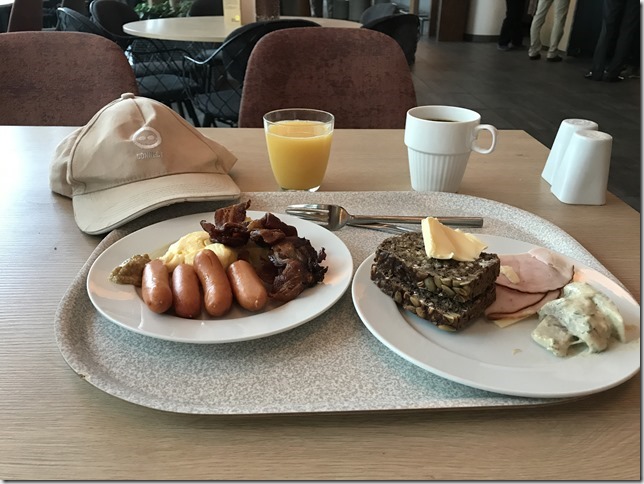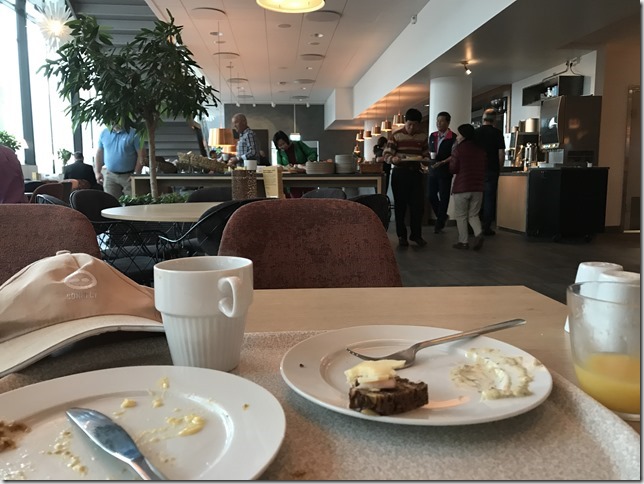 Had a bit lazy morning as from Malmö it is only like 6 hour ride to Stockholm so waited until 09:00 before I started preparing to leave from the hotel.
As weather forecast was promising rain, I put on rain suite trousers already. Much easier and nicer than doing that when it's already raining by the roadside.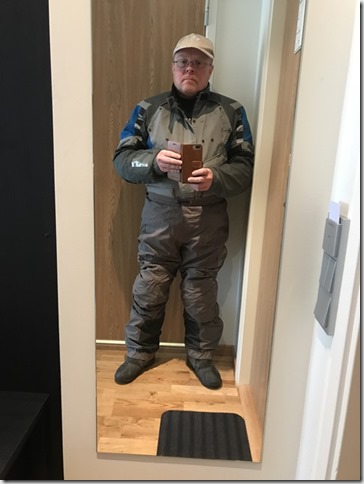 When I was packing my stuff into the bike one man from Finland came and started talking about my bike and that it was showing some signs of high mileage. Also he was mentioning that exhaust pipes look like they have got some hit as well and I was bit that what… until he continued saying that he now rides H-D. Well, that explained it! My bike is not for showing how shiny it is, but for riding under different conditions. Technically in top condition although not actually looking like it…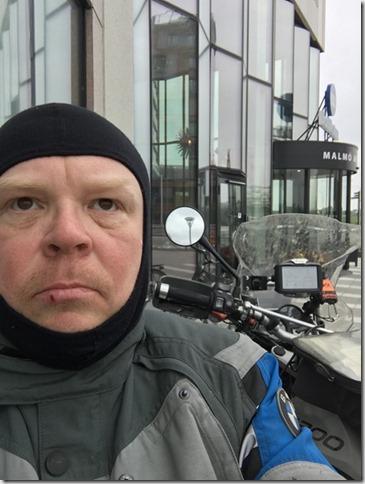 After riding some 200km took a stop for fuel as I would not make it to home without doing that and same time I put on rain jacket as well. It was about to start raining.
I also looks like I have lost one speaker inside my helmet. Only left one is working well, right one is breaking almost all the time. Need to check this when I get back home. Would not be the first time something like this happens, some broken wire again.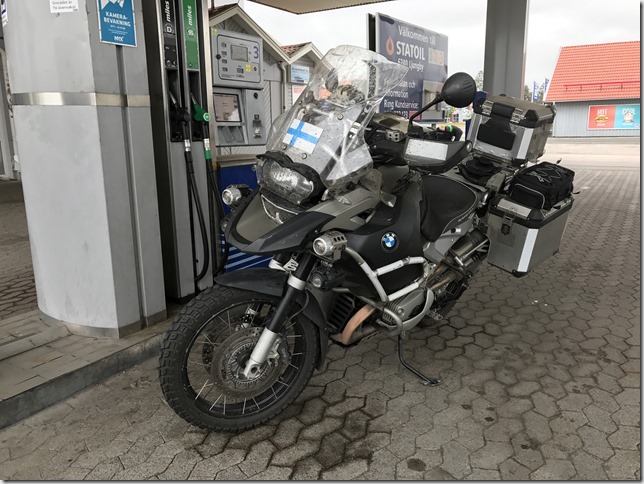 Rain started in Jönköping and continued all the way to Stockholm. Took one more break just to leak the morning coffee out and continued right after that. Riding was pretty lazy, took it easy as I was not in a hurry to get into the ferry.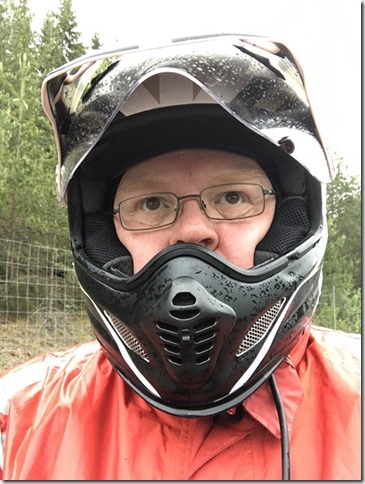 In Viking Line ferry terminal there was already one other GSA waiting to get onboard. This couple had been waiting there already for some time and were complaining a bit on that… I came and when first crew member showed some eyes on our direction I started waiving hands and he waived back that we could drive into M/S Mariella. How nice to get out from rain!
Ferry was scheduled to leave 16:30.
Quickly parking the bikes and upstairs. In this ferry, crew members are not tying bikes and they were not even demanding that. They just brought the ties and told that 'tie bikes on your own if you want to'. Well, these are heave bikes and when standing on side stand they are not falling so just left the bike there on 1st gear and front wheel blocked so that it could not move forward and moved upstairs.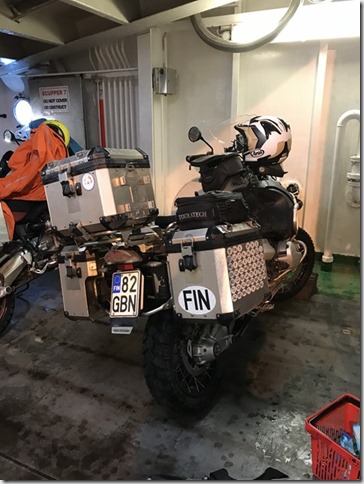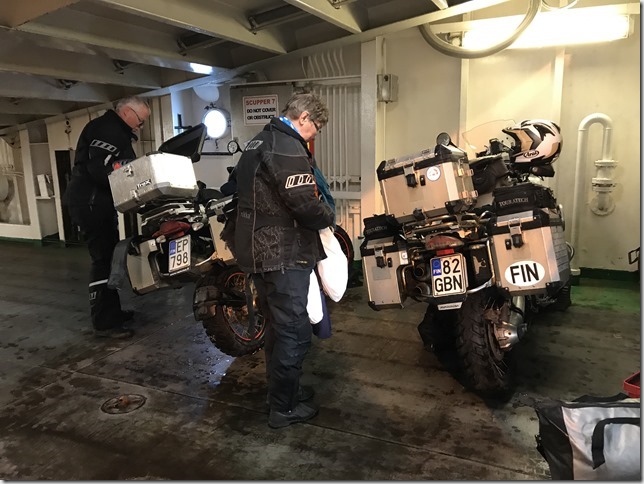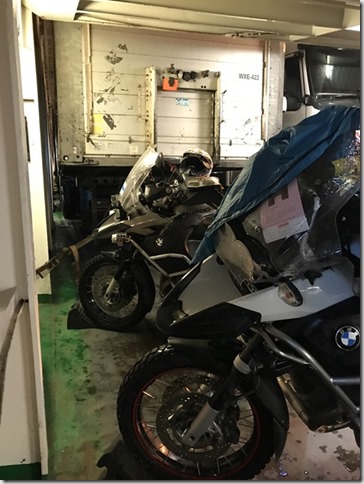 Had a small two person cabin and turned out that this had indeed two beds but other one was not on top of the first one as they usually tend to. Smell in the cabin was something truly amazing. Both my boots and riding suite were smelling already quite a lot and air was not really moving well enough. Time to move to more open space!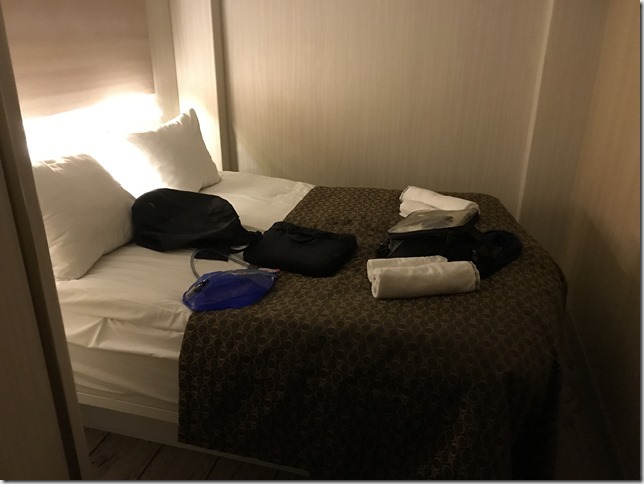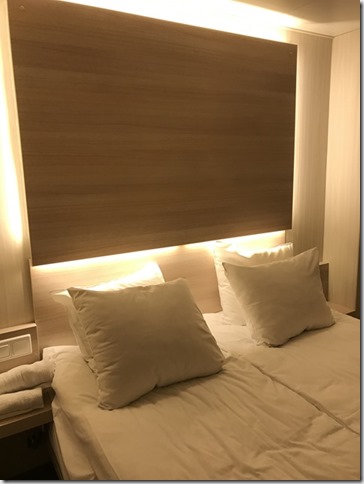 First thing to do was to find Sauna. I took a long one over there, some 2 hours sweating and relaxing in hot tub and I was like a new man again. Couple of other bikers from Finland there as well and we had a good chat there.
Next was to find something to eat.
Age is starting to show on this ferry, there are not that many options to have something to eat but buffet and a la carte so and both of them were really expensive so decided to make my own dinner instead: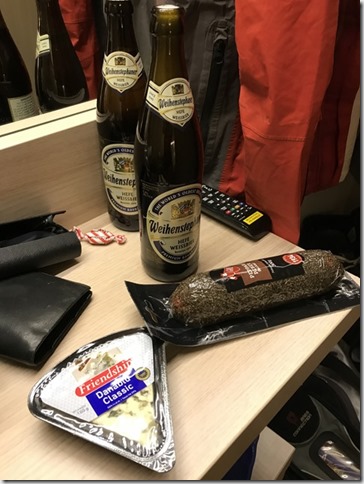 Was well enough to get me through the night and to the breakfast on tomorrow morning.
Rest of the event went by looking at some views and listening Finnish 'humppa' and other really interesting shows… This was a really long evening…
Eventually went to sleep after 22:00.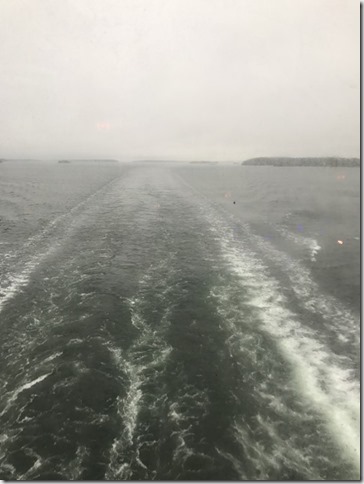 This day was 622km in just over 6 hours.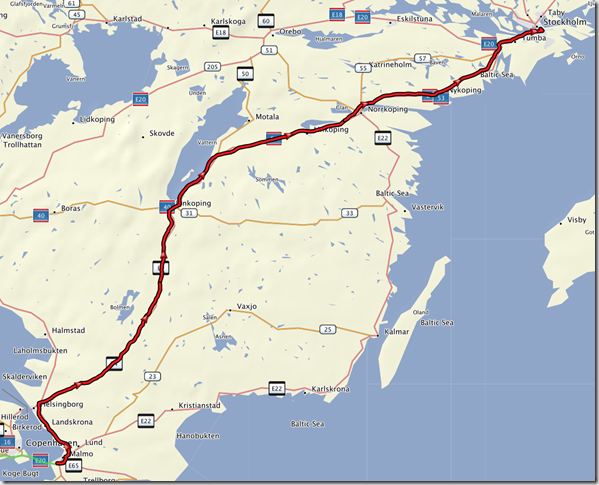 Total for the trip is now 7969 km.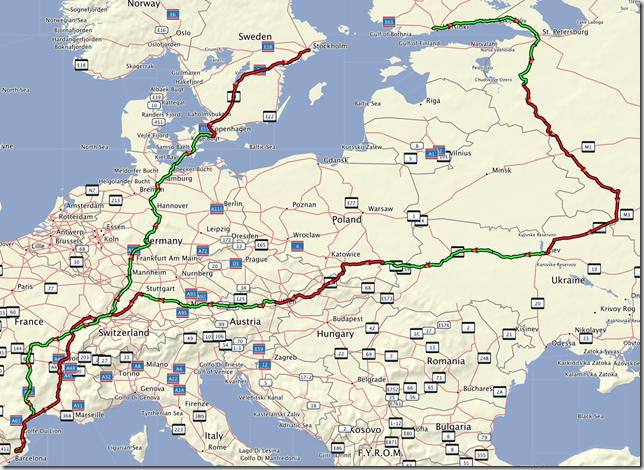 Circle is coming together again as I'm starting to approach Helsinki. This time I took a ferry from Stockholm directly to Helsinki and not to Turku what I have usually done when coming from this direction.