This was just excellent day! What a drive!
Day started at 10:00 local time by leaving the hotel at Montenegro and heading towards Split / Croatia. Soon after I left from hotel TomTom made it to the map and started showing directions.
At that point it showed 312 kilometers to the target, but I ended up getting 30-40 kilometers and 1 hour since I took a bit detour around the Croatia you see circled in the red below: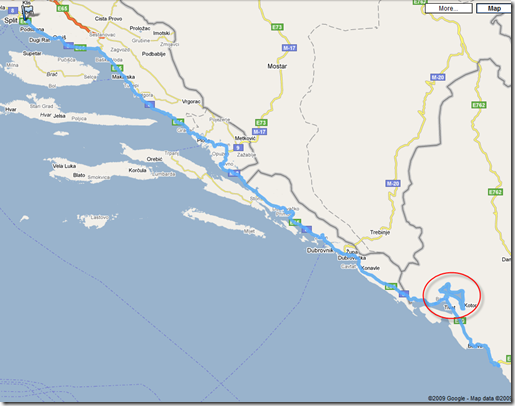 That detour was because I did not want to take the ferry that is seen in the map (looks like a road…). Around those shores were loads of small swimming places, summer cottages, small villages and road that circled that was very small, hardly car and a motorcycle could pass by! But what a view.
At some point I crossed the border to Croatia and then to Bosnia-Herzegovina and back to Croatia. At the border people were not really interested on motorcyclist with a Finnish flag on it, they just waved a hand and let me pass without showing any passport or anything!
Everything went smoothly as usual on this day, just lazy driving, relaxing and enjoying the view. Average speed was somewhere around 60 km/h.
Only few bikers spotted on the way, some more when getting closer to Split.
Air was very warm, whole day over 36 degrees and on some places I spotted this trips best temperatures, 38.5 degrees Celsius!
Hotel Zvonimir that I booked was a small disappointment. They advertized that they have wired internet connection in every room, but that was not true. I needed to pay extra to get a room with that and only third room that I tried had a working connection…
Anyway, now after eating I'm again ready for a sleep, tomorrow need to drive to Aachen / Germany in one ride. SS1000 ride, 1619 kilometers in less than 24 hours.